Review By Robbie Kramer
BREAK THE CURSE
To say this year has been strange would be an understatement. 2020 has been unrelentless in throwing doomsday scenarios our way. From a global pandemic, to partial society shut downs all the way to murder hornets, this has been quite the year. Many people have tried many things to get us on the path to recovery. I believe I have found the answer. It only took ten months and twenty three days but it is finally here. To beat this thing we have to come together in one accord and face it head on. Here is my plan.
Every able bodied soul and everyone they know needs to find and purchase a copy of the latest offering on Rise Records from SEVENDUST; BLOOD & STONE was released on October 23rd and is available everywhere. At a specific time we will all start the first song at the same time as loud as it will go. Once the opening guitar riffs of "DYING TO LIVE" fill the air we will begin the first phase of total redemption. Let the vocals of Lajon Witherspoon direct us in a global choir of energy. Step 2 and 3 are playing "LOVE" and "BLOOD FROM A STONE" back to back. At this point you should feel the anxiety starting to fade and believe there is a light at the end of the tunnel. By now your neighbors should be knocking at your door wondering where the music is coming from. This is your opportunity to invite them in and have them join the cause. Remember it is for the survival of the entire planet.
Next step is to follow those songs with a solid battery of "FEEL LIKE GOING ON", "WHAT YOU'VE BECOME AND KILL ME". All three of these songs draw you in with enticing grooves before hitting with the power only the boys of SEVENDUST can bring. The rhythm section of Vince Hornsby and Morgan Rose have always been the backbone of this band. The groove combined with the guitars has always come across as a percussive led machine. In that I mean the guitars compliment the drums and percussion to create the driving force that is SEVENDUST. Many bands write the guitar riff first and just put some drums underneath to round out the song. SEVENDUST records to me have always felt like the groove is the most important thing in relation to how the song is written.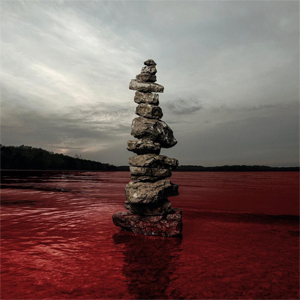 Working our way through this amazing record should bring us one step closer to getting back to normal. Songs such as "NOTHING LEFT TO SEE HERE ANYMORE" and "DESPERATION" almost seem written to be the soundtrack to 2020. "CRIMINAL" and "AGAINST THE WORLD" keep the rhythm of the album going strong. To me I have always enjoyed albums that seem to flow together for a purpose. BLOOD & STONE does that for me. It seems much of today's music is a collection of singles thrown together as a release. This album is truly a throwback to years gone by where the entire collection is meant to say something, meant to make you feel an emotion, even many emotions, a roller coaster ride from the first note till the last.
BLOOD & STONE finishes strong with "ALONE" and "WISH YOU WELL". This could be a coincidence considering the fate of the entire world hangs in this experiment, but I like to hold out hope it was intentional. Altogether there are 12 new tracks on this album and 1 bonus track, a well done cover of "THE DAY I TRIED TO LIVE", originally by SOUNDGARDEN. By the time you make it through the entire album the world and its problems should be better than before. Full disclosure, I am not certain this will cure all of the issues that have plagued us so far in 2020, but I do know you will feel better when done. Not to mention just played one of the best albums I have heard in a long time. At least it is a start. At this point what do we have to lose? Do your part to break the curse.
5.0 Out Of 5.0