UNLEASH THE ARCHERS Abyss


By Nathan Dufour, Great White North
Thursday, September 10, 2020 @ 12:37 AM


| | | |
| --- | --- | --- |
| | | |
UNLEASH THE ARCHERS
Abyss
2020, Nuclear Blast




Canada is, by population density at least, rather small when compared to the rest of the world. It is also, geographically, quite vast and its natural wonders are plainly world class. I think we should add UNLEASH THE ARCHERS to any list of things you need to experience when thinking of Canada. I mean, along with a poutine and beaver tail, of course.

My knowledge of UTA goes back basically to the beginning of the band because, again, small population. More important than that, though, is that UTA play no frills (by which I mean many frills) power metal. Informed by, of course, European acts but distinctly Canadian, UNLEASH THE ARCHERS are not painting by numbers as they create the landscape for you. Abyss is high concept art, its storyline a continuation of 2017's equally impressive Apex.

Listening to Abyss is a joy, pure and simple. The production allows the brightness of the instrumentation to really shine through, nothing being buried in too much production. The solos are pristine, drumwork is busy without being hectic, keys and bass coiling around the compositions like mating snakes, and commanding it all are the outstanding vocals of Brittany Slayes. She has a four octave range, so strap yourself in for this ride, her voice giving voices to the characters in the story, breathing an urgent life into each song.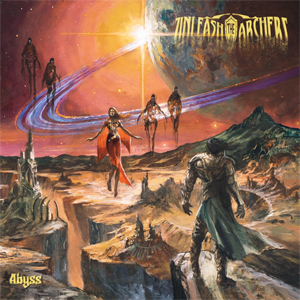 UNLEASH THE ARCHERS are not afraid to let some death metal into their compositions, either, mid-album track "Return to Me" being absolutely vicious to start off with before commanding an anthemic and life-affirming salvo. This album is so much fun to listen to that I really cannot overstate it.
UNLEASH THE ARCHERS need a bigger stage. It really is that simple. In consideration of the fact that I have seen them in a very small room that they blew the roof off, and also that they are so strong in execution of their material, the band belongs in the forefront of power metal, Canadian or otherwise. They are a national treasure and, like parts of this great land, largely unknown and unexplored by those who would truly benefit from such adventures. That means you.
5.0 Out Of 5.0




Please log in to view RANTS

If you don't have a username, click here to create an account!