Photographer JEREMY SAFFER Announces Los Angeles Daughters of Darkness Art Exhibit And Book Signing

By Larry Petro, News Monkey
Saturday, January 28, 2023 @ 9:55 AM

| | | |
| --- | --- | --- |
| | | At Exhibit A Gallery; West Coast Photography Seminars And Workshops Also Confirmed |
The Daughters Of Darkness art show will be available to view and to purchase until February 11th 2023 at the gallery. Any remaining unsold pieces will be available on www.exhibitagallery.com

EXHIBIT A GALLERY
1056 S FAIRFAX AVENUE
LOS ANGELES CA 90019

JEREMY SAFFER says, "Daughters of Darkness was the longest form project I've done with over 10+ years in before it was published, so to say I am excited to finally showcase this work that means so much to me in an incredible gallery is a vast understatement. When the book came out mid pandemic we couldn't do a book signing or gallery shows, so finally we are able to do the first in person gallery show and book signing combined. I have teamed up with iconic artist Richard Villa III and his gallery, Exhibit A Gallery, to do something really special. The gallery includes never before seen photos taken from the Daughters of Darkness sessions, but more than half of the pieces are all new work I photographed since the book's release. It will be amazing to see these photos in massively large format and make these pieces available to collectors and fans. Richard and I also collaborated on an incredible piece together which will be available at the gallery show. He is such an incredible artist and it's such an honor to team up with him on this. There will also be both the standard and limited edition versions of the book, 100 free prints for the first 100 people in the door, and some other surprises for what will surely be an incredible night celebrating the beauty in darkness, photography, art, and metal."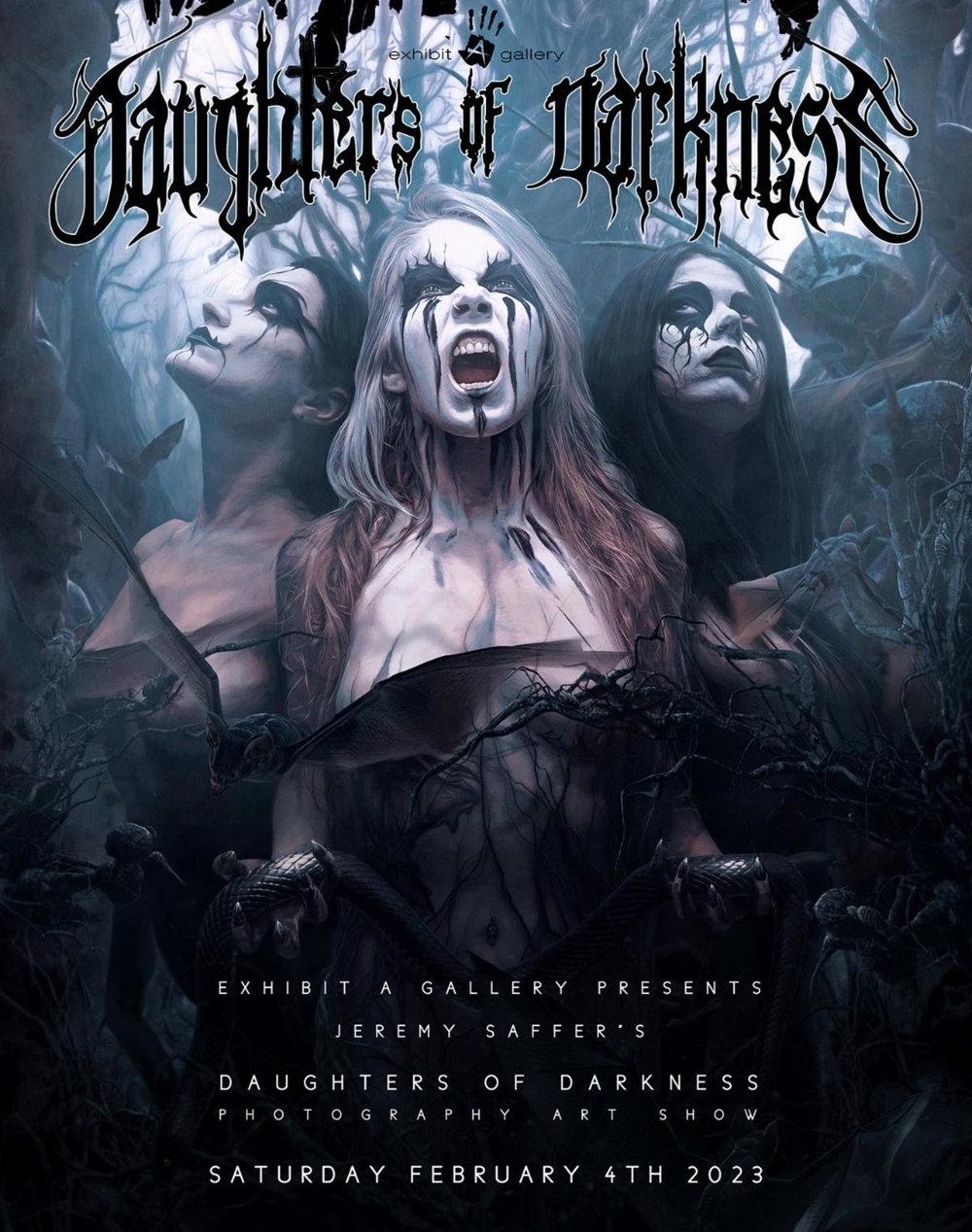 Daughters of Darkness is a coffee table photographic art book featuring a collection of fine art portraits of women in corpse paint. A nod to black metal and doom album cover art, Daughters of Darkness was photographed over 10+ years, with more than 400 models from all over the world, almost all of which did their own corpse paint and are fans of black metal. Daughters of Darkness features many celebrities, actresses, musicians, and models (some under the cover of corpse painted anonymity) all of whom donned only corpse paint for this book. Photographed by internationally renowned music and fine art photographer Jeremy Saffer, this project combines both his music photography and fine art photography worlds into a single project, which was conceived to capture the memory of flipping though albums in a music store and buying albums based entirely on the albums cover art (which often featured a nude portrait, someone in corpse paint, or both) prior to knowing the music or the band. Like the music that inspired it, Daughters of Darkness shows the duality of finding beauty in dark imagery, and finding darkness within beauty. Daughters of Darkness was released in 2020 via Rare Bird Books and is available wherever books are sold.
Jeremy Saffer also announces All Access and Totally Tubular, two photography seminars and workshops in Los Angeles Feb 24-25-26.
Tickets for All Access and Totally Tubular (3 day tickets also available) at jeremysaffer.com/learn
All Access is a two day photography intensive focusing on all elements of the industry from lighting, posing, getting published, to in depth photo business topics such as rates, contracts, marketing, selling your work as a product, publishing branding, and more. All Access also has equipment demos as well as a live shoot with special guest bands (first watching Jeremy do shoots with multiple lighting set ups, then students take over and do multiple shoots with the bands using different learned lighting techniques).
Totally Tubular is a LED tube lighting photography workshop focusing on LED tubes, teaching color theory, temperature of lighting, a hands on walk through of different tubes and their capabilities, and a lighting demo using 1, 2, 3, 4, up to 16 tubes in a set. Following learning what tubes can do, Jeremy implements them in a real time photo shoot with special guest bands, then students take over and do multiple shoots with the special guests using different tube light set ups.
Please log in to view RANTS