Legendary German thrashers DESTRUCTION are proud to unleash their 17th studio record, Born to Perish, via Nuclear Blast. In celebration of the momentous event, the band has premiered a visualizer video for "Inspired by Death". Check out the infectious song and accompanying video below.

Original guitar slinger Mike states:

"Enjoy the exciting fresh wind that the new line up brings into the well oiled wrecking machine! We had a blast doing this album, I hope you have the same enjoyment listening to it now! THRASH hardest!!!"

Vocalist & bassist Schmier adds:

"I have the feeling that this is album will be another benchmark in the 35 year turbulent career of the band. The new squad hits hard & we have an amazing chemistry in the band that you can hear on this record! The visualizer video for "INSPIRED BY DEATH" stands for itself and does not really need too much of an introduction. The only thing I can say is, that the song maybe has the most old-school feel on the new album! "Inspired by Death" - enjoy every breath!"

Order Born to Perish in various formats, here: http://nblast.de/DestructionBTP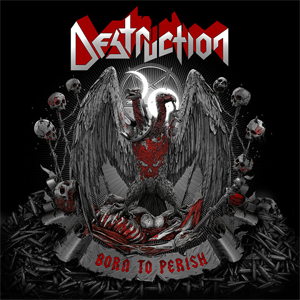 The track listing of Born to Perish
"Born To Perish"
"Inspired By Death"
"Betrayal"
"Rotten"
"Filthy Wealth"
"Butchered For Life"
"Tyrants Of The Netherworld"
"We Breed Evil"
"Fatal Flight 17"
"Ratcatcher"
Bonus: The recordings for Born To Perish took place from January to March 2019 in the Little Creek Studio in Switzerland under the aegis of long time intimate VO Pulver.

The stunning cover artwork was created by acclaimed artist Gyula from Hungary, who has also created artwork for ANNIHILATOR, GRAVE DIGGER, STRATOVARIUS, TANKARD and many more.

The brand-new line-up featuring the Canadian drum animal Randy Black and Swiss shred-master Damir Eskic, together with veterans Schmier and Mike, is here to bring you musical destruction. This is a new chapter in the long, impressive history of the band.