"Metal is alive. It grows and changes, evolving from the thrash metal of the 80s, through the progressive and hardcore eras, into today's unbridled modern brutality. MARTYRD combines all of these elements, building an uncompromising sound that is much more than the sum of its parts." This is from the band's Facebook page and it could not be a more accurate description of the metal madness that is MARTYRD. I was able to sneak in a quick phone interview with guitarist Michael Andreas while we were both at work a while back, so I figured I'd let you guys in on what we talked about. So here it is:

KNAC.COM: I'm disappointed you guys didn't make it down here to Texas on the METAL CHURCH run back in February.

ANDREAS: I know! We were down in Texas last tour and we love it, man. Texas has been awesome to us but you know what it is? The cost of getting out there is high and right now it's tough for all of us to get off of work basically. Texas is awesome, though! We were in Dallas, Houston, and San Antonio, and we REALLY wanna get back down there.

KNAC.COM: The song "Faceless" is great, I loved it. To me it had an early FLOTSAM AND JETSAM appeal. So now the question is, when do we get a new MARTYRD record?

ANDREAS: NICE!! I can't remember the last time somebody talked to me about FLOTSAM AND JETSAM, man. I love that band. OK...new record is probably about 80% written and the next step is to figure out when we're gonna go in and track it. Our goal is to do that around springtime and have it ready for summer so we can release it and get back out there to see all our friends and fans again. That's where we love to be.
KNAC.COM: What's the next move then?
ANDREAS: I really wanna get into the studio ASAP. The sooner we do that, the sooner we can get the music out to everybody, you know?
KNAC.COM: You mentioned writing earlier. What's the writing dynamic in MARTYRD?
ANDREAS: There's a couple different ways it happens. A lot of the time we'll just be sitting down in the studio and we'll jam around a little bit and come up with some ideas. Anybody who comes up with a riff or an idea, we try and record it just so we have it down. And usually, I'll sit down with it after that and work that song into oblivion (laughs), just listen to it forever until I come up with something. Then we'll go back in the room and finish everything up. Aaron (Pollard, vocals) will come in and put his lyrics together along with his vocal ideas and melodies and I'll try to come up with harmonies to help, and we go from there.
KNAC.COM: You personally, what are you playing, and what are you playing through?
ANDREAS: Gear-wise? That is a VERY interesting question. I have a couple guitars that I'm playing. We just started playing in E Standard tuning so I have an old Hamer Californian, a 27-fret guitar. I love that guitar! I have a couple of different rigs depending on where we're playing. I have a Peavey 5150 which you can't go wrong with, right? I love it, it's heavy, it's clear, and itís exactly what I look for in a guitar amp. The other rig I have is a super-complicated giant death case, we call it (laughs); it weighs as much as I do. It's this giant flight case on wheels! I have the ENGL Sovereign which is the combo version of the ENGL Savage head and I've got some rack stuff in there, too. That thing is a monster, it can do anything. ENGL is so brutal and heavy, I can pretty much get any sound I need right there. I've been using Kahler tremolos, too. I used to use Floyd Rose exclusively, but when I went out to NAMM last year I met the guys at Kahler and they showed me everything. It's so smooth and I get so much sustain from it, really killer trems.
KNAC.COM: Sticking with your instrument, who did you hear that made you wanna pick up and play?
ANDREAS: (Laughs) Funny story, I wanted to be a drummer. I asked my parents for a drum set and they were like, "There's NO way we're giving this kid a drum set to bang on." so they got me a little acoustic guitar. But when I started playing I was of course captured by METALLICA. I didnít listen to anything else for about a year, year and a half. And then some friends got me into MEGADETH, OVERKILL and TESTAMENT. And then TESTAMENT really grabbed me. Alex Skolnick is just amazing.
KNAC.COM: He's a GOD. The older I get the more TESTAMENT and especially OVERKILL are my go-to thrash bands. And I can hear some old METALLICA in your music, too.
ANDREAS: Well thanks, man. Recently I'm getting into a lot more modern guitarists like Jeff Loomis (NEVERMORE), whose playing is INSANE, and Tosin Abasi (ANIMALS AS LEADERS) who is just taking things to a whole new level.
KNAC.COM: Explain MARTYRD to the uninitiated.
ANDREAS: (Starts laughing) Well, we're five goofy guys who do what we love, and that's to get up onstage and play heavy music and have a good time. We take ourselves seriously, but we're all about having a good time, especially onstage. We try to play music that's interesting to us, and challenging. But we're not sitting down saying, "Hey! That part's not complicated, get it outta here!" or anything. We're doing what we love and if it sounds cool we're gonna make it work.
KNAC.COM: What do you like to do in your time away from the band?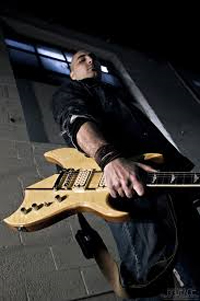 ANDREAS: Honestly, if I have spare time the first thing I wanna do is pick up a guitar. I wanna just sit down and jam. I don't get to sit down and play guitar for myself very often. You know how it is, life gets busy, man. I would love to just be able to sit down and be a student of the instrument again, learn some more theory, take lessons, and get some input from other unique sources.
KNAC.COM: We've talked about the older music we like. What newer bands have caught your interest these days?
ANDREAS: Really the last couple of months I've been drilling the NEVERMORE. I'm looking forward to the new ANIMALS AS LEADERS. We listen to DREAM THEATER and SYMPHONY X a lot. There's a Brazilian band called ANGRA that we love. They're so fantastic, so check them out. Check out "Temple Of Hate", your penis will shrink, it's so ridiculous (laughing)!!
KNAC.COM: Please, I'm Irish! I'm useless enough, I donít need any more shrinkage! Tell me, do you have a Desert Island Disc?
ANDREAS: Oh, man...that's a hard question because I have an mp3 player with 120 gigs of music on it. Right now it would be This Godless Endeavor by NEVERMORE or Paradise Lost from SYMPHONY X.
KNAC.COM: What would you like to say to the MARTYRD fans out there?
ANDREAS: Just thank you. You guys supporting us lets us do what we love, and what we love is to come out there and play for you guys and feel the energy you put out. Seeing you go nuts is what makes it all worthwhile. Thanks for listening, and thanks for sticking around. Keep it here man, 'cause we got a lot more coming around.
I had some fun talking about old school metal with Michael. He's a great guy. I am a brand new fan of MARTYRD, and I cannot recommend this band enough. With nice guys like Michael in the group, I know they're destined for even bigger things ahead.
Check out Damian's website at www.ampsandgreenscreens.com!