RUSH Permanent Waves 40th Anniversary Deluxe Edition


By Larry Petro, News Monkey
Thursday, April 23, 2020 @ 8:20 AM


| | | |
| --- | --- | --- |
| | | |
RUSH
Permanent Waves 40th Anniversary Deluxe Edition
UMe/Mercury Records 2020




Ruben Mosqueda It was so easy to destroy RUSH if you weren't a fan going into the 80s. The new decade was ushered in with a bigger focus on appearance and style rather over musicianship, the perfect movement that spawned MTV. RUSH vocalist/bassist GEDDY LEE, guitarist ALEX LIFESON and the late drummer/lyricist NEIL PEART weren't gifted with 'pin-up' good looks, and truth be told RUSH had primarily a male following [which remained the case over their 4+ decades of existence] as they geared up for their follow-up to Hemispheres. On Permanent Waves RUSH introduced new music to the base with synthesizers playing a more prominent role on the new material, sure synths had been used before, but now they had become more than a supplement or enhancement. The use and at times over use of synths would continue on future albums through the 80s and well into the 90s.

RUSH and UMe have done a brilliant job with their deluxe anniversary editions [2112 and Hemispheres respectively], keeping in the sequence of their release, logically up next would be Permanent Waves, the CD edition features the remastered album along with a bonus CD with live tracks from three stops on the 1980 Permanent Waves World Tour at Manchester Apollo, Manchester, England, Hammersmith Odeon, London, England and Kiel Auditorium, St. Louis, Missouri. These live tracks have been lovingly mixed specifically for this package by the band's longtime producer TERRY BROWN [who produced Permanent Waves alongside RUSH].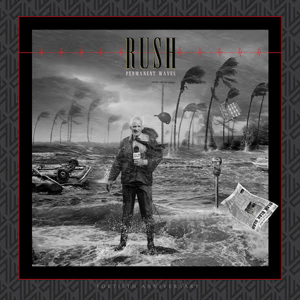 For this record RUSH moved away from the collection of elaborate 8-10 minute progressive rock epics that fans had become accustomed to and expected. On Permanent Waves RUSH recorded a pair of tunes that would be featured in their set in the years to come, them being b>"The Spirit Of Radio" and "Freewill". These 'hits' finally provided RUSH mainstream radio airplay, which they had been lacking leading up to the release of Permanent Waves. In addition, the record features the brilliant "Jacob's Ladder" and ""Entre Nous" which could go toe to toe with the band's past progressive masterpieces. I know you have bought the original pressing, then the remastered version, then the RUSH Sector 2 CD box set which included yet another remastered CD version in an LP gatefold package, but I have to tell you the packaging on this 40th Anniversary is fantastic. The only gripe I have is that they have given it a different cover, which is somewhat blasphemous. Keeping in the tradition of the previous deluxe anniversary editions, it includes liners sanctioned by the band and of course the jewel of this deluxe edition and a killer selling point I might add, are the live tracks which capture RUSH in all their glory, on stage blowing fans' minds. Now, I anxiously await the 2121 40th anniversary deluxe edition of Moving Pictures.
4.5 Out Of 5.0




Please log in to view RANTS

If you don't have a username, click here to create an account!