RUSH Rush: Album by Album Book


By Chris "Chili" Pirri, So Cal Contributor
Wednesday, July 12, 2017 @ 1:26 PM


| | | |
| --- | --- | --- |
| | | |
RUSH
Rush: Album by Album Book
Author: Martin Popoff




When you think of Canada your first thoughts are towards the McKenzie Brothers, old time hockey, and Labatt's beer. Yes, you are right on all of those responses. However, the biggest import to come out of The Great White North is Geddy Lee, Alex Lifeson, and of course the living legend behind the tower of drums, Neil Peart. When they step on the stage together we know them better as RUSH. Listening to their music is pure nirvana. If you feel the same way then Rush: Album By Album by Martin Popoff is a must have for your collection.

Rush: Album By Album is a book dedicated to devoted fanatics of the band, but at the same time a casual listener would enjoy this book, too. The title basically describes this book. It is a synopsis of the twenty studio albums that have been released by the trio. What makes this book unique is that it incorporates other musicians discussing each album. These are not just everyday musicians or studio talent. Martin Popoff made a few phone calls and brought us tremendous names, such as Kirk Hammett (METALLICA), Mike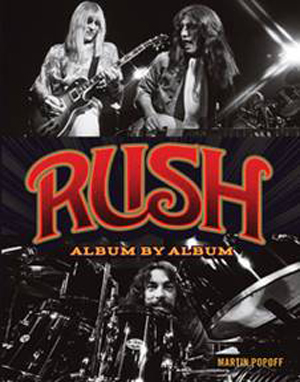 Portnoy (DREAM THEATER), and Paul Gilbert (MR. BIG) to name a few. Reading what these talented musicians think of each album is quite refreshing. They discuss basically the whole album, from the detail of the artwork on the front cover to even what songs bring out the best of this trio. One of my favorite conversations within this book is a debate on whether Neil Peart over does it on the drums. You will be thoroughly entertained with some of these stories and behind closed door moments brought forth within this book.
Overall this is a very enjoyable and uncomplicated read of musicians on musicians. Not only do you get backstories on all of the twenty studio albums, but the book is also littered with rare photographs of the band that I have not seen before. Enjoy the book as I did. Read about an album then go listen to it in its entirety. I believe you will find them all more interesting after hearing these amazing thoughts and stories.
5.0 Out Of 5.0
Grab a copy of Rush: Album By Album in the KNAC.COM More Store right HERE.




Please log in to view RANTS

If you don't have a username, click here to create an account!





SAMMY HAGAR AND THE CIRCLE In Clearwater, FL With Photos!

PRIMAL FEAR Best Of Fear

GWAR, U.S. BASTARDS, HE IS LEGEND, GHOUL In Portland, OR With Photos!

ALARM FOR WAR Enemies Of The State

CIRCUS OF POWER Four

IN THIS MOMENT In Portland, OR With Photos!

ANNIHILATOR For The Demented

BEAST IN BLACK Berserker

JAG PANZER The Deviant Chord

ONE EYED DOLL, DOLL SKIN, CO-OP In Houston, TX With Photos!

MINISTRY, DEATH GRIPS In Portland, OR With Photos!

PANZER Fatal Command

WITHERFALL Nocturnes And Requiems

CANNIBAL CORPSE Red Before Black

DEAD BOYS Still Snotty: Young Loud And Snotty At 40

ARCH ENEMY In Orlando, FL

VENOM, INC. In Austin, TX

NE OBLIVISCARIS Urn

GWAR The Blood Of Gods

EUROPE Walk The Earth

WEDNESDAY 13/EYES SET TO KILL In Ottawa, Canada

APPICE Sinister