TAZ Stream "No Relation" Single From Shipwrecked Album

By Larry Petro, News Monkey
Thursday, October 19, 2023 @ 9:26 AM

| | | |
| --- | --- | --- |
| | | |
TAZ announce the worldwide release of their new video for the track "No Relation", taken from their Eonian Records release Shipwrecked, Vol. 2. "No Relation" was recorded as part of a demo deal for Warner Bros. produced by Rob Cavallo (Black Sabbath, Fleetwood Mac, Green Day), a future multi-Grammy Award winner and engineered by Magic A. Moreno (Eric Clapton, David Lee Roth, Phil Collins). "No Relation" can be seen BELOW.

Stream or download TAZ Shipwrecked Vol. 2 - https://smarturl.it/Tazshipwrecked

Kent, singer of TAZ, "Among those interested in TAZ at the time was producer Rob Cavallo, who would eventually become one of the top-selling producers in the world working with Green Day, Black Sabbath, Fleetwood Mac, and other huge bands. His father, Bob Cavallo, worked in the music industry as a band manager with groups such as Prince and Little Feat, but at the time Rob was fresh-faced and barely out of school."

"Rob was great; he loved what we were doing and worked with us on several tunes," Ethan, TAZ guitarist said. "Very talented guy, even back then. I recall walking into their home and seeing all the gold and platinum records all over the house. We would spend time together in his room and work on songs. I think we might have been his first band. He got us a demo deal with Warner Bros. We also recorded with big-time engineer Magic A. Moreno (Steve Vai, David Lee Roth) with Rob producing. We thought this was going to be it. Unfortunately, Warner ended up passing. Thankfully we had this session on DAT and could ultimately release the crowd favorite "No Relation" and the rest of the Warner Bros. sessions all these years later."

Order CD:

EONIAN RECORDS: www.eonianrecords.com
FRANCE: www.tromhell.com
GERMANY: www.prideandjoy.de
GERMANY: www.schmankerl-records.com
JAPAN: www.beyondbattlerecords.com
JAPAN: www.diskunion.net
JAPAN: www.rockavenuerecords.com
JAPAN: www.metalpesado.com
JAPAN: www.rockstakk.shop-pro.jp
NETHERLANDS: www.nodustrecords.com
UNITED KINGDOM: www.replayrecords.co.uk

TAZ is: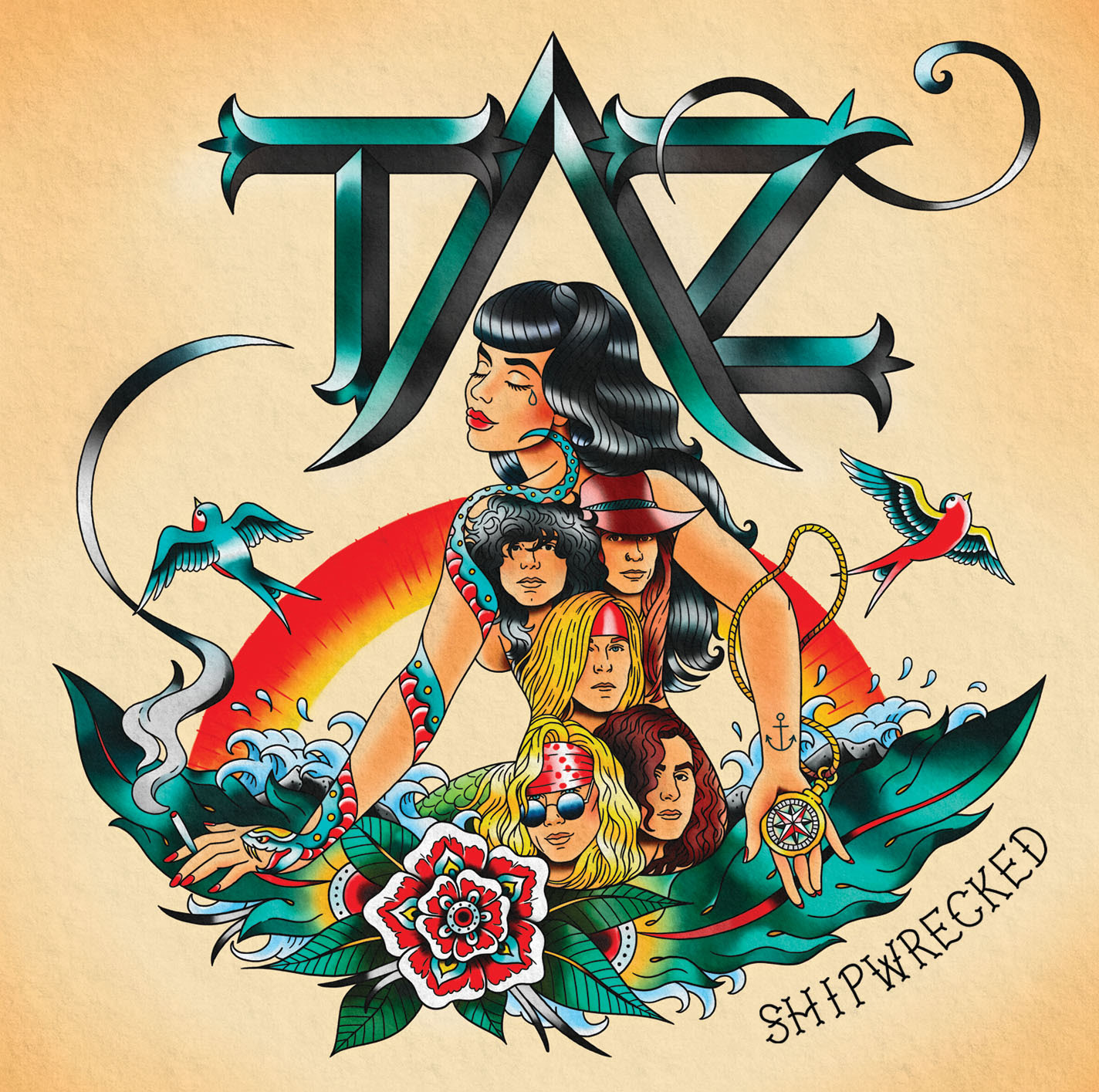 Kent "K.K." Kleven on Vocals
Ethan Gladstone on Guitar
Rick Berry on Guitar
Chris Roy on Bass
Kenny Pierce on Drums (Live Tracks)
Joey Carallo on Drums
Shipwrecked, Vol. 2
"Shipwrecked"
"No Relation"
"Desert Dog Night"
"Father McGee"
"Arizona River"
"Day In, Day Out (Keep the Faith)"
"Lady Conniver"
"Where the Angels Play"
"Sink or Swim"
"Day of the Dog"
"Luvin' Girl"
"Dogtown"
"Easy Come Easy Go - Live"
"Let It Rain - Live
"Round, Round, Round - Live'
"Shoot Your Steam - Live"
"Cover Me in Roses - Live"
"L.A. Danger Zone - Live"