PANTERA, LAMB OF GOD In Houston, TX With Photos!

By Larry Petro, News Monkey
Sunday, August 20, 2023 @ 12:41 AM

| | | |
| --- | --- | --- |
| | | Legendary Rockers Melt Faces At The Woodlands Pavilion On August 17th |
All Photos By Larry Petro/Petrofyed Photography
No matter what your opinion is of the PANTERA 'reunion', there was no mistaking that this was one of the most anticipated tours of the year when it was first announced. And although it was probably the worst kept secret as to who was going to take the places of the departed drummer Vinnie Paul and guitarist Dimebag Darrell, it did little to keep any fans away, as evidenced by the packed house at the Cynthia Woods Mitchell Pavilion situated just north of Houston. And as the entire region continued to bake under one of the most brutal summers on record, the bands simply cranked the preverbal heat up even further.
First up for the evening was San Antonio based metallers FLESH HOARDER. I had been warned ahead of time as to just how brutal this band was and it certainly was not an exaggeration. The band got a 7 song set to get things going and it was a good thing that their vocalist couldn't be understood with all the growling he was doing because the songs they chose to perform said it all. The opener, "Between Life And Death" was the tamest of the bunch as other tracks included "Infatuation With Menstruation", "Gagging on Regurgitated Spew", "Ejaculating on the Faces of the Aborted" and "Ingesting Excrement". And while many in the crowd knew and were familiar with these guys, I personally couldn't wait for their set to be over, but to each his own I guess.
Setlist:
"Between Life And Death"
"Infatuation With Menstruation"
"Gagging on Regurgitated Spew"
"Ejaculating on the Faces of the Aborted"
"Indiscriminate Executions"
"Ingesting Excrement"
"Gratification Through Mutilation"
Next up, celebrating nearly 30 years as a band, was 'groove' metal act LAMB OF GOD, led by the now dreadless wonder Randy Blythe and his supporting cast. Their 10 song performance, kicked off with "Memento Mori" from their self-titled album, was certainly worthy to be considered a near co-headline one even though this was not a co-headline adventure. LAMB OF GOD used nearly as much pyro as headliners PANTERA would later in the evening, including such staples as "Walk With Me In Hell", "Resurrection Man" and "Ruin". The band's latest opus, Omens was represented by the title track and "Ditch". Saving the best for last, they concluded their evening with hits "Laid To Rest" and the appropriate-for-Texas number "Redneck".

Setlist:
"Memento Mori"
"Walk With Me in Hell"
"Resurrection Man"
"Ditch"
"Now You've Got Something to Die For"
"Omens"
"Ruin"
"Contractor"
"Laid to Rest"
"Redneck"
As mentioned at the top of the review, there was no shortage of critics who called this PANTERA reformation and tour nothing but a money grab. The thing is, this was never billed as a reunion but as a celebration of the music and remembrance of the fallen comrades, and was also fully sanctioned by the estates of the deceased brothers. Yes, it's a travesty that the band's members couldn't resolve their differences in time and it took Vinnie's and Dime's death to make this happen but none of that mattered to the 17,000 that showed up in the blistering heat. Many, including myself, never had the opportunity to see PANTERA in their heyday and were there solely to hear the music played in a live setting. And what we got was nothing short of a stellar performance! Being from Texas themselves, there has always been a strong connection between PANTERA and their Lone Star fans.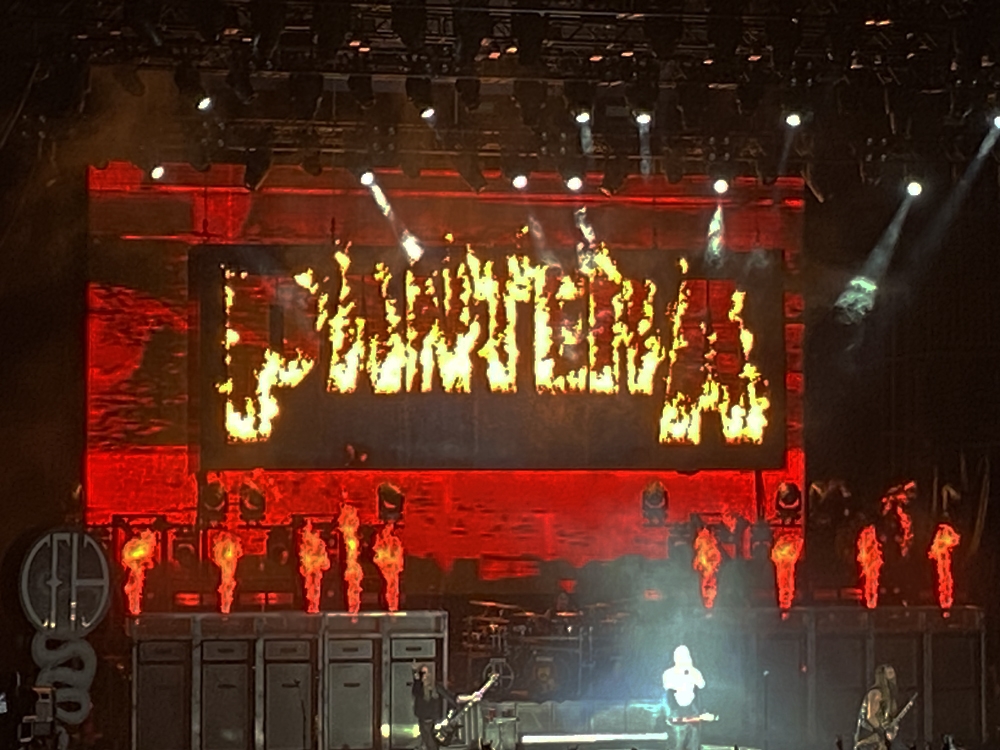 PANTERA's track "Regular People (conceit)" from Vulgar Display Of Power played through the venue PA system, followed by the David Lynch/Alan Splet song "In Heaven (Lady in the Radiator Song)" before the curtain dropped and the band launched into "A New Level", also from the Vulgar release and amid the smoke columns shooting up from the front of the stage the band proceeded to lay waste to the venue. Following that up with "Mouth For War" and Strength Beyond Strength", Phil Anselmo and company took us on a memorable journey through the PANTERA catalog, not only playing tracks like "This Love", "Suicide Note PT. II" and the BLACK SABBATH cover "Planet Caravan", they quite often included parts of other songs as either intros or outros of the full songs they played, such as "Becoming" with a "Throes Of Rejection" outro and "I'm Broken" with "By Demons Be Driven" outro.
Of course the crowd went nuts on "Fucking Hostile" and there was pyro aplenty as the large metal PANTERA logo positioned above the stage frequently was set ablaze. Other highlights from the evening included the beginning potion to Cemetery Gates" which played as numerous photos of both Vinnie and Dime were shown on the stage's side screens before the band continued the tribute with the aforementioned "Planet Caravan", though I wondered why the band didn't perform the entire song seeing as it's not only a favorite but a 'hit' to the fans. Another memorable moment came when they performed "Walk", where they were joined onstage by LAMB OF GOD's Blythe and also Dimebag's longtime girlfriend Rita Haney. The band concluded the main portion of the show with probably their most well-known hit, "Cowboys From Hell". PANTERA returned for two encores, "Slaughtered" and "Revolution Is My Name", though looking at Setlist.fm it appears that some tour stops got an additional encore, "Yesterday Don't Mean Shit".
How did Zakk Wylde and Charlie Benante do filling into their respective spots in the band? They were as flawless as I could tell and if you were a blind person only listening to the show you most likely could not have been able to tell the difference between them and the real PANTERA. Their current tour runs through the middle of September with a couple of festival appearances and support slots with METALLICA thrown in for good measure so if you get the opportunity and remember what a great band PANTERA was, you need to go see this!
Setlist:
"A New Level"
"Mouth For War"
"Strength Beyond Strength"
"Becoming"
"I'm Broken"
"5 Minutes Alone"
"This Love"
"Fucking Hostile"
"Cemetary Gates" (intro and Dime/Vinnie tribute)
"Planet Caravan" (BLACK SABBATH)
"Walk"
"Domination/Hollow"
"Cowboys From Hell"
Encores:

"Slaughtered"
"Revolution Is My Name"

Check out some more photos from the show!
All Photos By Larry Petro/Petrofyed Photography
Please log in to view RANTS


AVATAR, ORBIT CULTURE, THE NATIVE HOWL In Houston, TX With Photos!
THE DEAD DAISIES In Hollywood, CA With Photos!
KILL DEVIL HILL Seas Of Oblivion
THE DEAD DAISIES In Ottawa, Canada
MAMMOTH WVH In Santa Ana, CA
UADA Crepuscule Natura
BARONESS Stone
KAMELOT, BATTLE BEAST, XANDRIA In Houston, TX With Photos!
CRYPTOPSY As Gomorrah Burns
RAY ALDER II
GHOST, AMON AMARTH In Houston, TX With Photos!
U.D.O. Touchdown
DETHKLOK Dethalbum IV
STEVE VAI In Ottawa, Canada
PANTERA, LAMB OF GOD In Houston, TX With Photos!
OVERKILL, EXHORDER, HEATHEN In Los Angeles With Photos!
PUPIL SLICER Blossom
TANITH Voyage
PRIMAL FEAR Code Red
ALL FOR METAL Legends
VELVET VIPER Nothing Compares To Metal
SIGNS OF THE SWARM Amongst The Low & Empty