XANDRIA Return With The Wonders Still Awaiting Album

By Larry Petro, News Monkey
Tuesday, November 8, 2022 @ 11:08 AM

| | | |
| --- | --- | --- |
| | | Out February 3 Via Napalm Records; "Ghosts" Video Shared |
Photo Credit: Tim Tronckoe
Following the release of their two latest singles "Reborn" and "You Will Never Be Our God", symphonic metal icons XANDRIA have finally announced their upcoming new studio album, The Wonders Still Awaiting, out February 3, 2023 via Napalm Records.
The legendary German band, founded by mastermind Marco Heubaum, introduces its new lineup after six years of silence. Their first European tour and previous singles proved once and for all that this new arrangement is more than just convincing. With a breath of fresh air and immense talent, XANDRIA re-ascend to the top of the genre, unveiling all wonders still awaiting.
Today, the five-piece have finally released their new single, "Ghosts", together with a colorful music video that perfectly encompasses the mood of the multifaceted album. Vocalist Ambre Vourvahis not only showcases her creativity as a songwriter, but also her incredible vocal talent - ranging deftly from angelic chants to haunting growls.
XANDRIA on "Ghosts" and the new album:
""Ghosts" actually started as a reminiscence to good old Swedish melodic death metal and with that archetypical guitar riff that you hear right in the beginning.
And then we integrated it into our XANDRIA soundscape with lots of film score atmosphere and big choirs, because it was exciting to mix these elements and do our own thing with it (still we kept the working title "Swedish Fire" for a long time...).
It is a good example for how diverse the new album will be and how many different influences we were putting into it. We had a lot of things - little musical dreams - in our minds and hearts that we wanted to realize, and along with what you already heard in the first two new songs this is just one of them. There will be quite some more surprises coming..."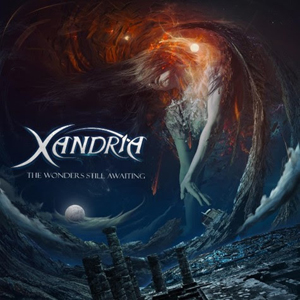 Watch the video for "Ghosts" on KNAC.COM HERE.
The Wonders Still Awaiting marks the first record presenting new vocalist Ambre Vourvahis, Robert Klawonn (guitars), Tim Schwarz (bass) and Dimitrios Gatsios (drums).
Presenting 13 songs in total, 's sound emerges harder, darker and more epic than ever before, but holds an intimate setting and range of emotions at the same time. Rich in different styles and genres, the massive album resembles that of a blockbuster movie score at each and every turn - sending its listener on an exciting journey to experience a world of sound never heard before in the universe of XANDRIA.

This is further brought to life by a 40-piece classical choir, authentic Celtic instruments performed by renowned musicians, and delicate violin and cello contributions from SUBWAY TO SALLY's Ally Storch. The new record is topped by the Bulgarian National Radio Children's Choir, which marks the first collaboration of this kind in the band's history, while none other than Lukas Knöbl is responsible for the orchestrations on The Wonders Still Awaiting - known for working with Hollywood greats like Roland Emmerich, for example. Each song's colossal soundscapes and cinematic nature create a story that rapidly unfolds in the listener's imagination.

The impressive vocal wealth of Ambre Vourvahis - ranging from rock grit, operatic highs and even death metal growls - opens the unit's sound to a wider palette of colors. Songs like the opening epic "Two Worlds", "The Wonders Still Awaiting" and "Ghosts" manifest the thematic mood of the album while constructing incredible soundscapes of pure symphonic metal.

"Two Worlds" also sets the record's lyrical concept, dealing with questions of what kind of world we are living in; one in which people deal sensibly with each other and treat it respectfully, or a dystopia dominated by autocrats and controlling technology?

"Paradise" showcases some of the album's strongest hooks, captivating with great metallic pop melodies. The veil of various influences is lifted once more in "Illusion Is Their Name", dashing all deception with heavy power metal vibes.

Tracks like "Your Stories I'll Remember" and "Scars" show the intimate side of XANDRIA on one hand, while combining rhythmic heaviness on the other. The latter is reminiscent of a James Bond theme, dressed in a heavy musical soundscape.
The epic nine-minute album closer "Astéria", featuring Greek lyrics written by Ambre Vourvahis, lands as the album's exclamation point, proving with a grand finish that the five-piece has fearlessly started a revolution in the symphonic metal genre - commencing an impressive new era of XANDRIA with The Wonders Still Awaiting.

The Wonders Still Awaiting Track List:
"Two Worlds"
"Reborn"
"You Will Never Be Our God" (feat. Ralf Scheepers)
"The Wonders Still Awaiting"
"Ghosts"
"Your Stories I'll Remember"
"My Curse Is My Redemption"
"Illusion Is Their Name"
"Paradise"
"Mirror of Time"
"Scars"
"The Maiden and The Child"
"Astèria"
The Wonders Still Awaiting will be available in the following formats:
1CD Jewelcase
2CD Mediabook
2LP Gatefold BLUE/BLACK MARBLED
Deluxe Box (incl. 2CD Mediabook, Heat-Change XANDRIA Mug, Flower Ball Box (2 pcs.) incl. 1€ donation to "Eden Reforestation Projects", Album Cover Patch (⌀10cm), excl. Golden "Meet & Greet" Ticket (strictly ltd. to 10 pcs.), excl. Autograph Card, packed to a high-quality wooden box)
Digital Album