MESHUGGAH Shares Face-Melting New Single, "I Am That Thirst"

By Larry Petro, News Monkey
Thursday, March 31, 2022 @ 8:19 AM

| | | |
| --- | --- | --- |
| | | Taken From Their Upcoming Full-Length Immutable, Out April 1st |
"I Am That Thirst" is the third single from Immutable, MESHUGGAH's ninth studio manifest, set for worldwide release via Atomic Fire on April 1st!

The Swedish extreme tech-metal pioneers are reinventing themselves yet again on "I Am That Thirst", a new skull crusher where the band pushes even their very own boundaries. It's a song that keeps you guessing, keeps you yearning for more, and wanting to dive into the full realm of this record.

Stream MESHUGGAH's "I Am That Thirst" now BELOW.

Full of surprises and yet instantly recognizable as the work of metal's most idiosyncratic force, Immutable redefines and redesigns the MESHUGGAH sound across more than an hour of the most stimulating and absorbing music the band has ever made. Despite the challenges of the last couple of years, the progressive principles that have always cemented their artistic efforts remain as steadfast as ever. As we spiral towards a dystopian future the band still stands unique with Immutable, the follow-up to their highly acclaimed and Grammy-nominated album, The Violent Sleep Of Reason. This band blows minds for a living, and Immutable is their most fearlessly creative new studio album yet.

Immutable will be released on CD, exclusive vinyl variants, cassette, and digitally.

Sign up for email updates and receive more news about MESHUGGAH's Immutable, along with exclusive offers, tour updates, and more: https://immutable.se

MESHUGGAH still operates on a higher level of metallic consciousness than just about anyone else. Since forming in 1987, the Swedish sound architects have developed into one of the most technically complex and virtuosic group of players the metal realm has ever encountered. Their distinctly unique brand of progressive, groove-infused death metal inadvertently launched an entirely new subgenre. Being one of the most inventive and widely revered metal bands of the last three decades, MESHUGGAH has been torchbearers for forward-thinking creativity in heavy music throughout their illustrious career. Over the course of eight studio albums, the widely worshipped progressive mavens have consistently redefined what it means to be heavy while exhibiting a ferocious intelligence that belies the crushing weight of their riffs. From the ground-breaking savagery of Destroy Erase Improve to the psychedelic tech-splorations of CatchyThirtyThree and on to the streamlined grotesquery of ObZen and Koloss, the band has always been way ahead of the game and plainly without peer.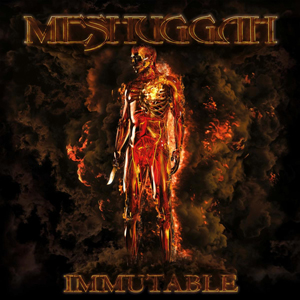 MESHUGGAH's upcoming Immutable full-length was recorded at Sweetspot Studios in Halmstad, Sweden, mixed by Rickard Bengtsson and Staffan Karlsson, and mastered by multiple Grammy award winner Vlado Meller (Metallica, Rage Against The Machine, Red Hot Chili Peppers, System Of A Down). Visionary artist Luminokaya once again created the record's stunning cover art.
Mavericks. Pioneers. Unique. Immutable.
Immutable Track Listing:
"Broken Cog"
"The Abysmal Eye"
"Light The Shortening Fuse"
"Phantoms"
"Ligature Marks"
"God He Sees In Mirrors"
"They Move Below"
"Kaleidoscope"
"Black Cathedral"
"I Am That Thirst"
"The Faultless"
"Armies Of The Preposterous"
"Past Tense"