TYGERS OF PAN TANG Share "A New Heartbeat" Video

By Larry Petro, News Monkey
Friday, February 25, 2022 @ 7:53 AM

| | | |
| --- | --- | --- |
| | | Title Track To Forthcoming New EP |
Legendary NWOBHM band TYGERS OF PAN TANG release today the official video for the title track of their new EP, A New Heartbeat. The video, directed by the band's drummer Craig Ellis, was made in Covid-19 pandemics time, with a working method and a concept reflecting exactly that.

"By the time the World had persevered through over a year of the Covid-19 pandemic we were all in a very bleak state and the band, presented here in black and white from the onset, is a reference to that", Craig states. "As the song progresses and the pandemic worsens each member loses definition, becoming a different person to who they once were. Each member is often in their own modular shape just as many of us have been when having to quarantine, but we also come together at times just as we did during the writing of the new album. The vibrant green, present throughout the video, represents three elements; the moving modular shapes are the covid virus threat that is constantly shifting towards and away from us; the ECG pulse is the aspiration and fortitude to overcome the disease and the menacing tiger in the background is constantly moving towards the screen as we all, together fight and push forward, challenging the pandemic head-on. Towards the end of the video we see a further change clearly indicating promising signs ahead", the musician/director concludes.

The video can be seen on KNAC.COM HERE

What did the TYGERS OF PAN TANG do when the world was locked down? Well, quite a lot as it happens. For a start a new guitarist, Francesco Marras, and a new bass player, Huw Holding were recruited. They were also proud to collect a music industry award from Hard Rock Hell as winners in the NWOBHM section. And ... if that wasn't enough, they have written and demoed their next album and produced a new four track EP.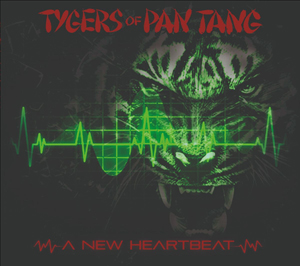 The EP features two rerecorded tracks from their first album Wild Cat plus two new tracks. "Fireclown" and "Killers" from Wild Cat now firmly bear Francesco's musical stamp and new tracks "A New Heartbeat" and "Red Mist" demonstrate what might be expected from the next TYGERS album - the TYGERS signature sound of heavy as hell riffs, finger knotting solos and Jack Meille's vocals extraordinaire. The mix was executed by Marco Angioni at Angioni Studios and, as with all recent TYGERS releases, the mastering was completed by Harry Hess.
The release comes initially as a digipak CD and will only be available in physical form from the TYGERS website and directly from their record company Mighty Music/Target Group. A vinyl version will follow.
Robb Weir commented ""Fireclown" and "Killers" are much neglected TYGERS gems. They are rarely played live but often requested so we thought it would be interesting to hear a modern take on them. Visiting the past brings back so many memories for us and, I'm guessing, for TYGERS followers." Jack Meille added: "Lockdown may have prevented us from playing live but it couldn't curtail the creative spirt that has resulted in the creation of "A New Heartbeat" and "Red Mist" for this single."
A New Heartbeat EP will be released on vinyl LP and digipack CD on February 25th, 2022 via Mighty Music. It's on sale exclusively now in Targetshop.dk.