MESSA Release New Single "Rubedo"

By Larry Petro, News Monkey
Friday, February 25, 2022 @ 7:50 AM

| | | |
| --- | --- | --- |
| | | New Album Close Out March 11th On Svart Records |
Italian Doom metal quartet MESSA have released another new single from their upcoming studio album, Close. The third single off the record, titled "Rubedo", is out today.

Talking about the new song, the band comments:

""Rubedo" is the song from Close that was mostly impacted by Flamenco music. It's a track tied with both our previous work and the journey dimension of our new album. The lyrics are about dealing with a sense of guilt. Sometimes we harm the ones we love without realizing it, and all of a sudden we reckon with our faults and wish to heal the person we hurt."

Adding, "Rubedo is a Latin word that translates to 'redness'. It symbolizes the reunion of opposites and the manifestation of the self in its entirety. The color red has always been connected with hot-blood and sacrifice."

MESSA's new album, Close, will see a March 11th, 2022 release via Svart Records.

Close Tracklist:
"Suspended"
"Dark Horse"
"Orphalese"
"Rubedo"
"Hollow"
"Pilgrim"
"0=2"
"If You Want Her To Be Taken"
"Leffotrak"
"Serving Him"
Close draws us further into Messa's spellbinding textures and immersive dynamics. Described as "Stevie Nicks fronting BLACK SABBATH," singer Sara's colossal voice omnipotently carries the listener on an emotional rollercoaster ride where the sonic cauldron of Iommi guitars gives way to Arabian Oudh and progressive solos in a masterful style-clash that well befits MESSA's incendiary reputation.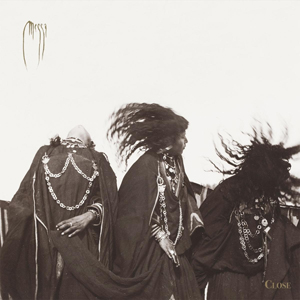 The hushed Fender Rhodes piano intro on opener "Suspended" picks up where MESSA left off on their previous album Feast For Water but then collapses gloriously into Jazz guitar and widescreen impassioned crushing riffs, lighting our way for the odyssey ahead. The scene is set magnificently for the journey that Close expertly takes the listener on, with MESSA's obvious care and passion for the album as a pilgrimage of sonic experience. Heavyweight tracks like "If You Want Her To Be Taken" or "0=2" are modern Doom Rock classics that expertly upgrade and leave the genre reeling in their wake. "Pilgrim" and "Orphalese" are woven with tapestries of Mediterranean sounds where Oudh and eastern chord phrasings expand MESSA's cinematic palette with a panache that is all their own. Atmospheric and grandiose belters like "Rubedo" and "Dark Horse" build into an almost limitless climax of discord and harmony where blast beats and saxophones descend into a thrilling cacophony that's a masterclass in artful cutting edge Doom.
Referencing bands like DEAD CAN DANCE, SWANS, and OM, MESSA have created an album where song, experience, and atmosphere are focused into a crystalline modus where high art flawlessly embraces good old-fashioned riff-worship. Transcending the occult and noir-tinted atmospheres of their past works, Close confidently weaves MESSA's multifarious influences into a singular breath-taking sound that leaves the listener enthralled. Perfection or something extremely close, MESSA's Close is not just a Metal record, but it's definitely one of the best things to break out of the confines of Metal in a long time.