CORNERS OF SANCTUARY Release DEF LEPPARD Cover Video For "Mirror, Mirror"

By Larry Petro, News Monkey
Thursday, January 27, 2022 @ 8:49 AM

| | | |
| --- | --- | --- |
| | | Band's First Ever Cover Song Available As Free Download |
Traditional Heavy Metal rockers, CORNERS OF SANCTUARY (COS), have recently dropped their first-ever cover song with the release of the classic 1981 DEF LEPPARD track, "Mirror, Mirror (Look into My Eyes)". The single is now available as a free download exclusively from the band's website, www.cornersofsanctuary.com and Inner Demon Media.

"Frankie (Cross) suggested us doing this particular track," said COS guitarist Mick Michaels. "We talked about doing something that people wouldn't expect…something from DEF LEPPARD...but not any of the more well-known tracks. It's a powerful and moving song and definitely plays into the COS vibe."

CORNERS OF SANCTUARY swings a weighty axe to deliver a completely exceptional and atmospheric take on DEF LEPPARD's "Mirror, Mirror" concept by adding their own expressive arrangement to both the bridge and solo sections while keeping to the song's original emotional framework.

"We definitely wanted to do something that made it more like a CORNERS OF SANCTUARY song," said Michaels. "Taking some artistic liberties is what the creative process is all about."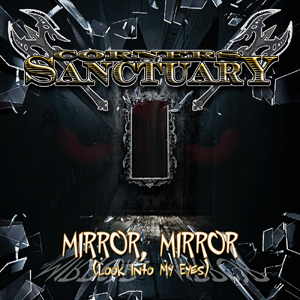 COS teamed up again with legendary L.A. producer and former Metal Blade Records' engineer, Bill Metoyer (SLAYER, W.A.S.P., ARMORED SAINT) to have "Mirror, Mirror" mastered. The track is now available as a free MP3 download.
Get your download at www.cornersofsanctuary.com or www.innerdemonmedia.com
A similarly poignant music video was also released to accompany the single.
See the video on KNAC.COM HERE
"Doing a cover was never really something we considered for real," Michaels added. "But it's something new for us and we had a great time working on it…we hope everyone likes it."
With 2022 in full gear, CORNERS OF SANCTUARY has already begun work on new music, including material for their next full-length album, Vengeance of The Fallen, and has a small string of shows scheduled for the winter which includes performances with THE RODS drummer Carl Canedy's solo band, CANDEY and former MISFITS guitarist Doyle.