LIONHEART Reveal New Video "Angels With Dirty Faces" From Remaster Of Second Nature Album

By Larry Petro, News Monkey
Thursday, January 20, 2022 @ 12:03 AM

| | | |
| --- | --- | --- |
| | | Band Featuring Former IRON MAIDEN Guitarist Dennis Stratton |
"Angels With Dirty Faces", LIONHEART's second single from the global release of Second Nature - which is now set for North American release on February 4th via Metalville Records - is a giant nod to the classic James Cagney/Humphery Bogart movie of the same name from 1938. The song defines the high point of LIONHEART's newly-founded writing collaboration with singer Lee Small and set the standard for all their subsequent work. With a memorable, singalong chorus showcasing LIONHEART's famed three-part vocal harmonies along with LIONHEART's classic twin-guitar harmonies from Steve Mann and Dennis Stratton, the song is powered by the inimitable combination of Rocky Newton's driving bass line together with Clive Edward's rock-solid groove on the kit. "Angels With Dirty Faces" is a particularly fine example of modern classic rock at its best.

You can watch the "Angels With Dirty Faces" official video BELOW.

The great 2017 LIONHEART album, Second Nature, will be released worldwide for the first time on January 21st via Metalville Records (February 4th for North America). To mark this special event, the album has been re-mastered to sound punchier than ever, and now also includes two bonus tracks.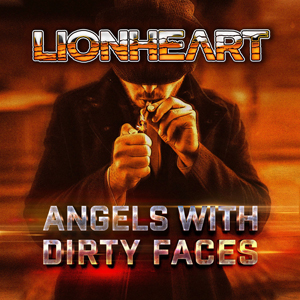 In 2017, the album Second Nature hailed LIONHEARTís triumphant return to the melodic rock music scene with a collection of powerful and memorable songs featuring the distinctive harmony vocals and harmony lead guitars for which LIONHEART were so renowned.
The first LIONHEART album to feature the extraordinary talent of Lee Small on lead vocals, Second Nature was released in Japan (on King Records) and Europe. Unfortunately, in 2020, the European deal lapsed and the album disappeared from the market outside of Japan.
Now Metalville Records have stepped up to the plate and are releasing a repackaged version of the Second Nature album and, for the first time, globally. The release will also include the remarkable "Circle Of Bands" chart by Tristan Greatrex, which has been brought up to date and which was up to now only available in the Japanese release. Cover and tracklisting are as follows:
Tracklisting for LIONHEART's Second Nature
"Prelude"
"Give Me The Light"
"Donít Pay The Ferryman"
"Angels With Dirty Faces"
"30 Years"
"On Our Way"
"Second Nature"
"Prisoner"
"Every Boy in Town"
"Time is Watching"
"Heartbeat Radio"
"Lionheart"
"Mary Did You Know" (bonus track)
"Paperback Writer" (bonus track)
"Reprise"
LIONHEART lineup Dennis Stratton - formerly guitarist with Iron Maiden
Steve Mann - currently guitarist and keyboardist with Michael Schenker
Rocky Newton - formerly bass player and backing vocalist with McAuley Schenker Group
Clive Edwards - formerly drummer with UFO, Wild Horses, and Uli Roth
Lee Small - formerly lead vocalist with Shy and Phenomena