U.S. metalcore giants Like LIKE MOTHS TO FLAMES have lifted another taste from their upcoming EP with the release of new single "Views From Halfway Down". Listen BELOW.

The band's new EP Pure Like Porcelain will be released on Friday, November 5 and also features "The Preservation of Hate".

Broadly, "Views From Halfway Down" explores the idea that humans often live in cycles of pain, addicted to behaviors we know are bad for us. LIKE MOTHS TO FLAMES vocalist Chris Roetter explains — the single is about the struggle and seesaw nature of battling addition, whether that's to substance or even unhealthy mindsets.

"This song is the first time I've ever approached themes surrounding addiction," he shares. "I think I tried to put myself in a place of morbid euphoria. Writing from a spot that felt like I was stuck between wanting to be better and wanting to remain in the state of mind of feeding whatever is driving the addiction. The view from halfway down is that time when you're falling, where very little time passes but you see so much of your life passing by."

Speaking of the full EP, Roetter explains that Pure Like Porcelain's title is an ironic take on the impurity and imperfection of humans. The vocalist admits this was his first time writing more descriptive and detailed lyrics rather than clinging to generalised threads. Both musically and thematically, Pure Like Porcelain demonstrates the fervent new lifeblood to be found in the MOTHS camp and will no doubt swing the heads of the band's faithful following and those of onlookers.

On their forthcoming EP, LIKE MOTHS TO FLAMES bust through the new foundation they set on their 2020 album No Eternity in Gold. Stretching themselves musically, thematically, and dynamically, Pure Like Porcelain finds these seasoned scene heroes in a state of reinvention, reinvigoration, and ultimately hitting their stride once and for all.

Roetter also credits the band's newest members and writing partners, guitarists Zach Pishney and Jeremy Smith, as key to drawing out the refreshed and elevated departure in sound heard on Pure Like Porcelain.

"I remember hearing some of the stuff they were writing and thinking, 'Wow, I don't know if this is too left field to what we do as a band,'" he admits. "I feel like sometimes I might be the safe keeper because I've been in the band since I was a kid, so it's harder for me to stray from what we're known for. But I know Zach and Jeremy have a lot to show, and a lot to offer as musicians. So I just said, 'You know what, you guys do whatever you want. If it's weird, it's weird!'"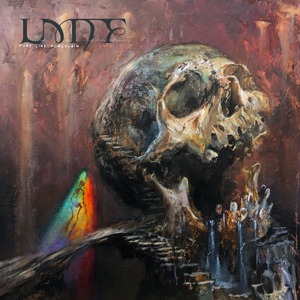 Pishney comments that his and Smith's writing styles are a never-ending cycle of new material raring to go. Just eight weeks after tying up recording for No Eternity in Gold, the group was scheduling new recording time and sifting through 35 songs to find the cream of the crop for Pure Like Porcelain.
"I think the EP is just a small taste of where we could possibly go next as a band," Pishney declares. "If No Eternity is considered a return-to-form album, then the EP is expanding those boundaries again. The coolest thing to me about the outcome of the EP is how extreme the shift in dynamic can be from song to song while still feeling like a cohesive listening experience as a whole."
PURE LIKE PORCELAIN TRACK LISTING:
"Ameliorate"
"Views From Halfway Down"
"The Preservation of Hate"
"Gnashing Teeth"
"Do Not Resuscitate"