The return of the wolves – wilder than ever!

2021 is once again completely under the spell of the wolves: With the announcement of their new studio album, Call Of The Wild, POWERWOLF, the high priest of heavy metal, have turned the heads of fans and critics internationally and hereby seamlessly continue on their unique success story!

The first single from the upcoming album is entitled "Beast Of Gévaudan", and takes the listener on an impressive journey into the depths of historical France, while the majestically staged music video and its stunning visuals make hearts beat faster just after the first few seconds.

Matthew Greywolf on the new single:

"We are more than proud to present "Beast of Gévaudan", the first song off our upcoming album, Call Of The Wild. The story behind the song couldn't fit better into the world of POWERWOLF: It's about a mysterious beast that killed countless people in the south of France at the end of the 18th century. The beast was never caught and there have always been many legends surrounding the events, up to the interpretation of the clergy, who saw the beast as 'God's punishment' or even as a 'savior of mankind from the worldly and sinful existence.'"

Watch the new video for "Beast Of Gévaudan" on KNAC.COM HERE

Once again created in cooperation with the honorable producer duo of Jens Bogren and Joost van den Broek, the masterpiece will open a new chapter in the band's history on July 16, 2021. The eighth studio album will serve both old and newly recruited POWERWOLF devotees with well-known classic trademarks, and equally surprise and delight them at every stage of this wild 11-track ride!

Matthew Greywolf on Call Of The Wild: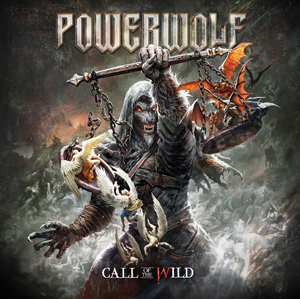 "With Call Of The Wild, we are opening a new, exciting chapter in the history of POWERWOLF. The album sounds unmistakably like POWERWOLF and is so much more at the same time: Besides new territory like the Celtic instrumentation in "Blood for Blood (Faoladh)" or the ballad like "Alive or Undead" we have raised all our trademarks to a new level. Until now, we never sounded so powerful and wild - in the truest sense of the word. We can't wait to finally share this beast of an album with you all!"
Call Of The Wild, the follow-up to their 2018 #1-charting studio album Sacrament Of Sin, manifests the band's inimitable success story and proves once again that they sit unchallenged on the throne of the genre.
Call Of The Wild tracklisting:
"Faster Than the Flame"
"Beast of Gévaudan"
"Dancing with the Dead"
"Varcolac"
"Alive or Undead"
"Blood for Blood (Faoladh)"
"Glaubenskraft"
"Call of the Wild"
"Sermon of Swords"
"Undress to Confess"
"Reverent of Rats"
Various formats (2-CD Mediabook, 3-LP Vinyl Box, 3-CD Earbook, digital) of the new album include the bonus album Missa Cantorem - a cross-section of the Wolves' success story with newly recorded vocals by friends and companions of the band.

Missa Cantorem (Bonus Album) Tracklisting:
"Sanctified With Dynamite" - feat. Ralf Scheepers (Primal Fear)
"Demons Are A Girl's Best Friend" - feat. Alissa White-Gluz (Arch Enemy)
"Nightside Of Siberia" - feat. Johan Hegg (Amon Amarth)
"Where The Wild Wolves Have Gone" - feat. Doro Pesch
"Fist By Fist (Sacralize Or Strike)" - feat. Matthew Kiichi Heafy (Trivium)
"Killers With The Cross" - feat. Björn "Speed" Strid (Soilwork)
"Kiss Of The Cobra King" - feat. Chris Harms (Lord Of The Lost)
"We Drink Your Blood" - feat. Johannes Eckerström (Avatar)
"Resurrection By Erection" - feat. Christopher Bowes (Alestorm)
"Saturday Satan" - feat. Jari Mäenpää (Wintersun)
On their upcoming tour, fans can not only expect brand new heavy metal anthems to be played and chanted along by thousands, but also the biggest and most epic production POWERWOLF has brought to the stage thus far, once again cementing their status as one of the most intense live bands.

Wolfsnächte 2021
01.10.21 DE - Stuttgart / Schleyerhalle
02.10.21 CH - Zürich / Samsung Hall
04.10.21 ES - Barcelona / Razzmatazz
05.10.21 ES - Madrid / Riviera
07.10.21 FR - Paris / Zenith
08.10.21 UK - London / Roundhouse
09.10.21 BE - Antwerp / Lotto Arena
10.10.21 NL - Amsterdam / Afas Live
12.10.21 IT - Milano / Alcatraz
13.10.21 DE - Frankfurt / Jahrhunderthalle
15.10.21 DE - Munich / Zenith
16.10.21 DE - Oberhausen / König Pilsener Arena
17.10.21 CZ - Prague / Tipsport Arena
18.10.21 PL - Katowice - MCK
20.10.21 HU - Budapest / Arena
21.10.21 AT - Vienna / Gasometer
22.10.21 DE - Berlin / UFO im Velodrom
23.10.21 DE - Hamburg / Sporthalle