LAMB OF GOD Announce Two Massive Worldwide Streaming Events

By Larry Petro, News Monkey
Thursday, September 3, 2020 @ 8:10 AM

| | | |
| --- | --- | --- |
| | | September 18 & 25; Performances From WHITECHAPEL, BLEED FROM WITHIN |
Miss the ferocity, groove and aggression of the one-and-only LAMB OF GOD live? Well, the wait is over.

The mighty LAMB OF GOD will offer fans first-time-ever live performances of the band's critically acclaimed new album, Lamb of God, and the landmark 2004 album Ashes of the Wake, both performed live in their entirety in the band's hometown of Richmond, VA. As standalone ticketed events, these performances will be LAMB OF GOD's only chance to perform these songs for fans this year – and the band are ready to deliver to the highest degree.

The first stream, scheduled for Friday, September 18, will see the band perform songs from their latest self-titled album, released June 19 via Epic Records, live for the very first time. For the second stream, on Friday, September 25, the band will perform the ground-breaking RIAA certified Gold album, Ashes of the Wake, in its entirety for the first time ever. Both sets will feature encores, including fan favorites as well as songs that haven't been performed in years.

The streams are scheduled to begin at 5 p.m. EDT/2 p.m. PDT on their respective days. Livestream tickets will be $15 per show or a limited time bundle of $20 for both shows and are on-sale now at http://lamb-of-god.com. Streams will be available to watch video-on-demand through 11:59 p.m. EDT on Sunday for fans who purchase a ticket. Additionally, the band will be offering ticket and limited merch bundles plus an exclusive merchandise store available only to ticket holders during the stream. A pre-show is scheduled to begin at 4 p.m. EDT/1 p.m. PDT before each stream, hosted by Jose Mangin, featuring exclusive interviews with members of the band and opening sets from BLEED FROM WITHIN (September 18) and WHITECHAPEL (September 25). BLEED FROM WITHIN will be airing a brand new full production 30 minute set and WHITECHAPEL will air their memorable 2014 hometown performance from Knoxville, TN.

For more information including tickets and merch bundles, visit at http://lamb-of-god.com.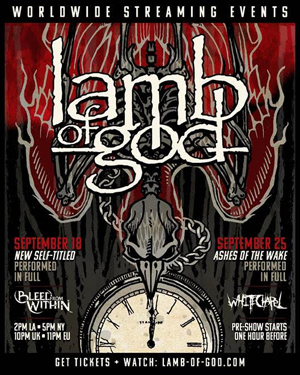 LAMB OF GOD propelled heavy metal into the new millennium two decades ago with the prophetically titled New American Gospel. They followed with 2003's As the Palaces Burn, which made the Rolling Stone list of the Top 100 Greatest Metal Albums of All Time. Ashes of the Wake (2004) was the first LAMB OF GOD album to be certified gold by the RIAA, followed by Sacrament (2006), which debuted in Billboard's Top 10. Wrath (2009) earned the No. 1 spot on Billboard's Hard Rock, Rock, and Tastemaker charts and was No. 2 on the Billboard 200. Those No. 1 positions were repeated with Resolution (2012). VII: Sturm und Drang (2015) debuted at No. 3 in North America and in the Top 5 in several countries. The single "512" from VII: Sturm und Drang received a Grammy nod for the "Best Metal Performance," making it LAMB OF GOD's fifth Grammy nomination.
A true collaboration between all members of the band, LAMB OF GOD's eighth studio album is an amalgam of each individual's contributions, blended to create a singular style. Guitarists Mark Morton and Willie Adler fuel the album with a mountain of riffs, taking what LAMB OF GOD are known for, and unbelievably, upping the ante to new levels. The rhythm section of John Campbell, looming large as a rhythmic shadow, and drummer Art Cruz, who makes his studio debut with LAMB OF GOD here on this record, underpin the proceedings with passion, sweat and expansive dynamics. Vocalist D. Randall Blythe is as angry, insightful, and informed as ever. Never one to shrink from facing the darker aspects of our nature head-on, Blythe delivers with no punches pulled, and as only he and LAMB OF GOD can in 2020.
LAMB OF GOD's co-headline tour with MEGADETH plus special guests TRIVIUM and IN FLAMES has been postponed to 2021. For new dates and tickets visit: http://metaltouroftheyear.com