performs a live in-studio set for an exclusive one time streaming broadcast on Aug 9, 2020 at 4 PM EDT (Eastern Daylight Time). This multi camera shoot and audio mix will happen in real time at the same studio VOIVOD recorded their Juno winning album The Wake.

Why Aug 9? It's Denis "Snake" Belanger's birthday and he wanted to party safely with all his friends and fans from around the globe since VOIVOD touring the planet has been grounded by the Pandemic."

Tickets are $15 CDN plus applicable taxes based on your location. Buy a single ticket or group rates HERE.

Check out further details here: https://www.facebook.com/events/590841571621202/

Most recently, VOIVOD have released a 3-track 12" Vinyl and Digital EP entitled The End Of Dormancy earlier this month worldwide via Century Media Records.

The EP is centered around a special "Metal Section" version of the title track "The End Of Dormancy" (Off VOIVOD's latest album The Wake) with added trumpets, saxophone and trombones. The complementary tracks on this release are exclusive live versions of "The End Of Dormancy (Metal Section)" and the group's classic "The Unknown Knows" recorded at Montreal Jazz Fest 2019. Here is the exact track-listing for the EP: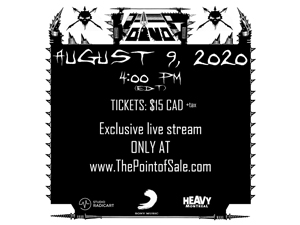 VOIVOD – The End Of Dormancy EP:
Side A:
"The End Of Dormancy (Metal Section)"
Side B:
"The End Of Dormancy" (Live Montreal Jazz Fest 2019)
"The Unknown Knows" (Live Montreal Jazz Fest 2019)
VOIVOD's The End Of Dormancy EP comes with artwork by VOIVOD drummer Michel "Away" Langevin and is available on 180g. 12" vinyl in the following highly collectible and limited editions:
Black vinyl
Light Blue vinyl – 200x copies from CM Webshop Europe (Sold out!)
Neon Yellow vinyl – 400x copies from CM Distro (Sold out!)
Transparent Magenta vinyl – 200x copies from Band Webshop
The EP can be ordered here: https://voivodband.lnk.to/TheEndOfDormancy-EP

For the band vinyl version (and many other cool items!), please visit: https://voivodmerch.com/