UK old-school rockers AIRFORCE have joined forces with Pitch Black Records for the release of the bandís new album, their second full-length since reforming in 2016.

The new AIRFORCE studio album Strike Hard is set for release on September 4th 2020 on CD and Digital.

AIRFORCE stem originally from the NWOBHM era back in the 80ís with the bandís style best described as Old School Metal at its best, full of hooks, Riffs and soaring melodies!

The band was originally formed in 1986 by Tony Hatton (bass), Chop Pitman (guitars) and legendary drummer Doug Sampson (ex-IRON MAIDEN).

The AIRFORCE line-up now includes the extremely talented vocalist Flavio Lino who recently joined the band on a permanent basis.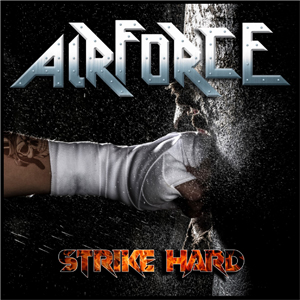 Strike Hard features a guest appearance by Paul Dií Anno (ex-IRON MAIDEN vocalist).
The song ďDie For YouĒ is now available for streaming and free download at www.pitchblackrecords.com where pre-ordering information is also available. A video for the same song will be released on the bandís YouTube channel and followed by a series of other videos in the upcoming months.
Album track-listing:
"Fight"
"Die for You"
"Son of the Damned"
"The Reaper"
"Finest Hour"
"Don't Look in Her Eyes"
"I Feel Your Pain"
"War Games"
"Band of Brothers"
"The War Inside"
"Faith Healer"