Fourth Annual PUNK ROCK & PAINTBRUSHES Holiday Art Show Returns To Los Angeles

By Larry Petro, News Monkey
Tuesday, November 19, 2019 @ 10:55 AM

| | | |
| --- | --- | --- |
| | | Opening Night Reception on Saturday, December 21 At Self Help Graphics & Art |
Romantic Rock's highly anticipated Punk Rock & Paintbrushes Holiday Art Show returns for its fourth year, with the opening night and red carpet artist reception taking place on Saturday, December 21 from 6:00pm to 11:00pm. With over 1,500 people in attendance in 2018, this year's Punk Rock & Paintbrushes Holiday Art Show will take place in the Boyle Heights area of Los Angeles, CA at Self Help Graphics & Art, which spans over two galleries and a large exterior space. A look at last year's Punk Rock & Paintbrushes Holiday Art Show can be seen BELOW.

Celebrating the fine art and photography of creatives who share a passion for both music and art, Punk Rock & Paintbrushes Holiday Art Show will feature artwork from musicians Tim Armstrong of Rancid, Matt Hensley of Flogging Molly, Jim Lindberg of Pennywise, Alison Mosshart of The Kills, Monique Powell of Save Ferris, Carla Harvey of Butcher Babies, Warren Fitzgerald of The Vandals, Jennie Cotterill of Bad Cop/Bad Cop, and Jack Grisham of T.S.O.L.; tattoo artist Tokyo Hiro; professional skateboarders Steve Caballero and Jason Adams; photographers Madison Stern and Sara Wright, and artists Soma Snakeoil, Natalia Fabia, Paul Kobriger, The Mad Twins: Olya & Vira Ishchuk, Chris Shary, Johnny Ness, Sarah Melvin, and Lori Herbst. Each artist will have multiple original pieces, prints, and much more.

The Punk Rock & Paintbrushes Holiday Art Show will feature music throughout the night from special guest DJs including Noodles of The Offspring, Jonny Two Bags Wickersham of Social Distortion, Stacey Dee of Bad Cop/Bad Cop, and Joe Sib of SideOneDummy Records, and also boast a full cocktail bar, a coffee booth featuring Oakland Coffee, red carpet, photo booth, live body painting, and more.

To RSVP to this all ages event, please visit: https://prpb2019.eventbrite.com

Emily T. Nielsen, founder of both Romantic Rock and Punk Rock & Paintbrushes says, "The Punk Rock & Paintbrushes team is so excited to be hosting another holiday event in Los Angeles this December, sure to be our biggest yet! We will celebrate a successful year and everyone's hard work with our amazing lineup of artists, photographers, and our wonderful DJs who volunteer their time to give back to our official non profit, The Sidewalk Project. We are very thankful to all of our partners for this show and all of our team for doing such an amazing job this year. Please join us in enjoying and celebrating ART.... without you there is no us!"

Some of this year's participating Punk Rock & Paintbrushes artists said the following:

"Christmas time is a very special time for me and I'm super stoked to be apart of this Holiday group show with some of my favorite artists. Looking forward to showing some new stuff this year." - Steve Caballero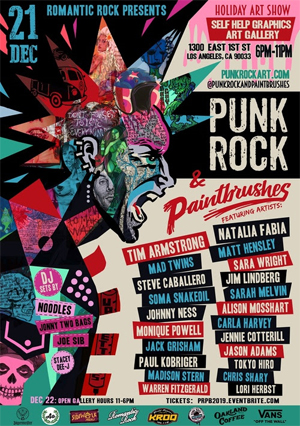 "I am looking forward to the Punk Rock & Paintbrushes show in December. I am always inspired to see everyone's work. I have been on tour most of the year but I have some ideas that I am looking forward to making for the show and am trying to push myself to learn more and combine a few different mediums." - Matt Hensley of Flogging Molly
"Being new to the art scene, I'm so very excited to be a part of this event. It's an honor to have my work hung beside such talented artists. I'm not only a fan of their art, but for many, also a fan of their music!" - Monique Powell of Save Ferris
Punk Rock & Paintbrushes will be donating a portion of the proceeds from the opening night reception to The Sidewalk Project, a Los Angeles non-profit whose initiative is to enrich the lives of the Los Angeles houseless community. Through various mediums including art, music and film, The Sidewalk Project aims to be socially active in houseless communities around the world, working directly on the street to share in a sense of connection and well-being. To benefit The Sidewalk Project, Punk Rock & Paintbrushes Holiday Art Show has also partnered with Vans Footwear to produce "The Art of Shoes," where artists featured in the show and other iconic punk rock musicians will paint one-of-a-kind designs onto Vans shoes to be auctioned at the show.
The Self Help Graphics & Art is located in the Boyle Heights area, at 1300 East 1st Street, Los Angeles, CA 90033. The Punk Rock & Paintbrushes group art exhibition will also be open on Sunday, December 22 from 11:00am to 6:00pm with musical performances and other special surprises to be announced soon.
Sponsors for Punk Rock & Paintbrushes Holiday Art Show include: Oakland Coffee (founded by Green Day), AO Hemp (owned/founded by Nathen Maxwell of Flogging Molly), Punk Rock Bowling, The Sidewalk Project, KROQ, Vans Footwear, and Jagermeister.
Punk Rock & Paintbrushes will also host holiday shows in Portland, OR and Seattle, WA with select artists. The Portland show will take place December 13 at Bodecker Foundation. RSVP here: prpb2019pdx.eventbrite.com. The Seattle show will take place on December 14 at Piranha Show Gallery.