WHITECHAPEL Set To Release New Album The Valley


By Larry Petro, News Monkey
Thursday, November 1, 2018 @ 5:29 PM


| | | |
| --- | --- | --- |
| | | Out March 29th; New single, "Brimstone", Streaming |
On March 29th, WHITECHAPEL will release their 7th full-length, The Valley, via Metal Blade Records. Produced once again by Mark Lewis (CANNIBAL CORPSE, THE BLACK DAHLIA MURDER) and featuring artwork by Branca Studio, The Valley is a reference to the part of Hardin Valley (west of Knoxville, Tennessee) where vocalist Phil Bozeman grew up. Set against this backdrop, he approaches his subject matter unflinchingly, building upon everything that came before, making it clear that he has survived that which he was forced to endure and is not afraid to confront it. "Phil has been upfront in his lyrics in the past about hardships he endured in his life as a child, and I believe with this record we tried to paint a better picture of that," says guitarist Alex Wade, who alongside his bandmates, stands 100% behind everything their vocalist has to say. "I feel our music is Phil's release from his past, being able to get it out and speak about it, and hopefully anyone who hears it that may have gone through similar experiences can find some release in it as well."

For a preview of The Valley, the first single, "Brimstone", can be heard now below. Head to http://www.metalblade.com/whitechapel - where the album can be pre-ordered in the following formats:
digipak-CD
box set (digipak CD, shoulder bag, 10 art prints, poster)
clear w/ black smoke vinyl (US exclusive - limited to 600 copies)
transparent red w/ black smoke vinyl (US exclusive - limited to 500 copies)
opaque red inside black haze vinyl (US exclusive - limited to 300 copies)
opaque cream w/ black splatter vinyl (US exclusive - limited to 300 copies)
black inside transparent orange haze vinyl (US exclusive - limited to 300 copies)
orange / red marbled vinyl (EU exclusive - limited to 500 copies)
180g clear vinyl (EU exclusive - limited to 500 copies)
clear / black marbled vinyl (EU exclusive - limited to 200 copies)
white / orange / red marbled vinyl (EU exclusive - limited to 200 copies)
orange / purple marbled vinyl (EMP exclusive - limited to 100 copies)
blood splattered vinyl (Impericon exclusive - limited to 100 copies)
* exclusive bundles with shirts, plus digital options are also available!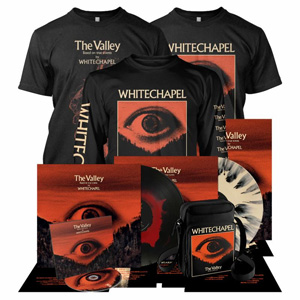 Anyone throwing The Valley on for the first time will immediately recognize it as the work of WHITECHAPEL, yet as has been the case with each release, there is also evolution in play. "Sound-wise, it's all over the place," Bozeman states plainly. "There's aggression, and then you're hit with ominous and emotional guitar riffs. It's mean, but then transfers to soft and inviting. It's a whirlwind of emotions throughout."
Stay tuned for more news about The Valley coming soon!
The Valley track-listing
"When a Demon Defiles a Witch"
"Forgiveness Is Weakness"
"Brimstone"
"Hickory Creek"
"Black Bear"
"We Are One"
"The Other Side"
"Third Depth"
"Lovelace"
"Doom Woods"
Starting today, WHITECHAPEL will be on the road for their "Ten Years of Exile" USA tour, commemorating the 10th anniversary of This Is Exile. Featuring CHELSEA GRIN, OCEANO, and SLAUGHTER TO PREVAIL as support, this trek will also see WHITECHAPEL perform This Is Exile in its entirety, plus a selection of other songs - and will be the last run of shows before the band tours in support of The Valley. See below for all dates!

WHITECHAPEL tour dates
w/ CHELSEA GRIN, OCEANO, Slaughter To PrevailSLAUGHTER TO PREVAIL
11.1 - Pittsburgh, PA - Rex Theater
11.2 - Syracuse, NY - Westcott Theater
11.3 - Easton, PA - One Centre Square
11.4 - Providence, RI - Fete Ballroom
11.5 - Hartford, CT - Webster Theater
11.7 - Richmond, VA - Canal Club
11.8 - Huntington, WV - V Club
11.9 - Dayton, OH - Oddbodys
11.10 - Greenville, SC - The Firmament
11.12 - Athens, GA - Georgia Theater
11.13 - Orlando, FL - The Abbey
11.16 - Toledo, OH - Civic Music Hall
11.17 - Milwaukee, WI - The Rave II
11.18 - Ft Wayne, IN - Piere's
11.20 - St Louis, MO - Delmar Hall
11.21 - Lincoln, NE - Royal Grove
11.23 - Wichita, KS - Wave
11.24 - Colorado Springs, CO - Sunshine Studios
11.25 - Ft Collins, CO - Aggie Theater
11.27 - Salt Lake City, UT - The Depot
11.28 - Spokane, WA - The Pin
11.29 - Seattle, WA - Showbox at the Market
11.30 - Jerome, ID - Diamondz Event Center
12.1 - Portland, OR - Bossanova Ballroom
12.2 - Bend, OR - Domino Room
12.4 - Chico, CA - Senator Theater
12.5 - Santa Cruz, CA - The Catalyst
12.6 - Bakersfield, CA - Bryder's
12.7 - Los Angeles, CA - Fonda Theater
12.8 - San Diego, CA - House of Blues
12.9 - Tucson, AZ - The Rock
12.12 - Austin, TX - Come and Take It Live
12.13 - Tulsa, OK - Cain's Ballroom
12.14 - Memphis, TN - Growler's
12.15 - Birmingham, AL - Zydeco
12.16 - Knoxville, TN - The Mill & Mine




Please log in to view RANTS

If you don't have a username, click here to create an account!