ICARUS WITCH Return With Goodbye Cruel World Album


By Larry Petro, News Monkey
Tuesday, September 18, 2018 @ 1:05 PM


| | | |
| --- | --- | --- |
| | | Out October 26th; Track "Misfortune Teller" Streaming |
Pittsburgh heavy metal band ICARUS WITCH has announced plans to release their 6th record, Goodbye Cruel World, on October 26th with Cleopatra Records. The upcoming record marks the band's first new record in 6 years and first to feature new vocalist Andrew D'Cagna. Today, the band has debuted the record's new song "Misfortune Teller", and you can check it out below.

Pre-order Goodbye Cruel World HERE

"Lyrically "Misfortune Teller" is about a hypothetical megalomaniac," says the band's founding bassist Jason Myers. "It's the story of a psychic vampire who will do and say anything to advance their own agenda, even if it means turning people against each other. Though, in this tale, the victims finally snap out of the spell and the villain is served their just karma."

"Misfortune teller, it's all just smoke and mirrors
Delusion seller, preyed upon our darkest fears
You'll get what's coming to you, you are your own misfortune teller"

"Musically, it's a traditional banger, that invokes the fist-in-the-air arena rock of Jake-era Ozzy or early DOKKEN & DIO," Myers adds. "It's based around a couple shredding riffs that Quinn had been kicking around for ages. It's those signature hooks that he'd naturally go to when soundchecking or trying out a new axe but just never found their way to a proper song structure… until now."

Nearly a decade and half after their formation, ICARUS WITCH has never sounded so vital. The band's reinvigorated sound can be traced back to Myers' move to Salem, MA and brief sabbatical, reconnecting with his witchcraft roots where he found inspiration and song ideas. Meanwhile, guitarist Quinn Lukas continued writing music back in Pittsburgh. After returning to the Steel City, Myers regrouped with Lukas and the pair demoed their new material for a year before enlisting the vocal talents of Andrew D'Cagna (BRIMSTONE COVEN, IRONFLAME) who rounded out the band's current lineup. The band hired drummer Jon Rice (BEHEMOTH, SKELETONWITCH) to provide the record's pummeling percussion. Finally, with the assistance of Pittsburgh extreme metal wunderkind Shane Mayer engineering and some valuable pre-production notes from legendary producer, Neil Kernon (QUEENSRYCHE, JUDAS PRIEST) the band tracked the album in early 2018. Mixing duties were given to rising studio star, Atlanta-based Brad Cox and the record was mastered in Sweden by Erik Martensson, of melodic rock gods ECLIPSE.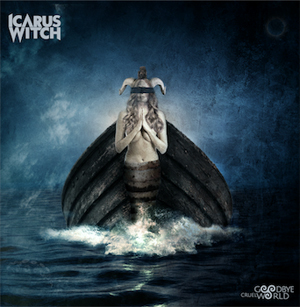 "Though the title Goodbye Cruel World may sound like the first line of a suicide note, we actually see it in a positive light -- bidding farewell to the past and to the negative things that anchored you or restrained you from discovering your best life. Isn't that what we all strive for in the end?" - Jason Myers
Goodbye Cruel World Tracklisting:
"Goodbye Cruel World"
"Misfortune Teller"
"Lightning Strikes"
"Mirage"
"Through Your Eyes"
"The Flood"
"Silence of the Siren"
"Possessed by You"
"Antivenom"
"Until the Bitter End"
ICARUS WITCH will be performing a hometown album release show Saturday, October 27 7PM - 11PM at Get Hip Record store (1800 Columbus Ave Ste 40, Pittsburgh, Pennsylvania 15233).




Please log in to view RANTS

If you don't have a username, click here to create an account!