JACK RUSSELL's GREAT WHITE is currently playing gigs across North America, with a lineup of Jack Russell on vocals, (original GREAT WHITE) bassist Tony Montana, drummer Derrick Pontier (GREAT WHITE member from 2001 to 2005), and guitarist Robby Lochner.

In March of 2012, Russell took a medical leave of absence and the rest of the band continued to tour as GREAT WHITE. When the classic lineup of Jack Russell, Mark Kendall, Michael Lardie, and Audie Desbrow split, a legal battle began over who would use the GREAT WHITE name. It was Kendall, Lardie, Desbrow vs. Russell. However, the court ruling has determined that both parties will use the GREAT WHITE name. Another GREAT WHITE but without Jack Russell? Perhaps they should be known as NOT-SO GREAT WHITE.

There is already a backlog of bullshit and painful truth about this band. Leaving the bullshit aside and focusing on the present tense, KNAC.COM caught up with Russell the night before his band's Whisky a Go-Go performance on the storied Sunset Strip, the place where it all started for GREAT WHITE.

KNAC.COM: You've had Robby and Derrick in this lineup for a while. How long is Tony going to be on board?

RUSSELL: Tony's going to be out with us for the tour, and maybe more. He's just a hired gun, but I'll keep him on as long as he wants to play. He's always been my favorite bass player. I've always loved Tony. Great bass player, great guy, great showman. For me, he embodied GREAT WHITE, as the bassist. So it's awesome that he decided to come out and play with me. We have a kid named Robby Lochner on guitar who played with Rob Halford's band, FIGHT. And he's just a monster. He's doing this stuff that I can't even see, and he looks like he's eating a sandwich. It amazes me.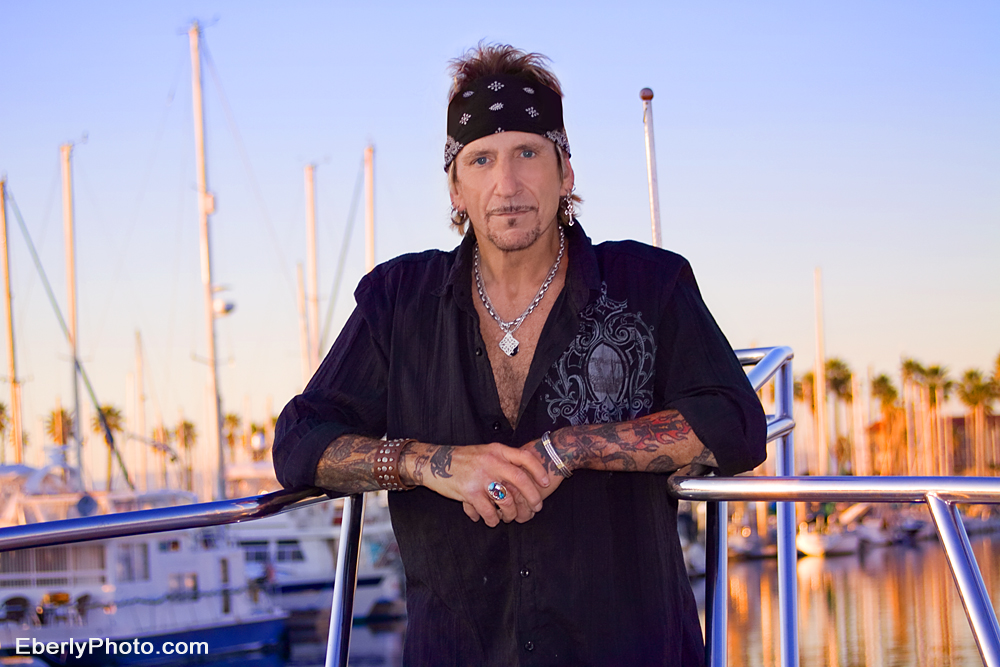 KNAC.COM: You will be pulling out all the expected hits for this tour, right?
RUSSELL: Absolutely. And, as this tour goes along we're going to be adding some new stuff, some different stuff, obscure stuff along with the hits as well. We're going to start interchanging songs, so one night won't be the same as the night before. So you never know what to expect. But there's always certain songs that will have to be in the set, like, "Save You Love", "Rock Me", "Once Bitten Twice Shy", "House of Broken Love". You can't really take those songs out of the set because those songs are so quintessential GREAT WHITE songs.
KNAC.COM: How is your voice?
RUSSELL: My voice is great. It feels really good. It's really strong. It's funny, we played with QUEENSRYCHE. Not Geoff Tate's, but QUEENSRYCHE. Their new singer sounds amazing. I was wanting not to like him. He watched our whole set and he said, "Dude, you're so great." And I was like, "Wow. Thanks, man." I ended up watching half the set and singing along with him and I'm going, "Wow, I'm hitting the same notes. I can't believe it. And he was just unbelievable. He sounded more like Geoff than Geoff did. And I really didn't want to like him. You can't change the singer. But I guess sometimes you can. If the singer sounds just like the original one, it works. The band was just so damn tight. I was blown away. I've known the bass player for a while (Eddie Jackson) and he's a really great guy. And Scott Rockenfield, what a drummer. That guy's just incredible. So, there was nothing wrong with them at all. I enjoyed the show. I had a great time. It was a big, big crowd, so we had a blast. Hopefully we'll do some more shows with them again.
KNAC.COM: Looking at the tour schedule I see that there will be other bands joining you on this tour. Have there been any added that we don't know about yet?
RUSSELL: I can't think of anything because I don't really know the schedule. I'm like the guy who wakes up and says, "Okay, where are we?" (laughs). Tell me what city we're in before I go onstage, so I don't screw up and say the wrong one. I'll just close my eyes and wake up at the next place. I don't care. As long as there's a stage and people are in front of it. Who cares where I'm at? Whether it's 200 people or 20,000.
KNAC.COM: Does it matter?
RUSSELL: It doesn't matter, man. I play for the people who are there, not the ones that aren't. I mean, so many people get wrapped up in that. You do your big festivals and then you got a Tuesday night you got to fill in at some small bar, and there's a few hundred people, and like, "Oh man. This really sucks, man." Dude. Get a grip. People are here to see you play. How lucky are you, that you can make a living doing this? That you are lucky enough, and blessed enough to have people come out and want to see you play. And give up their hard-earned money so you can play and not have to work at 7-11. So just shut your mouth and have some humility. We don't say, "We're going to work." We say, "We're going to play." What more do you need? How lucky can you be? For me, at least. Not everybody would want to do what I do. But for me, there's nothing like it. That's why at 52 years old I want to do it just as bad as I did when I was 22 years old. KNAC.COM: Are you on talking terms with anybody else in the [the other GREAT WHITE] band?
RUSSELL: I'm not on talking terms with anybody at this point. I mean, Mark [Kendall] and I just kind of shook hands briefly. That was about it. We got a long road to come back to where we left off at. There's a lot of water under the bridge and a lot of bridges to be mended. I would like to think that one day Mark and I could be friends again and maybe share the stage again together. That's a nice thought. It brings back a nice feeling in my heart.
KNAC.COM: That's painful stuff to walk through.
RUSSELL: Well, sure. Mark and I started when I was 17 years old. I spent most of my life with him. I spent more time with him than all my wives put together (laughs). You know? I mean, truly. It's sad where we have come, and hopefully in two years, who knows, we could become friends again when all this gets settled. You never know what's going to happen. We might be onstage together one day again. I wouldn't be surprised at this point, you know? Sometimes you got to make a change and you never know what fortune may bring. You just kind of gotta go where the river takes you. And this is where it's brought me and I'm not going to fight the current and get all worn out. I'm just going to go with the flow. Wherever God wants me to be that's where I'm going to be.
KNAC.COM: Why fight it, right?
RUSSELL: Yeah, exactly, man. You're going to get there anyway, why get there all tired (laughs). I'm too old to be fighting stuff, man. It's like --I don't want to fight anything anymore. I just want to go play. Have fun. Enjoy it. I'm at least in the twilight of my career, at best. I'm in the twilight--if not like early evening, you know? So I want to enjoy it as long as I can. If I can get another five, ten years out of this I'll be just astounded.
KNAC.COM: I share a belief with many that guys like you and Glenn Hughes are the distinct voices in rock.
RUSSELL: Thank you. I appreciate that. It's been a great gift from God, and as long as he keeps loaning it to me I'll keep using it.
KNAC.COM: Tell me about Captain Jack and a pirate's life, your creed.
RUSSELL: It's my life, man. I live my life like a pirate. I always have. Except for the raping part (laughs).
KNAC.COM: It's still early.
RUSSELL: It's still early, right? (laughs) Pretty close sometimes. You go on the road, you're touring, you're on a bus, and you're just kind of getting away with murder, you know. We basically are road pirates. I live on a boat, for God sakes, you know? I've lived my life like that. It's just do whatever I want to do and have fun, whatever happens, happens. I don't know, man. I always like to travel and see different ports. A pirate's life kind of says it all. It's just the life that we live. We're pirates of the road instead of the seas.
KNAC.COM: How has your wife adapted to the lifestyle?
RUSSELL: I have a lovely wife who lives on the boat with me and that's hard to find. It's hard to find a woman who will give up all these amenities of a house and washer, dryer, and a bathtub. She's just an amazing lady. And thank God for her or I wouldn't be here anyway.
KNAC.COM: Where did you meet her?
RUSSELL: We met at a show in Arizona. And I broke my cardinal rule: I asked her back to my hotel room. I did that once when I was younger and I got my driver's license stolen. So, I said I'd never do that again. You know what I mean? It's either the back of the bus or forget it. I broke my cardinal rule and I had her back to my hotel room and we just sat and talked all night long and became really good friends. When my mom got sick--she happened to be a nurse--so she came out and stayed with us and took care of my mom. Then we both got sick. One time she was pushing two wheelchairs around. Poor thing. We just fell in love. And the rest is history. I've never had a woman that has loved me as much as she does, and I've never loved a woman this much. I've never loved a woman more than I've loved my band. And I put her above my band. I've never done that before.
KNAC.COM: A lot changes for you in just a few years. The last time we spoke, probably four years ago, you were living out in the desert. Glad you're back on the boat. You seem happier.
RUSSELL: I never thought at fifty years old, you finally meet the love of your life and it's like really weird. I never expected it. I just kind of figured, "Okay, I'm fifty. It's kinda over." Just gonna hang out with the boys and I'll drop the kids off at the pool every once in a while and call it a day, you know? No, it's wonderful. It's been an amazing adventure and more to follow. My wife laughs. She says, "You're like that movie, Clash of the Titans. He keeps picking up Prometheus and dusts him off every time he gets in trouble." He picks him up...every time something happens, God picks you up and dusts you off and stands you back up again. My life has kind of been like that. I don't know why. Maybe I'm God's court jester. I keep Him laughing.
KNAC.COM: You're more like God's prodigal son.
RUSSELL: Well, thank you. That's...wow, I don't know how to answer that but thank you. I was definitely put here for a reason and I've never had a doubt what that reason was. Ever since I was a kid I knew what I was going to be. At six years old I knew I was going to be a rock star. No matter what anybody told me, I'd say, "I don't care what you say. I know I'm going to be a rock star." And then when it happened, I was like, "See, I told you so."
KNAC.COM: Then you came out screaming, "stick it."
RUSSELL: Yeah, right? (laughs)
KNAC.COM: Oh my God, dude. That song ("Stick It") is so vicious. I love that song.
RUSSELL: That's funny.
KNAC.COM: Don't you hate it when a journalist is a big fan, too?
RUSSELL: No, I love it, because you can relate to what I've done and where I've been and there's not a big question mark, you know, over your head of who you're talking to. Or, what are we all about? I think it's awesome when a journalist knows the band, especially likes the band. That's huge to me. It makes the interview a lot more interesting, because it's not like, "How did you all get together?" Oh God. We got to do that question again, 31 years later? If you don't know that then call my publicist and then do your homework. Go on the internet and then call me later.
KNAC.COM: You've enjoyed the excesses and the spoils of rock stardom. But despite all the setbacks, would you say you're in a sweeter place today?
RUSSELL: Oh yeah. Absolutely. I have my wife. My health is in pretty good shape, except for a couple aches and pains here and there from my body colliding with hard ground. When you're drunk, gravity really works differently than it does when you're sober (laughs). Except for a couple hang-ups because of that, I'm in good shape and I feel good. I'm in a really good spot today. I'm just feeling really good about my life.
KNAC.COM: Have you any new GREAT WHITE material in the can?
RUSSELL: We're writing and we've got some new stuff in the can. I'm hoping towards the end of the year we'll start seriously working on some tunes and recording. We've got some great stuff already written. It's going to sound like GREAT WHITE. How could it not. I don't want to jinx it, but maybe by Christmas or early next year, before the summer tours next year. Give the band a week or so and it's going to be tighter than a gnat's butt.
KNAC.COM: Just how tight is a gnat's butt?
RUSSELL: It's pretty darn tight, man. Not that I've ever had to get to close to one, but I can imagine it's pretty darn tight. It's tighter than most people than I know.
KNAC.COM: Good. I'm going to go looking for a gnat after this.
RUSSELL: Bring a magnifying glass.
http://www.jacksgreatwhite.com/
https://www.facebook.com/groups/Gr8WhiteRox/
Check out Gnarly Charlie's photos from the Whisky!