Listen up! If you havenít already heard of QUEEN V, then this is a band that should be on your radar! Led by fierce frontwoman V, the New York-based group formed in 1996 and hassince been working hard to build a strong local following while thoughtfully refining its sound and image, and readying for the next stage in the evolution of its career. In addition to gigging regularly in the Big Apple, QUEEN V has been performing in cities across the country, winning over new audiences, and generating an industry buzz. Of course, the Internet has also been key in helping to spread the word.

QUEEN Vís latest release, The Decade of QUEEN V, is a collection of catchy and powerful anthems rooted in classic rock that are sure to grab your attention. The first two tracks, "Revolution Baby" and ,i>"America", will instantly draw you in. The albumís new single, "Cry Your Eyes Out", has just hit the airwaves along with a video.

When we caught up with the Queen herself, she was hanging outbackstage at the Mayhem Festival in Pittsburgh, PA. V was scheduled to play her own gig in the Steel City the following day, so she was enjoying a fun day of rocking and relaxing with her comrades, and we were grateful to her for taking time to chat with KNAC.COM. V was anxious to fill us in on the details of her new release, tell us how the tracks were compiled, and give us a heads up on what we can look forward to hearing from QUEEN V.

KNAC.COM: Everyone at KNAC.COM who has heard the record is hooked! Tell us how you got started and when you became interested in playing music. What inspired you early on?

V: I started on piano when I was five and shortly after that I started singing in front of the mirror, like everybody else. I did some musical theater, but I didnít pick up a guitar until I was 15. I borrowed my older brotherís guitar and I just wanted to jump around and play those great rock songs that I knew and loved. From there it was the usual story ó I started a band, tried to find my voice, and developed my vision of what you see as QUEEN V.

Early on I was exposed to bands like QUEEN and THE WHO. I had older brothers who schooled me on the virtues of rock ó what we know now as classic rock. But I also love Pat Benatar, Stevie Nicks, Joan Jett, Tom Petty, LED ZEPPELIN, and the list goes on and on. Itís those real rock bands that knew how to write a song ó not only lyrics, but write music that had that power behind it. That left a mark on me and Iíve never really gotten over it.

KNAC.COM: Have your influences changed much over time?
V: Well, I think those bands still mean to me what they did back then, but of course, there are other bands that have come along since then. I loved bands like NIRVANA, FOO FIGHTERS and PEARL JAM. Nowadays I have this crazy thing for Grace Potter, and FITZ AND THE TANTRUMS. So itís definitely a diverse rock collection that I listen to. But thereís nothing like the classics that you grew up with.

KNAC.COM: Were those the same influences for both songwriting and guitar playing?

V: Not necessarily. If you listen to a band like LED ZEPPELIN, VAN HALEN or AC/DC, those are bands that give you examples of the riff ó those great guitar riffs. I think that influenced me more than anything else guitar-wise, I always wanted to be like Malcolm Young. I always wanted to be the rhythm guitar player playing those cool rhythm riffs. I leave the lead playing to the other guys in the band or the musicians on my crazy pirate ship. As a lead vocalist I feel like I have enough to do. So I leave them with the other duties. But guitarists Jimmy Page and Eddie Van Halen just blew my mind, and Iím always looking for great guitar players to play with and learn from.

KNAC.COM: And you have had the opportunity to record and perform with some truly great guitar players as well! Tell us about some of them.

V: Tom Morello is on the album. Heís amazing! Iíve also worked with Vernon Reid, who is a tremendous voice in rock, and Steve Stevens, who is also an amazing player. Itís been quite an education! Recording-wise, that pretty much touches on some of the names that are more well known, but I can tell you that some of the guys that played on my album whom you might not know are second to none. Tristan Avakian played on the album and hands down, he is one of my favorite guitar players of all time! Tony Lewis also plays on my album and heís an amazing rhythm player. The whole group of people assembled to make this album is amazing. If you read the liner notes, youíll see that itís quite a cast of characters.

KNAC.COM: I read an interview where you talked about your experience opening for TWISTED SISTER in New York. As New Yorkers ourselves, we both know how a tough New York audience can be ó people stand in front of the stage with their arms crossed, waiting for you to prove that youíre worthy of their attention. And female musicians are often judged a bit more harshly. Many times theyíre almost expecting you to fall on your face, not to kick their ass, which is exactly what you did!

V: Ignoring the fact that Iím a woman, I think that for anyone who gets onstage, itís your job to prove that youíre worthy of someoneís attention. If you canít entertain an audienceÖ Well, it can happen with the wrong crowdÖ But itís basically your job as the performer and entertainer to do your best to entertain people and show them a good time. Play the best music you can, play to the best of your ability, and just rock their heads off. But if they donít get that and youíve given your all onstage, well then youíve done your job. Now itís in their laps. I just try and remember that when I get onstage.

KNAC.COM: Do you think that your background in theater has helped you as a performer?

V: Yes, I do think that elements of that help. But at the end of the day, you need to sound good, you need to sing your ass off, play your ass off, and just make sure have a good time.

KNAC.COM: Have you had a chance to play outside of the United States?

V: No, I have not yet, but Iím dying to get over to Europe and Australia, and all around, as we see our fans are all over the world. Weíre dying to get out and meet them!

KNAC.COM: What differences have you noticed between audiences in different parts of the country?
V: We toured the West coast early on with Billy Idol and it just seemed that people there were open and receptive, and that was a very welcoming, especially coming from New York, after the TWISTED SISTER crowd there, which ended up being great. The crowds definitely can vary. But honestly, I think rock fans are the same everywhere. Itís the music thatís the common language.
KNAC.COM: What have been some of your highlight gigs?
V: Those TWISTED SISTER gigs and Billy Idol gigs were a real turning point for us back then because it was the first time I got to play in front of such a large audience and to see crowds that enthusiastic. And of course, when youíre playing with Twisted or Billy, they have a longstanding fan base and people know all their songs. But playing with BON JOVI at the Meadowlands was amazing and surreal. Coming from New Jersey and New York, Iíd seen some of my first concerts there. But also, playing CBGBís and Don Hillís in New York when I was coming up, those shows were pure magic for me. The crowd, the scene, the vibe, and the venue óit all came together in the best possible way in my hometown.
KNAC.COM: Tell us about the benefit show you did a few years ago. You assembled a very impressive all-starline-up!
V: It was called QUEEN V and Friends "Rock for Vets" at the Viper Room two years back. It was a benefit for IVA ó Iraq and Afghanistanís Veterans of America, which is an organization that I do a lot of work with. They are not politically affiliated, but they do get things done on Capitol Hill changing the way vets receive their benefits and they also create a community for vets to come home to. Itís a great organization. IAVA.org.
My boys came out from New York and we had some of the Camp Freddy guys ó Steve Stevens, Billy Morrison, Frank Perez, and Les Warner from THE CULT played drums. Daniel Lanois was dragged up onstage and he played some guitar with us, too. Dan has been a very kind supporter of ours.
KNAC.COM: Have you ever had any SPINAL TAP moments onstage?
V: [Laughs] Thereís always a SPINAL TAP moment onstage! Thereís always a mishap or two waiting to happen! I think some stories are better left buried! I think my last one was a wardrobe malfunction...
KNAC.COM: Letís talk a bit about songwriting and the songs on the album. Tell us what inspired them and how they came together. Tell us about your writing process. Do you usually write with guitar or do you write lyrics first?
V: Every song is different. A lot of writing is done with a core group of people in the band and in the production camp. Every song is different. Sometimes somebody would come in with a riff or maybe I had a lyric idea or a melody idea, and a song would just really came together organically by whatever was inspiring one of us at the time.
KNAC.COM: The album is called The Decade of QUEEN V. So would it be accurate to say that most of the songs on the album were written over a long period of time?
V: Yes, though itís actually still a decade in the making. Iím very proud of all that weíve been able to accomplish so far, but also really excited about our future. Basically, we drew from the catalog to put together the strongest selection of songs for one album, in addition to Cry Your Eyes Out" which is the new song. That one was written most recently, about a year ago. I wanted to be able to hand somebody an album that basically encapsulated what weíre about. This is QUEEN V. This is what weíre about. Itís a good place to start if youíve never heard of us before.
KNAC.COM: How did you connect with Lemmy and Tom Morello? Did you meet them at one of your shows?
V: Yes. We touring on the West coast with the New York City Rock and Roll Compilation, and Lemmy and Tom happened to be in the audience the night we played the Viper Room. We were opening for METAL SKOOL, which is now known as STEEL PANTHER. I sang a song with them and Ralph [Saenz, vocalist ó aka Michael Starr in STEEL PANTHER] was telling me to show my upper lady parts. I gave him a strange look ó a dirty look! The fellas were in the audience and they decided that I was somebody they wanted to be friends with. So we met, we talked, we became best friends, and the rest is history! That was a great night!
KNAC.COM: Tell us about the track "Wasted" which is the song you co-wrote and recorded with Lemmy. What inspired that and how did the recording come together?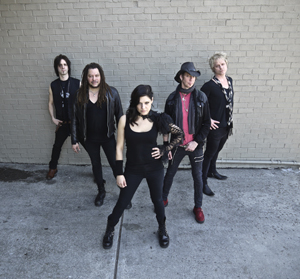 V: The guys and I had this idea for a song, and one night I was talking with Lemmy at the Rainbow. I was telling him my feelings about what it was like to be an independent female rock artist. Then we started lamenting about the music industry and ended up going down to the studio in LA, writing it, laying it down, and having a good ole time.

KNAC.COM: This might be a difficult question to answerÖ Do you have a favorite track on the album?

V: I love all my children! You know, I think certain songs stand the test of time and keep having new meanings to me, like "America" or "Right or Wrong". But then when we play live and play "Die For You" or "Cry For a Minute" the feeling of playing those songs live and the emotion behind them are always highlights for me in a show. Iím also really excited about the new song, "Cry Your Eyes Out". Iím so happy with how the track itself came out and we had a blast shooting the video for that. Thatís definitely a new favorite of mine.

KNAC.COM: Do you tend to go through phases when there are certain songs that you gravitate towards and that one becomes your favorite of the moment?

V: Definitely!

KNAC.COM: Many of our readers and listeners are musicians and guitar junkies, so please tell us about the gear youíre using onstage.

V: Iíve got a 2009 silverburst reissue Les Paul that I found at this little guitar shop in North Carolina. It was used, but like brand new. It was modified with a single coil and itís amazing. I also play a Gibson J-185 acoustic that I absolutely love. Itís bright cherry red. Youíll see it all over the website. And of course, I have my Flying V, which is a 1989 model, and it's a hot-rodded rock monster machine! But besides those, my other beloved guitar of choice is my Rust Tele, which is a boutique label out of 30th Street Guitars in New York. If you look at some of the live pictures from our recent release shows at Tammany Hall in New York and the Viper Room, youíll see me playing it. Itís got a Billy Gibbons bridge pickup and itís so lovely to play. Itís like Christmas every time I pick it up! Iím playing through a Vox AC-15. I was playing through an AC-30 and this is the smaller configuration. So Voxes and Gibsons, and my one Tele. I do have several other guitars, but those are the ones that see the light of day regularly.

I also have a simple little pedalboard that I use live. Iím keeping it lean and mean on the road since I have two other guitar players in the band and they handle all the big rock guitar spectacle that my sound is kind of known for. Honestly, I just love to run around onstage and interact with the people. I play guitar on maybe two or three songs, and the rest of the time I just want to run around and get in peopleís faces!

KNAC.COM: Where you will be performing next and what can we look forward to hearing from QUEEN V?

V: Weíre playing in Pittsburgh tomorrow. Iím going to do a few more shows in New York and Philadelphia, andI plan to get back to LA in the fall. Then weíre going to continue playing more shows and weíre also going to be releasing another video in the fall. This one will be for "Right or Wrong". We shot it at a VFW in Pennsylvania so weíre bringing that veterans theme right back home. Iím really excited about that one, too!

The album is available to download on iTunes and Amazon, and if people want to buy the physical CD itís available through our website ó QueenV.com. The best way for people to get in touch and find out more about us is through the website, and weíre also on Facebook and Twitter. Weíll be listing all of our show dates online. If people really want to know what weíre about they should come down to a show. Theyíll get a chance to hear the band and say hello, and get a great evening of rock and roll óguaranteed!

Check out the new video for "Cry Your Eyes Out" right HERE!

And you can check out a couple of older videos from QUEEN V below!