Full Circle: An Exclusive Interview with Joey Kramer of AEROSMITH

By Charlie Steffens aka Gnarly Charlie, Writer/Photographer
Monday, August 5, 2013 @ 9:22 AM

| | | |
| --- | --- | --- |
| | | "There's not a place on earth that I would rather be than sitting onstage looking at those four asses out in front of me." |
AEROSMITH has released its first live video in nine years with Rock for the Rising Sun, a unique rock montage of live performances and offstage footage documenting the band's Autumn 2011 Japan segment of their Back on the Road tour.

Rock for the Rising Sun features hits from typical AEROSMITH set lists, and rarities captured from shows in Tokyo, Fukuoka, Osaka, Nagoya, and Sapporo, including "No More No More", "Mama Kin", and "Rats in the Cellar". Bonus tracks include "Lick and a Promise" and a stellar performance of the smash oldie, "One Way Street".

Just months prior to AEROSMITH's entry into Japan, March 11, 2011, the country was devastated by an earthquake, followed by a tsunami. As a result, the imminent danger of equipment failure and release of radioactive material at the Fukushima nuclear plant marked the largest nuclear disaster since the Chernobyl disaster of 1986.
Nonetheless, AEROSMITH felt they had a duty to their fans, to bring music into Japan. Drummer Joey Kramer recalls the band's decision to go anyway: "People were devastated and they told us to stay away. We were warned. Japan has always been really special to us. People have always taken really good care of us, treated us well, and we've had nothing but good, positive experiences playing in Japan. So we thought what better could we do for these people than to help them out by doing this. We weren't really scared by all the stuff about the radiation. Obviously it didn't keep us away."
"The people of Japan were more important than any danger that we did or didn't realize at the time. We just wanted to do what we were going to do and we did it. And like everything else, pretty much, that we do, sometimes it works against us, sometimes it works for us. But it's all from the heart. We love to play there. The people are so appreciative of us and we've been going there for so long that we're so familiar and everybody's such good friends that it feels like family."
Since the release of their 15th studio album, Music from Another Dimension in May of 2012, AEROSMITH has done a good deal of touring and will be returning to Japan on August 8th, wrapping up their Global Warming Tour.
"We just came back from Singapore and Australia and New Zealand and Thailand and Manila. We just did a couple shows in the States. Now we're getting ready to go back to Japan in August. We'll be there, then we'll go to China at the end of that to do Taiwan and Shanghai," says Kramer. "Then we have a couple weeks off and then we'll go to South America to do 11 dates there, and then in early November we'll be done for the year. I don't think we'll be seeing the states until next year, probably next summer."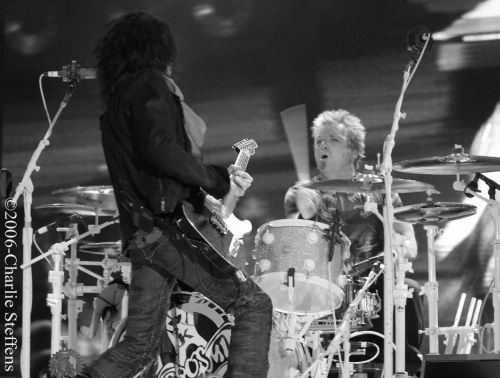 AEROSMITH has survived the slings and arrows of rock and roll excess, and while a forty-year career has disposed its members to a few achy bones and wrinkles, the band's vibrant performances still keep fans around the world satisfied.
"I think people are hip enough these days to be able to tell whether [a band is] just going through the motions for the money or not. The reason this band has been around for as long as it has is because we've always come from the heart. We've always been about the music. It's the one common denominator that really sets us apart from everyone else and also it keeps us together."
Unlike other bands that broken apart and then re-formed, the members of AEROSMITH seem to respect what they have been able to keep since their collective implosion and subsequent reconstruction. Kramer expresses his gratitude wholeheartedly: "I consider myself to be a really lucky guy because I got to do something for the better part of my life that I love to do. And, as a rule, I find that whether it's playing music or driving cars, or whatever it is, when you find something that you love to do and you really connect with it, you usually end up doing it really well. And that's the story of this band. We love to do what we do and so we do it the way that we do. And it's never been any different. Right from the get go."
"We have gratitude and we have humility. And that's something that only comes with age, unfortunately. You know, you only get wiser as you grow older. We're lucky and fortunate that we have our music, and I think that as the years go by, the five of us realize more and more how lucky we have been over the years to have what we have. That's why no matter what happens, we always seem to stick it out and stay together. Because it's only with the five of us that it happens and it happens the way that it does and for the reasons that it does. Personally, I think that there's a lot more juice left. I don't see us hanging it up anytime soon."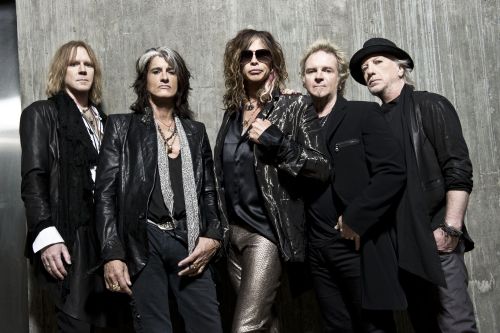 "We're realizing now, over the last four or five years, that we have something that's very special. The key to holding on to something that special is to be able to appreciate it and be grateful for it. Deep down inside I believe that everybody loves one another. That's how we stay together. Don't forget, we're all old men now. No one knew how far it was going to go or how long it was going to last. But we all still have the same attitude."
Kramer's memoir, Hit Hard: A Story Of Hitting Rock Bottom At The Top, released in the summer of 2009, illuminates the nervous breakdown Kramer experienced in 1995, a depression he describes as the result of a lifetime of non-resolved issues. While Kramer and the other AEROSMITH members' well-publicized sobriety resurrected the band and put them back on top, Kramer's testimony assures that no amount of money or fame can guarantee true contentment. With refreshing candor and humor, Kramer writes about his love/hate relationship with singer Steven Tyler throughout their forty plus year relationship, and how it was Tyler's love, support, and understanding that were instrumental in Kramer's road back to health. The drummer's book is an inspiring read for anyone who grapples with anxiety or depression. And, Hit Hard is a great story of a guy who wanted to play the drums in the world's greatest rock and roll band. And did.
Given all of the turbulence that Kramer and his band have endured, there really aren't any big deals these days. "A big deal for me was when I wrote my book. That was a big deal. When you come up with something out of the norm, and it's a good idea, and it succeeds, and everybody can share in it and enjoy it, it's a big deal."
Years ago, around the newly sober Pump era of the band, Kramer made a claim that the nervous twitch he had in his eye was caused by Steven Tyler. "It still flares up," Kramer confesses about his twitchy eye. "Unfortunately that's where I was at the time I said that, you know. The truth is that it probably has nothing to do with him. It's all about me and if I let it rule, I let it rule. It's something I have to live with, not him. It is indeed not Steven that lives in my eye (laughs)."
Kramer cites his desire to become a drummer as a response to seeing THE BEATLES and wanting to be part of a band. "What attracted me to what I do was not necessarily the specific of playing the drums, but it was more so the camaraderie and the team effort and the being in a gang; of having those special few guys that were all dedicated to doing one thing and making one thing happen. So, I would have to say, although Ringo (Starr) was not necessarily my inspiration, it was the THE BEATLES together as a band that inspired me when I saw them on Ed Sullivan when I was a little kid when I was 14, and realizing that they were doing what they were doing all together, just the four of them and nobody else could interfere. And that's what I wanted to be a part of. Fortunately for me, I met up with four other maniacs that were thinking the same thing."
Kramer recalls the euphoria of performing a drum solo to an enormous crowd. "The first time I ever did that was in front of 80,000 people in Pontiac Stadium in Michigan. It was in the middle of the summer, and it was the first time I was doing a drum solo, and when the people responded to me the way that they did that was like so fucking overwhelming to me that I will never forget that. I will take that to my grave with me. And that's what inspires me on, because it's really all about the fans. We have great fans and I'm really grateful for that. They're the fuel. They're the ones that make it happen, by their response."
Since going deep and tackling his demons, Kramer enjoys life, family, and AEROSMITH in a way much sweeter than he knew before. Of his experience with depression, he says: "I haven't been plagued by that in quite a while. I think what I owe most of my gratitude and my life to for the last 26 years, is my sobriety, because without that none of this other stuff happens. I always have a good time. There's not a place on earth that I would rather be than sitting onstage looking at those four asses out in front of me. You know, that's my favorite place. I'm more comfortable there than I am anywhere else on earth. It's where it's at for me. It has been for a long time and it always will be. And I'm grateful."
http://www.aerosmith.com/
http://joeykramer.com/
Please log in to view RANTS