Uncle Ted Speaks: Exclusive Interview With The Motor City Mad Man, TED NUGENT

By Geoff Ketler, Cleveland Contributor
Wednesday, July 31, 2013 @ 4:23 PM

| | | |
| --- | --- | --- |
| | | "Only the braindead, leftist cult of denial media intentionally lie about me with their unprofessional, embarrassingly inept, dishonest blather." |
Ted Nugent has been captivating audiences and touring annually since 1967. When Uncle Ted plays a show, it is a celebration of the American Dream and all the things that relate-liberty, freedom, self-reliance, rugged individualism, and spirit. He is a self-made man and he shows no signs of slowing down. Between filming his hunting show "Spirit of Wild", non-stop touring, philanthropy, and activism he found time to chat with me about all things Nuge.

KNAC.COM: First off, I think your last two full-length studio albums are severely under-rated. Craveman and Love Grenade were both raw and edgy, just like classic Nugent but with a modern sound. Can we expect to see a follow up to Love Grenade in the future? Are there any plans on a new studio album?

NUGENT: Thank you very much. I couldn't agree more! God knows me and the band are dying to record a bunch of very exciting new songs and serious ultra FUN musical adventures. Logistics, timing and scheduling coordinated availabilities is a Herculean task. With any luck we should hit the studio in early 2014 for a summer release of a new killer R&B&R&R high-energy soulmusic CD.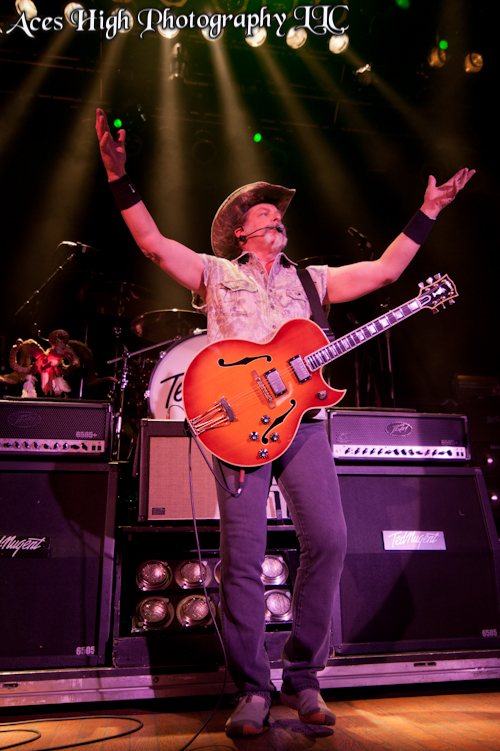 KNAC.COM: Recently Derek St. Holmes has been making appearances and touring with you. How have the fans on the road responded to this and is this something that has become a long-term thing?
NUGENT: Motor City Soul Brother St Holmes has been a fulltime Nuge Band member now for 3 high velocity years and singing and playing better than ever. People go nuts with that incredible voice on the original masterpieces. The old boy is home!!
KNAC.COM: The Ted Nugent Kamp for Kids just celebrated its 25th anniversary. Congratulations! I really think that a lot of the media tends to paint you as this crazy extremist all while your philanthropy and positive message for youngsters gets cast aside. Please tell us about your current charity involvement as well as any news with your involvement with DARE and the TNKFK because I feel it is much too often ignored.
NUGENT: Only the braindead, leftist cult of denial media intentionally lie about me with their unprofessional, embarrassingly inept, dishonest blather. All educated, intelligent, caring and honest Americans know the truth about me. I do media interviews pretty much every day of my life getting the truth out there, so with the line drawn in the sand dividing the liars from the good people, I couldn't be more proud of who I stand with. Our youth and military charity work has no boundaries and people can see the unlimited love and generosity at tednugent.com anytime they wish.
KNAC.COM: You have had a massive career with several bands, 40 million-plus albums sold and over 6,400 concerts. What are your most memorable moments of your music career?
NUGENT: My memory bank has overflowed my entire life with the ultimate dreams of the most positive energy anyone could ever hope for. Every concert, every hunt, every charity event, every family event has been so wonderful and powerful- I thank God everyday. This year's Black Power Tour is by far the best ever with the best band, best songs, best audiences and best spirit!
KNAC.COM: It is January 2017 and you are sitting in the oval office. What would be your first order of business as President of the United States?
NUGENT: I would end all welfare and foodstamps, eliminate the vile death tax, immediately take care of every veteran's needs, end all entitlements for elected officials, demand 100% accountability by all government agencies, gut every bureaucracy and force 100% transparency for we the people to know everything our government is up to. Then I would put the world on notice that if anyone ever attacks or hurts any American, we will totally crush them. Then I would remind all Americans that the American Dream is being the very best that you can be every day, as productive as possible and nothing less will ever be tolerated again. Commit a violent crime and spend the rest of your life in a cage. And so on and so on.
Catch Ted Nugent and Laura Wilde on the following tour dates:
07/31 - Indianapolis, IN - Egyptian Room
08/01 - Columbus, OH - Lifestyle Communities Pavilion
08/02 - Clarkston, MI - DTE Energy Music Theatre
08/03 - Kettering, OH - Fraze Pavilion For The Perf. Arts
08/04 - Akron, NY - Concert Cove Amphitheater at Brauns Bar
08/06 - New Haven, CT - Toad's Place
08/07 - Boston, MA - House Of Blues Boston
08/08 - Poughkeepsie, NY - The Chance Theatre
08/09 - Westbury, NY - NYCB Theatre At Westbury
08/10 - Atlantic City, NJ - Resorts Atlantic City / Superstar Theater
08/11 - Hampton Beach, NH - Hampton Beach Casino Ballroom
08/12 - Portland, ME - Asylum
08/14 - Jim Thorpe, PA - Penn's Peak
08/15 - Verona, NY - Event Center At Turning Stone Casino Resort
08/16 - Baltimore, MD - Rams Head Live!
08/17 - Richmond, VA - The National
08/18 - North Myrtle Beach, SC - House Of Blues
08/19 - Lake Buena Vista, FL - House Of Blues
08/22 - Houston, TX - House Of Blues
08/23 - Biloxi, MS - Hard Rock Live Biloxi
08/24 - Fort Worth, TX - Billy Bob's Texas
08/28 - Tucson, AZ - Fox Tucson Theatre
08/31 - Reno, NV - Silver Legacy Resort Casino
Photos By Geoff Ketler/Aces High Photography
Please log in to view RANTS