Famously Unknown: Gnarly Charlie's Exclusive Interview with Guitarist GARY HOEY

By Charlie Steffens aka Gnarly Charlie, Writer/Photographer
Tuesday, July 30, 2013 @ 4:50 PM

| | | |
| --- | --- | --- |
| | | "I still, in some very weird way, I still feel like the most famous unknown guitarist in the world." |
In the world of guitar, there are a cadre of highly-respected players known for their signature sound, and after decades in the business, are still making music while refining their craft. In the early to mid-'90s Gary Hoey became known for an instrumental, surf-rock guitar sound. With the airplay he received on Los Angeles rock radio stations, particularly 105.5 KNAC and 95.5 KLOS, Hoey's sound became easily recognizable. Known for his blistering version of the FOCUS hit "Hocus Pocus" from his 1993 album, Animal Instinct, he has also been characterized by his surf-rock guitar sound. In 1994 he composed and played the Endless Summer II soundtrack, therefore solidifying his spot as the new sound in surf guitar.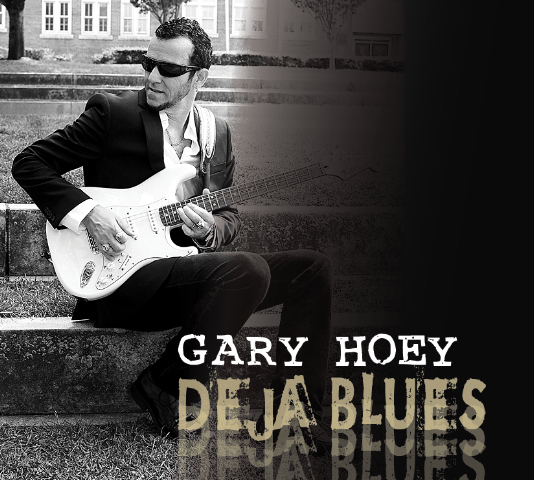 Hoey has recently released Deja Blues, an album where the guitarist stretches out a bit more and sings the blues. Deja Blues features songs written by Hoey, as well as covers of "Going Down" and "Born Under a Bad Sign", made famous by the JEFF BECK GROUP and CREAM, respectively. A monster guitarist, Hoey attacks the guitar, playing mind-bending solos. He can play the blues as well, reminding the listener of B.B. King's fabled guitar playing. Not just a fretter, Hoey sings like a motherfucker.
"Deja Blues, I've wanted to do for a long time. I just didn't want to do it when I was too young. You know how you feel about the blues. You feel like you have to live a bit, but it was just the right time to do the record, and I had just got done producing Lita Ford which took me a year. So I wanted to do something that was kind of quick and fun. I'm gonna stay with the blues for a while. If you listen to the album it's kind of Stevie Ray Vaughn, Gary Moore, B.B. King, Albert King. A lot of those guys were kind of a big influence, going all the way back. Then, of course, I listen to tons of Robert Johnson and I'm a real big fan of Elmore James. So many, man."
"Got to Believe" is a track that Hoey wrote which features TESLA's Frank Hannon.
"I've known Frank Hannon for a long time. He was living up in the Sacramento area. We used to play there a lot when I lived on the West Coast. He just became a friend and I told him, 'Dude, I'm doing a blues record,' and he said, 'Let me play some dirty slide on it.' That's kind of how it happened."
"'"Going Down", I always loved that song. Jeff Beck did it. Freddie King did it. So many people. I ended up wanting to do it, but I wanted to do something different with it, so we did it heavier with a drop D. I sent it out to a bunch of my friends and Michael Anthony from VAN HALEN and CHICKENFOOT actually called me on the phone and he said, 'Gary, I've played that song with everybody, including Jeff Beck, and you completely reinvented the song.' He said it was the best version he ever heard."
Having produced and co-written Lita Ford's latest album Living Like A Runaway was an opportunity to not only expand his musical vision, but also a way to help Ford out of a dire situation. "Working with Lita was great. I was a fan of hers growing up and I didn't realize how great of a guitar player she was until I started working with her. I didn't realize she had the chops that she has. That was a nice surprise, and then to try to take her to a different level with her music--I thought we really did. I think her new record is really good and she's back on track. So I'm very proud of it."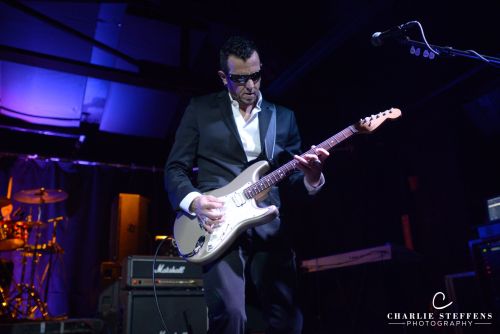 "For fifteen years she moved to the (Carribean) islands. She dropped off--literally--the face of the earth. Right after 9-11 she took her kids and her husband and they moved to the island and they kind of disappeared from society. She homeschooled her kids for years and then just went through a very nasty divorce with Jim Gillette, where he took her kids away from her and she no longer has custody of her two boys."
"Lita is a very strong woman and she's back on track. When I first spoke to her before we did the album--"Let's take this emotion and put it into an album. I said, 'If you could put it into an album, it would be the best album you've ever done.' She said, 'All right, let's do it.' And the music changed her life. It literally did."
"I've been with Fender 19 years and they have an amp called the EVH. It's designed by Eddie Van Halen, obviously, and it's an amazing amplifier. It's my favorite amp in the world. It's the best 2,000 dollars you'd ever spend for an amp head. It's a three-channel, all tube, and I used it entirely on my Deja Blues album, which a lot of people wouldn't believe. It gave me everything I needed for my blues record, from the soft, delicate stuff, to the really heavy stuff. So I just use that, and if I need to use stacks I'll use two cabinets and then just mic it up and bring it through the PA, you know."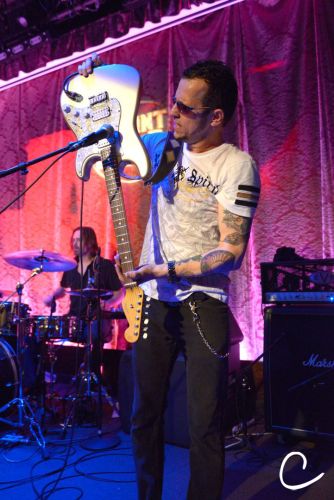 Bassist Brad Russell, drummer Matt Scurfield, and Hoey make up the trio that is the GARY HOEY BAND.
"Brad and Matt are amazing. They're a great band and that's what makes a good trio, is having three guys that not only have the chops but also the ears to listen and react off of what we're all doing together. And that's what it takes to be a trio. You have to really listen to everybody."
"Playing with Jeff was one of those moments in your career where you kind of go, 'Wow. Is this really happening? This is so amazing. Someone pinch me.' Getting accepted to play with Jeff was...I cried on the first day of the tour. I cried on the last (laughs). One of those things. I put it up there with getting married, having children. Playing with Jeff Beck. And then, all of the other people I've played with. It is amazing, man. And I still feel like we still have a lot more to do. I still, in some very weird way, I still feel like the most famous unknown guitarist in the world."
http://garyhoey.com/
https://www.facebook.com/garyhoeyofficialpage
You can purchase Deja Blues right now in the KNAC.COM More Store right HERE
Please log in to view RANTS