MEGADETH is a band that has stood the test of time and has proven to the masses that they are one of metalís most forceful entities. Band founder, singer and guitarist Dave Mustaine has formulated an annual concert package, Gigantour, that offers something for metal fans of all ages and after eleven Grammy nominations and a number six Billboard debut with this yearís release of Super Collider, the band continues to forge ahead!

The new album has a different vibe than some of the bandís previous releases and the creative processes involved have spawned songs like the title track that donít sound like anything the band has done before. While the track has Mustaineís signature vocal style, the music itself lends more of a power metal dynamic.

"I didnít want to make the same record over and over. I like to explore and take chances and push the limits to try something different," Mustaine said. "So many people think a band should always sound the same but I donít want to do that. It can be a challenge to work out something new and I think we have done that. Iím not the kind of musician that wonít allow myself to grow. If I hadnít taken some risks there would be no MEGADETH. Some fans want you to make the same song and sound the same all the time but that is just not me."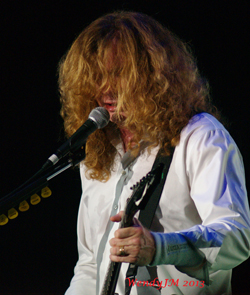 Some of the new sound can be attributed to the bands members. Mustaine and bassist David Ellefson have worked together for nearly 30 years to create some of the most recognizable songs of the metal genre while the contributions of drummer Shawn Drover and guitarist Chris Broderick add an exciting new feel to the music.
"Chris Broderick is just a monster on the guitar. Heís a bit shy but he is such a nice person who would do anything for you; and whatís so different about him is that so many guitar players that are as good as he is are arrogant and jerks or are hard to deal with. Heís not like that and he would go out of his way to do anything for anybody. Because of his humility he brings a new feel to the music. He makes guitar playing not quite as intimidating with the way he just effortlessly plays. He looks at the fans and not his guitar, and having a guy like that in your band is just amazing. Itís really something you just canít put into words," Mustaine said.
"Shawn is one of the best drummers out there and he has been with us for a long time and we have worked together easily. It has been a pleasure to work and tour with the band we have now and there was a time when I thought I wouldnít have this again," he said, referring to a debilitating nerve injury that nearly ended his musical career.
In 2002, Mustaine was diagnosed with radial neuropathy caused by nerve compression in his arm. He was unable to use his arm, make a fist or grasp objects. He entered treatment but was still unable to perform and while he was essentially relearning basic hand and arm functions through therapy, he elected to disband MEGADETH. It was that decision that prompted him to look at other musical career options. Gigantour was the eventual outcome of the brainstorming that followed his injury.
"When you have something going good for you it is very flattering and I am proud of what we have," Mustaine said. "It wasnít really hard to come up with Gigantour, especially once I experienced nerve damage to my left arm. I wasnít going to slink off into obscurity just because of the nerve damage so I thought about how I could do something else involving music. I loved the metal community and I loved the fans and there we so many people that because of this music had become a part of my life and I wasnít willing to just give up."
Ultimately, after months of therapy, Mustaine made a full recovery and was able to see his Gigantour idea come to fruition in 2005. Fortunately, it was a concert package that MEGADETH would be able to headline once Mustaine healed.
"My first thought was that since I couldnít play anymore because of the nerve damage that I couldnít teach. Then I thought, well, Iím not an engineer so I couldnít go into making records for others," he said. "I kept turning it over in my mind saying Ďwhat else is there?í Thatís when I thought about putting together a big concert that would be the metal version of Lollapalooza. I thought that was really cool when it first came out because it was a lifestyle type festival and I thought the one thing that metal needed was something like that. I like diversity and dynamic music so I look at bands that can bring out the flavor of the package. I wanted to do something that would have broad appeal, and when I was able to play again, I wanted to bring a good package out with MEGADETH."
This yearís Gigantour package is one that Mustaine is very proud of. It features bands that contain members that he feels a close kinship with and sees as accomplished musicians that offer an array of talents. One such band is DEATH DIVISION. DEATH DIVISION features MORBID ANGEL drummer Tim Yeung and is managed by Mustaineís own son, Justis.
"My son discovered them and he is currently working with my old manager, and I think that this was the right band for him to manage. I love my son and Iíll do anything for him and these guys are getting blessed with this because of my love for my son," he laughed. "However, letís be clear that his managing them does not affect the credibility of this band on this package. They are the real deal and theyíre a legitimate force in the upcoming metal world."
Mustaine says that he took the same approach with the selection of this yearís band line-up. "I can also say that when you look at the whole package you have the ultra-thrash of Jason Newstedís new band and they are a really Ďin your faceí type of band," he said. "You also have HELLYEAH, which is just great Southern metal with Vinnie Abbott (PANTERA), and then you have David Draiman and his band DEVICE which is a little different but really fits in well with the entire overview. And then of course you have Zakk Wylde and BLACK LABEL SOCIETY. I first saw him with Ozzy when he was just a kid I knew that he was going to be somebody and I think this is something special."
One thing that Mustaine maintains is that he feels "blessed" with the fact that he is still able to perform, tour and make records.
"I look at all of the things that I have been through over the years and I am not trying to overuse the word Ďblessedí but that is really how I feel. I try to write music that is timely, while there are also going to be songs that we have done in our career that are Ďtimelessí and I look at current world events or things that are going on with the world and I think about how glad I am that I can still do this and can share it with the fans."
The music really does do something to bring people together and Mustiane noted that he thinks that the metal community has diversified as far as the age ranges of fans and a new metal generation is enjoying MEGADETH.
"It is really flattering for us to look out and see parents bringing their kids to experience music together and I have looked back over my life and I think of how grateful I am to still be here and that I want to be able provide a positive experience to show kids that you can have a great future in music." Gigantour will continue to run through the summer and then the band plans to further tour to promote Super Collider. There will also be some special shows on the bandís calendar, including shows this fall with IRON MAIDEN. Be sure to check them out in your town.
All photos by Wendy Jasper-Martinez