Greater Than Zero: An Exclusive Interview With Eron Bucciarelli Of HAWTHORNE HEIGHTS

By Wendy Jasper, Black Metal Aficionado
Sunday, July 14, 2013 @ 7:06 PM

| | | |
| --- | --- | --- |
| | | HAWTHORNE HEIGHTS Hit The Road On Vanís Warped Tour |
Theyíre the darlings of the Hot Topic revolution and have secured a coveted headlining spot on the Vans Warped Tour. Now with the release of their new album, Zero, HAWTHORNE HEIGHTS are reveling in the adoration of Warped fans across the nation.

"So far the tour has been amazing," said drummer Eron Bucciarelli. "The crowds are so much better than we ever expected since we havenít done Warped since 2007. We fit in with fans of so many musical genres that we have a very diversified crowd at our shows."

Bucciarelli also reveals that the bandís newest release is their first attempt at a concept album and that it was exciting to record and they are looking forward to fan response regarding their efforts.

"The album concept is one that takes place in the future and the government is sedating the masses with chemicals and drugs and it has a very Cloverfield feel to it. We also worked with producer Brian Virtue, who has done this type of album before and he was able to guide us. He brought a completely new perspective to what we were doing and we didnít follow the traditional recording process."

Virtue is known for his work with 30 SECONDS TO MARS and he entered the studio with an idea of how he wanted to put everything together for the band.

"It was a physically and mentally exhausting process for the band and by the time you are done with your parts you are really tired, but we worked consistently and everyone was creative and he (Virtue) was a breath of fresh air."

The fans and social media have kept the band active and the band enjoys the fan contact as well as how easily one can promote their work by using the tools available.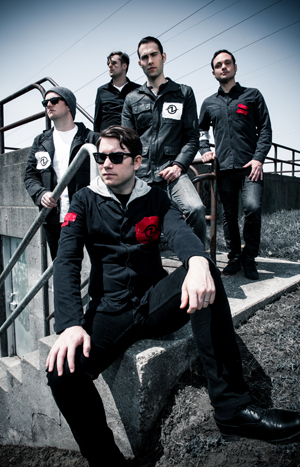 "Itís great that you can have the personal connectivity with your fans and we really took advantage of sites like MySpace, Facebook and Twitter when we were first starting out and trying to make a name for ourselves. There is a lot to digest because everyone uses it now, but it is helpful because your fans always know about your tour dates and news regarding the latest music," Bucciarelli said.
HAWTHORNE HEIGHTS is planning a fall run after Warped is completed and they are looking at overseas markets. "Australia and Japan are always great for us and we will probably work on those markets next. There will also be a fall tour in the U.S. that has us really excited and I am optimistic that we will have an excellent reception."
In the meantime, check the band out on the Vans Warped tour in your city! Remaining tour dates are listed below!
07/14/13 - Hartford, CT - Comcast Theatre
07/16/13 - Scranton, PA Toyota - Pavilion At Montage Mountain
07/17/13 - Burgettstown, PA First - Niagara Pavilion
07/18/13 - Cuyahoga Falls, OH - Blossom Music Center
07/19/13 - Auburn Hills, MI - The Palace Of Auburn Hills
07/20/13 - Tinley Park, IL - First Midwest Bank Amphitheatre
07/21/13 - Shakopee, MN - Canterbury Park
07/23/13 - Bonner Springs, KS - Cricket Wireless Amphitheater
07/24/13 - Maryland Heights, MO - Verizon Wireless Amph. St. Louis
07/25/13 - Atlanta, GA - Aaron's Amphitheatre At Lakewood
07/26/13 - Saint Petersburg, FL - Vinoy Waterfront Park
07/27/13 - West Palm Beach, FL - Cruzan Amphitheatre
07/28/13 - Orlando, FL - Central Florida Fairgrounds
07/29/13 - Charlotte, NC - Verizon Wireless Amphitheatre
07/30/13 - Cincinnati, OH - Riverbend Music Center
07/31/13 - Milwaukee, WI - Marcus Amphitheater
08/02/13 - Dallas, TX - Gexa Energy Pavilion
08/03/13 - San Antonio, TX - AT&T Center
08/04/13 - Houston, TX - Reliant Park - Parking Lot
Please log in to view RANTS