New Kids On The Block: Exclusive Interview With KOBRA AND THE LOTUS

By Wendy Jasper, Black Metal Aficionado
Friday, July 12, 2013 @ 3:52 PM

| | | |
| --- | --- | --- |
| | | KOBRA AND THE LOTUS Gear Up For TV And Touring |
Simmons Records protégés KOBRA AND THE LOTUS have been making waves in the metal community since their self-titled debut album was released on April 16, 2013 and they have scored major tours as well as a reality TV show this fall. Vocalist Brittany "Kobra" Paige has been hailed as the female equivalent of Bruce Dickinson and her powerhouse vocals have helped propel the band to new heights.

"I am so overwhelmed by the response we have gotten and the compliments that have come from the fans and the media," Paige said. "I think that some of the compliments are extravagant and sincere and that is what it is about for me. I love this and we have the opportunity to live our dream. The response also validates that as a band we are moving in the right direction."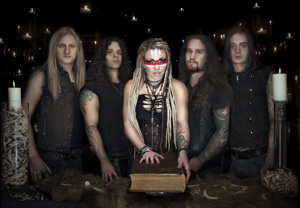 "Right now we are getting ready to go on tour with AMARANTHE and we just finished up a run with FEAR FACTORY," Paige said. "We are hoping that once we finish up touring for the year we can go back into the studio and work on the second full length album. On the debut we worked with producer Kevin Churko and we hope to be able to work with him again."
Paige said that the tour with AMARANTHE will run for fourteen days and then they will be back home in Canada. It was the band's first tours and independent releases in 2010 and 2011 that sparked the interest of music mogul Gene Simmons. With a sound that is heavily influenced by New Wave of British Heavy Metal bands like IRON MAIDEN and JUDAS PRIEST, KATL performed live and submitted new music that prompted Simmons to extend an offer to the band to join his roster.
"At that time we had several songs ready to record and when the offer was made by Simmons we were all looking at each other and saying 'is this real?' and we were very excited!"
In addition to their touring schedule, the band is working with Spike TV on the reality show "Rock City" and a camera crew will follow the band on and off the road to showcase what it is like to be a touring band. Paige believes that the eight episode show will show a new side of the band to their fan base.
"The show is going to expose what it is like to be a band on the road. So many people don't know what you do through with so much travel, eating on the run, sleeping and showering when you can. I think it will show a totally new side of the band that the fans may not realize is there," she said.
The album has ten tracks and videos have been made for "50 Shades of Evil" and "Welcome to My Funeral". Both videos have done well to promote the band to the masses and can be seen on YouTube.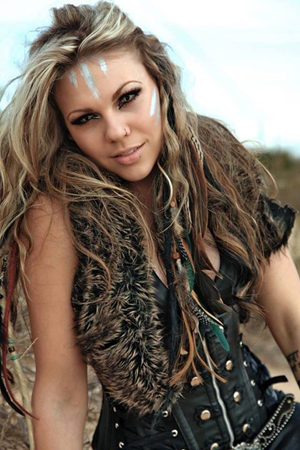 In addition to Paige, the band consists of bassist Peter Dimov, drummer Lord Griffin Kissack, and guitarists Jasio Kulakowski and Charlie Parra delRiego.
"We had a member change last year and we recruited Charlie from Peru. We wanted someone that had the complete package as far as writing, performing and personality and Charlie turned out to be that person," Paige said.
The album is currently available and tour dates for the band are listed below. Check them out when they come to your town!
07.17 - New York, New York - Gramercy Theatre
07.18 - West Chester, Pennsylvania - The Note
07.19 - Cambridge, Massachusetts - Middle East
07.20 - Toronto, Ontario - Virgin Mobile Mod Club
07.22 - Chicago, Illinois - Bottom Lounge
07.23 - Minneapolis, Minnesota - Triple Rock Social Club
07.25 - Denver, Colorado - Marquis Theater
07.28 - Las Vegas, Nevada - Las Vegas Country Saloon
07.29 - Scottsdale, Arizona - Martini Ranch
07.30 - West Hollywood, California - The Roxy Theatre
Please log in to view RANTS