Selling Her Soul: An Exclusive Interview With Guitarist LAURA WILDE

By Valerie Nerres, Writer/Photographer
Tuesday, July 9, 2013 @ 6:09 PM

| | | |
| --- | --- | --- |
| | | "I can appreciate every guitar player whether they play 3000 notes or just one note, itís just a matter of expressing your personality through the instrument." |
Coming off the road with FUEL and about to embark on her second tour with legendary front man Ted Nugent, 23 year old native Australian, Laura Wilde stops by to speak with us about her upcoming tour, who she is, and where sheís goingÖ

After the successful release of her first record Sold my Soul in 2012 followed with a successful summer tour, Wilde returns to embark on another major summer tour after which the hard hitting guitar player will be entering the studio after her run with Nugent to record her second album along with some pretty impressive guests. Letís talk about all of that.

KNAC.COM: Good morning, Laura. Nice to talk with you finally, Iíve wanted to interview you for a while and the opportunity just presented itself so Iím excited to be speaking with you. I just have a few questions for you for KNAC.COM. So, tell me a little bit about yourself, youíre doing amazingly well right now. But tell us a little bit about your background, who you are so that some of our readers who may not be familiar find out who is Laura Wilde?

WILDE: Well, basically, Iím from Melbourne, Australia. I started playing guitar when I was about 12. Iíve been obsessed with musical instruments my whole life. My parents didnít want me to play when I was little, but I kept nagging nagging nagging and eventually started playing guitar and then basically, that just led me on this crazy musical journey it led me to move to a totally different country, tour around, Iíve been having the time of my life. Itís really just been great.

KNAC.COM: So, how did the whole thing with you opening for Ted Nugent come about? Did they contact you? I mean thatís kind of a big deal, to go into opening for someone like him.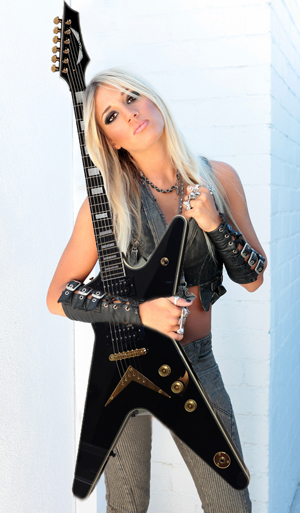 WILDE: Well, I released a record last January, January 2012 and the woman who was doing press, Laura Kaufman, was actually coincidentally Ted's first publicist and so, she was coming to my live shows, she really got to know me and how I perform and she was like "Oh my God, sheíd be great to go out on the road with Ted Nugent" so she sort of just put the feelers out to see what they would think and before I knew it, I was at Tedís managers office telling him everything and then, yeah, they wanted me to open for Ted. So we toured with him last summer and we had such a great time hit it off so much so now weíre going back again, itís been really exciting!
KNAC.COM: So, are you still out with FUEL?
WILDE: Well we just finished the FUEL tour about a week ago, we did a lot of Midwest and east coast dates with them from mid-May until the end of June and then we got back to L.A. to just sort of unwind, take a little break, do a couple of rehearsals and then weíre heading out again to do the Ted tour on Tuesday, so the break really *laughs* didnít quite happen. I canít wait to get back on the road!
KNAC.COM: Tell me about your band. Whoís in it?
WILDE: Well right now, Iíve got Chris Price on guitar, RJ Shankel on the drums and Jeff Subaste on the bass and theyíre all fantastic guys amazing players. Itís really fun to be out on the road with them we all get along really well, playing the shows every night, itís such a great experience.
KNAC.COM: Going back to you and your guitar playing, where you self-taught or did you go to school to learn how to play, how did you learn how to play?
WILDE: Well, I actually enrolled in lessons at my school when I was 12 but the teacher was a touring musician, so heíd book all these lessons in with me and then Iíd go down to the room where the lessons where and he wouldnít ever show up! So, I used that time to just listen to my favorite songs on the radio and try and work them out by ear I was actually self-taught for pretty much my whole life. I mean Iíve had a few lessons here and there, I recently had a lesson with Michael Angelo Batio which was a completely different guitar style to what Iím used to, I mean it really gave my fingers a serious wakeup call! It just opened up a whole new world of guitar playing; heís just a master of all styles. It just goes to show the skill thatís required, anything from jazz to metal to blues and everything.
KNAC.COM:Who are your influences? Who got you started, when you listened to them, saying to yourself, "ok, I want to learn how to play".
WILDE: Well Iíve always been a sucker for blues based lead guitar styles so; I guess my top three are Jimmy Page, Jimmy Hendrix and Slash. I also love Eric Clapton, Stevie Ray Vaughn and B.B. King all those kinds of guitar players but then I can appreciate every guitar player whether they play 3000 notes or just one note, itís just a matter of expressing your personality through the instrument.
KNAC.COM: Do you have any new material thatís coming out?
WILDE: Weíre actually in the process of writing a new album at the moment. Weíre about half way through, you can get a sneak peek at one of the live shows, weíre hoping to get in the studio and get it all tracked as soon as we get off the tour, so thereís no rest for the wicked!
KNAC.COM: How does your songwriting process go? Is it collaboration or is there one songwriter?
WILDE: Pretty much varies from song to song sometimes weíll be jamming something in the studio and that can develop into a song or it can stem from when I have a strong emotional reaction to something or something will come into my head and Iíll have to hum it into my phone at 3 in the morning before I fall asleep and I canít really understand what it was its very varied, it just depends on the song really.
KNAC.COM: So was I reading correctly on your website that you may be recording a song with Geezer Butler?
WILDE: Yes, thatís currently in discussion. Hopefully Iíll have more information on that very soon! Itís very exciting!
KNAC.COM: Anything else that you would like to add? Where can people go to hear your music?
WILDE: Well you can go to www.laurawilde.com and www.facebook.com/laurawildemusic also Iíve been posting a lot of photos on www.instagram.com/laurawildemusic, the candid straight from the horses mouth embarrassing photos so if youíd like to get the inside scoop you can go on that.
Laura Wilde On Tour
07/11/13 - Boise, IDAHO - Knitting Factory
07/13/13 - Agoura Hills, CALIFORNIA - Canyon Club
07/14/13 - Phoenix, ARIZONA - Celebrity Theatre
07/15/13 - San Diego, CALIFORNIA - House of Blues
07/16/13 - Anaheim, CALIFORNIA - The Grove Anaheim
07/24/13 - Aspen, COLORADO - Belly Up
07/25/13 - Englewood, COLORADO - Ogden Theatre
07/26/13 - Des Moines, IOWA - Val Air Ballroom
07/28/13 - Nashville, TENNESSEE - Ryman Auditorium
07/30/13 - Cleveland, OHIO - House of Blues
07/31/13 - Indianapolis, INDIANA - Egyptian Room
08/01/13 - Columbus, OHIO - LC Pavilion
08/02/13 - Detroit, MICHIGAN - DTE Energy Music Theatre
08/03/13 - Dayton, OHIO - Fraze Pavilion
08/04/13 - Akron, NEW YORK - Braunís Concert Cove
08/06/13 - New Haven, CONNECTICUT - Toadís Place
08/07/13 - Boston, MASSACHUSETTS - House of Blues
08/08/13 - Poughkeepsie, NEW YORK - The Chance Theatre
08/09/13 - Westbury, NEW YORK - Westbury Theatre
08/11/13 - Hampton, NEW HAMPSHIRE - Casino Ballroom
08/12/13 - Portland, MAINE - Asylum
08/14/13 - Jim Thorpe, PENNSYLVANIA - Pennís Peak
08/16/13 - Baltimore, MARYLAND - Rams Head Live
08/17/13 - Richmond, VIRGINIA - The National
08/18/13 - Myrtle Beach, SOUTH CAROLINA - House of Blues
08/19/13 - Orlando, FLORIDA - House of Blues
08/22/13 - Houston, TEXAS - House of Blues
08/25/13 - Las Vegas, NEVADA - Vegas Rocks! Music Awards
08/28/13 - Tucson, ARIZONA - Fox Tucson Theatre
Photos By Mark Weiss & Jim Connors
Please log in to view RANTS