CHILDREN OF BODOM is one of the most well-known bands in the metal world and they are heading to the U.S. to support their latest release, Halo of Blood, on the Rockstar Energy Drink Mayhem Festival. The CD was released on June 11th via Nuclear Blast Records in North America and was recorded at Finlandís Danger Johnny Studios with veteran engineer Mikko Karmila and reknowned producer Peter Tagtgren.

"The album came out a bit earlier in Europe and we have already done festivals here before heading over for Mayhem," said bassist Henkka Seppala. Seppala will be joined by his bandmates, guitarist Alexi Laiho, guitarist Roope Latvala, drummer Jaska Raatikainen, and keyboardist Janne Warman when they hit the road in true warrior fashion for the five week run.

This time around, the band takes on a new style in their artwork and approach to the CD.p> "For a long time we have wanted to do a white cover and a winter theme," Seppala said. "We have always been so dark and the idea to show Lake Bodom in winter was something that fit with the time the album was written and recorded. The visual just fit in with the timing."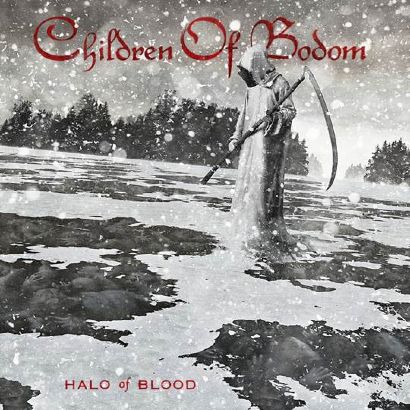 Halo of Blood is the bandís eighth studio album and it has a bit darker feel than previous releases without sacrificing the scathing metal the band is known for. There are some new themes and a new atmosphere to the bandís sound. "We did this record much the same as we have always done as far as the writing process but it does have a heavier, darker feel to it," he said.
The band plans to reunite with former tourmates AMON AMARTH, MASTODON, and JOB FOR A COWBOY on Mayhem Fest and then work in more touring following the U.S. dates.
"We have toured with those bands before both in Europe and the States and we are excited because this will be the first time on Mayhem for us. We plan to go to Japan and Europe after Mayhem and then we hope to return to North America. There has been a lot of growth as far as our fan base in North America so I think this is going to be a good experience for us," he said.
Besides their blistering metal style, the band has also been known for throwing in quirky cover tunes and for their tight showmanship onstage. Their audience has grown worldwide and they appeal to a wide variety of fans.
"There has been an excellent reaction to our music. Sometimes we like to do something silly (re: covering Britney Spears' "Oops I Did It Again") and there are times that we want to do a cover of someone that we do admire that may not be our same musical genre, like our cover of Billy Idol's "Rebel Yell". We have such a variety of fans and it seems that we appeal to a diverse audience."
Songs like "Bodom Blue Moon", "Waste of Skin", "Scream for Silence" and the title track are what has kept the band in a position to consistently debut at number one on their home album charts and to score high internationally as well.
Check out the teaser video for "Halo of Blood"!