Walking Through Exits Only: Exclusive Interview With PHIL ANSELMO

By Wendy Jasper, Black Metal Aficionado
Tuesday, June 25, 2013 @ 6:14 PM

| | | |
| --- | --- | --- |
| | | Phil Anselmo Walks Through Exits Only With First Solo CD |
July 16, 2013 is the date that many die-hard PANTERA fans have looked forward to for years. Why? Itís the day that enigmatic frontman Philip Anselmo will release his first solo effort via his own Housecore Records label. Anselmo has certainly been busy over the years with SUPERJOINT RITUAL, DOWN and his horror show productions, but once he decided it was time to devote himself to a the long await solo project, he put in the overtime required and the result is Walk Through Exits Only.

"When I began writing it was just me, a guitar and a small amp," He said. "I wrote the songs but I still had to put together a band. This has been in the works for a while and it took about three years to put together a band with the right chemistry. It was me and Marzi (Montazeri) for sure, and my drummer Blue (Jose Gonzales). This record is abrasive and agitated and the beauty of it is that because itís a solo record, I can do whatever I want!"

Anselmo says that most of his music is mood driven and that he felt as if he had a lot of freedom to express himself. "You know, the next record may be totally different! It really depends on what kind of mood I am in when I create the music. My interests also play a big part in what comes out when I write. I love horror films, boxing, things that are aggressive because I had so much to work out over the years," he confided. Anselmo has had a much publicized struggle over the years with substance abuse and a debilitating back surgery that affected his ability to work.

"I can tell you that right now I feel better than I have ever felt," he said. "I am thriving and I have a new lust for life. I am mentally and physically stronger than I have ever been and there is an honesty here that I feel like I can speak my mind. That is also something I am looking for in a band. I demand that we always be in a frame of mind where we can speak honestly and that we donít let ego get in the way. You have to have open lines of communication because it is so important and I think that is why this album is the way it is. Itís an honest album. I got into music to enjoy it and I can tell you that I never thought that I would be here today, 45 years old and on the phone with media talking about past glories, failures, successes and the fact that I am still out here doing what I love!"

Honesty is an accurate description of the CD as a whole and Anselmo also says that he has an autobiography that he is working on that will detail his life from the time he was a struggling unknown through the success of PANTERA, DOWN and SUPERJOINT RITUAL on up to present time.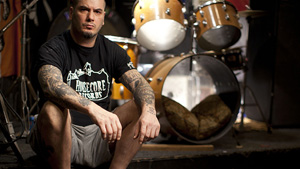 "There has been so much that has prompted me to write," he said. "PANTERA is a huge part of my life. There are also the losses that we have had over the years that affected me deeply in addition to my personal struggles so I think it will make for a raw look at how things really are."
Anselmo also says that rawness is a factor in the making of the CD and that the album is really not like anything he has ever done. "There is solid song structure, gigantic hooks, and the musical expression may come across as anger when it is really surrounded with sarcasm. It is very tongue in cheek, and a lot of yelling! I was at a point when I let the little things get to me and there is really a simple remedy. You have to step back and focus and that is what I have done," He said. "I would really like to get started on some new songs and we are also heading out on tour. I have Texas thrash legends Warbeast on my label and they are going out on the road with us, and then in Austin later in the year we will have the Housecore Horror Film Festival and the bands featured on that will be us, GWAR, WARBEAST, CROWBAR and others. Goblin is even coming over to do the soundtrack to Susperia so this is going to be an event you donít want to miss!"
And where does his name for his band, THE ILLEGALS, fit into all of this?
"You know, that comes from my humorous gut! They (the band) mess with me, so I will mess with them. And you never know, their name could change on the next record. Iíve known Marzi for years and we have always had a close friendship and it has been a long time coming that we are finally able to do a record and tour together, but the name, well, thatís my joke on them," he laughed.
So, with that said, this CD is brutal, aggressive, and forthright. Whatever can be said about Anselmo himself, the key word for this release is honesty and he assures us that he has so much more to do and that we will be hearing from him for a long, long time.
Tour Dates:
7.31 Cain's Ballroom, Tulsa, OK
8.2 Wooly's, Des Moines, IA
8.3 First Avenue, Minneapolis, MN
8.4 House of Blues, Chicago, IL
8.6 House of Blues, Cleveland, OH
8.7 The Intersection, Grand Rapids, MI
8.9 Royal Oak Music Theatre, Royal Oak, MI
8.10 Danforth Music Hall, Toronto, ONT Canada
8.11 Heavy MTL Festival, Montreal, QC Canada
8.13 The Palladium, Worcester, MA
8.14 Upstate Concert Hall, Clifton Park, NY
8.16 Best Buy Theatre, New York, NY
8.17 Union Transfer, Philadelphia, PA
8.18 The Fillmore, Silver Spring, MD
8.20 The Masquerade - Heaven Stage, Atlanta, GA
http://housecorehorrorfilmfestival.com/
Housecore Horror Film Festival - October 25-27, 2013 - Emoís - Austin, Texas
Please log in to view RANTS