Riding The Void: An Interview With James Luna Of HOLY GRAIL

By Wendy Jasper, Black Metal Aficionado
Thursday, June 13, 2013 @ 4:36 PM

| | | |
| --- | --- | --- |
| | | HOLY GRAIL Continues Riding Into The Void With Massive Touring |
Additional Contributions By Amy McNees & Rob McNees

They conquered audiences during the Metal Alliance Tour, they've built a massive following in their home state of California, and they bring new life to the California power metal scene. They even set sail earlier this year on the 70,000 Tons of Metal Cruise. However, HOLY GRAIL are not even close to being done! They have now embarked on a headlining tour across the country, they have their eye on Europe, and their second album, Ride the Void, is a full metal assault.

While their first album, Crisis In Utopia, created the buzz about the band, they wanted to really break the mold on their sophomore release. Vocalist James Luna expounds on the success of the new album, the recording process and the band's touring schedule and what is next for the band.

"It (recording) was a great process. We had maybe two songs leftover from the previous album that we kind of wanted to revisit. We reworked those and tweaked them a bunch and they ended up on this album," Luna said. "We also had about thirty songs we wrote for this album in particular that we weeded down to the best twelve that we liked. I think it turned out awesome. We did a lot of pre-production with the producer. It was done over the holidays where we go in once a week and just hang out with him around Thanksgiving, Christmas time. Once March came around we started hitting the studio. We already had a template set. We just went in and knocked out. It was awesome."

The band's debut video for the album is the title track "Ride the Void", and it has been well received by their fan base. The rest of the band consists of Eli Santana - Guitar/Vocals, Alex Lee – Guitar, Blake Mount – Bass, and Tyler Meahl – Drums.

"The video has done well on YouTube and other media," Luna said. "It helps get the word out about the band and what we're made of. I think that the scene is reviving in a way that can only get better. Have the video helps us and social media is also a big help."

The band's Facebook page has an unprecedented number of fans added since the Metal Alliance Tour with ANTHRAX, EXODUS, HIGH ON FIRE and MUNICIPAL WASTE.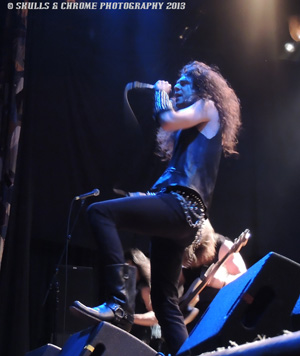 "I just like to tell people to please keep adding us on Facebook and sending us messages. Keep the comments coming on Twitter and Instagram and all that stuff. We run the site ourselves so don't be shy to ask us anything and say what's up," Luna said. He also said that the band is very accessible at shows and they love to meet fans.
"It has amazed us that so many of the traditional metal fans are into us, but the number of kids that are at the shows has grown so we are reaching a whole new audience and era of metal fans."
The band's label, Prosthetic Records, has really helped in the push to get the word out about the band and Luna says that they are supporting them fully.
"We have had a lot of good luck with our label. The album is doing well domestically and internationally and I think we have a lot to look forward to!"
Check out the tour dates below for shows in your town!
6/19 San Diego,CA – Soda Bar #
6/20 Mesa, AZ – The Underground #
6/21 El Paso, TX – TBA #
6/22 Lubbock, TX – Jakes Sports Cafe #
6/23 San Antonio, TX – The Korova #
6/24 Austin, TX – Holy Mountain #
6/25 Houston, TX – Fitzgerald's Basement #
6/26 Dallas, TX – Double Wide #
6/28 New Orleans, LA – Siberia #
6/29 Atlanta, GA – The Earl #
7/1 Baltimore, MD – Metro Gallery #
7/2 Brooklyn, NY – Knitting Factory #
7/3 Wormleysburg, PA – Jaxx #
7/5 Stanhope, NJ – Stanhope House #
7/6 Hartford, CT – Arch Street Tavern #
7/7 Boston, MA – Great Scott #
7/8 Burlington, VT – Nectars #
7/9 Montreal, QC – Divan Orange #
7/10 Toronto, ON – Hard Luck Bar #
7/11 Cleveland, OH – Now That's Class #
7/12 Chicago, IL – Reggie's Rock Club #
7/13 Minneapolis, MN – The Nether Bar #
7/15 Winnipeg, MB – Zoo Cabaret #
7/16 Regina, SK – The Exchange #
7/18 Edmonton, AB – Wunderbar #
7/19 Calgary, AB – Dickens #
7/21 Vancouver, BC – The Astoria #
7/22 Seattle, WA – Highline #
7/23 Portland, OR – Backspace #
7/25 San Francisco, CA – Thee Parkside #
7/26 Los Angeles, CA - Whisky-A-Go-Go #
# with ANTI-MORTEM

For more information on the band, please visit: www.ridethevoid.com Check out the video for "Ride The Void" right HERE
Please log in to view RANTS