That's Life: Exclusive Interview With CINDERELLA's Tom Keifer

By Wendy Jasper, Black Metal Aficionado
Monday, April 29, 2013 @ 4:04 PM

| | | |
| --- | --- | --- |
| | | Tom Keifer Keeps True To Rock Roots With Debut CD The Way Life Goes |
No one coming up in the 80's could ever forget CINDERELLA and their flamboyant videos, chunky guitar sound or soulful ballads and one of the reasons for that was the voice of stylish frontman Tom Keifer. The band enjoyed extreme success and endured through the 1990s and still tours today, however, Keifer has always had the dream of doing a solo record. Nearly ten years in the making, The Way Life Goes, his debut solo record hits stores on April 30th and is well worth the wait.

"I started working on songs in between work with CINDERELLA and the album stays true to my heavier rock sound, but you can also hear my blues influences in the music," Keifer said. "I try to write some of my songs based on life experiences. When CINDERELLA disbanded for a while in the mid-90's, I sat down and started working on some ideas for a solo album. It's something I have had in the works for a long time."

Much like the album title, life has many surprises and some of the issues Kiefer dealt with during the hiatus from working with his CINDERELLA bandmates were a struggle. He had been having difficulty with the loss of his voice and numerous surgeries to correct the problems with his vocal cords. There was even a time when he thought he would never sing again. He maintains that he kept writing and refused to give up.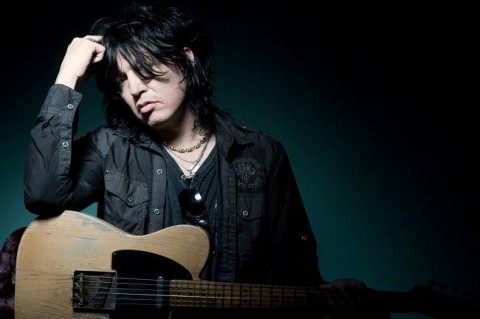 "I knew that my time was not over," he said. "I had the surgeries to remove the nodules on my vocal cords and there was paralysis of my vocal cord, but I kept working and eventually learned to sing again. I also ended up moving and settling here in Tennessee where I kept on writing and arranging songs. I had so much music that I was working on and eventually this album came to life. I worked with some great musicians here and I have a steady touring band that is great. We are looking forward to getting out there so people can hear what we have come to love so much. The album is a rock album, no doubt, and I hope the fans love it. "
Keifer stays busy with planning his solo work, but he does also get together with CINDERELLA for various shows and festivals. Recently, the band was booked on the Monsters of Rock Cruise. However, Keifer was unable to take the trip due to illness. "I was really disappointed to miss the cruise," he said. "That is a popular venue these days and we love to do those types of shows. Unfortunately I came down with the flu, and that developed into pneumonia and I had to miss it. What was great is that we had so many friends that were going to be performing on the cruise that the band ended up being featured as "CINDERELLA and Friends" and other singers stepped in to sing the songs."
Keifer is now back in top form and ready to hit the road. He has also worked on video and other promotional materials relevant to the upcoming release and shows. The first video from the album, the song "Solid Ground", is a gritty, heavy rock tune that showcases Keifer's voice and guitar talents and is faintly reminiscent of the sounds heard on CINDERELLA's album, Long Cold Winter.
Keifer also starts his solo tour on May 2nd in California and will be out through the month of May.
"Solid Ground" Video:
Please log in to view RANTS