Set Sail With Captain Jack: Interview with JACK RUSSELL

By Wendy Jasper, Black Metal Aficionado
Tuesday, April 9, 2013 @ 7:33 AM

| | | |
| --- | --- | --- |
| | | GREAT WHITE Featuring Jack Russell Sets Sail With Successful Touring And Promising Projects |
The 1980s was a time when the music was louder, the hair was bigger, and the videos had the hottest girls. It was also a time when some of the best bands made their mark and set the pace for the metal scene. There are just some bands that when you hear their singer, there is no mistaking who it is, and that has always been the case with Jack Russell. Easily one of the most identifiable singers of the era, you knew that not only was anything he sang on going to rock, you were also assured of a dynamic live show by Jack and his band, GREAT WHITE.

However, that's not all one can say about Jack Russell. Besides always being energetic on stage, perfectly on pitch and an all-around showman, he is just a nice guy. Whether he's headlining an arena or a nightclub, Captain Jack is interested in meeting the people who made him the star that he is; the fans. Last summer's ultra-successful America Rocks Tour was infused with fan favorites like "Once Bitten, Twice Shy", "Rock Me", "Face the Day" and "Save Your Love", and every venue the band visited was packed with well-wishers and long time fans.

A more open, caring and dedicated artist than Russell is hard to find and GREAT WHITE fans know this by the way they are received at the shows. Russell has been working hard over the past year with his new line-up of players and are touring under the moniker GREAT WHITE Featuring Jack Russell.

"My fans are an extended family," Russell said during a recent phone conversation to discuss life since the tour. "This is a celebration of life and what it's all about. My fans are such a part of my life and I love to keep in touch, do meet and greets after the show, and I want to know what they think about the band."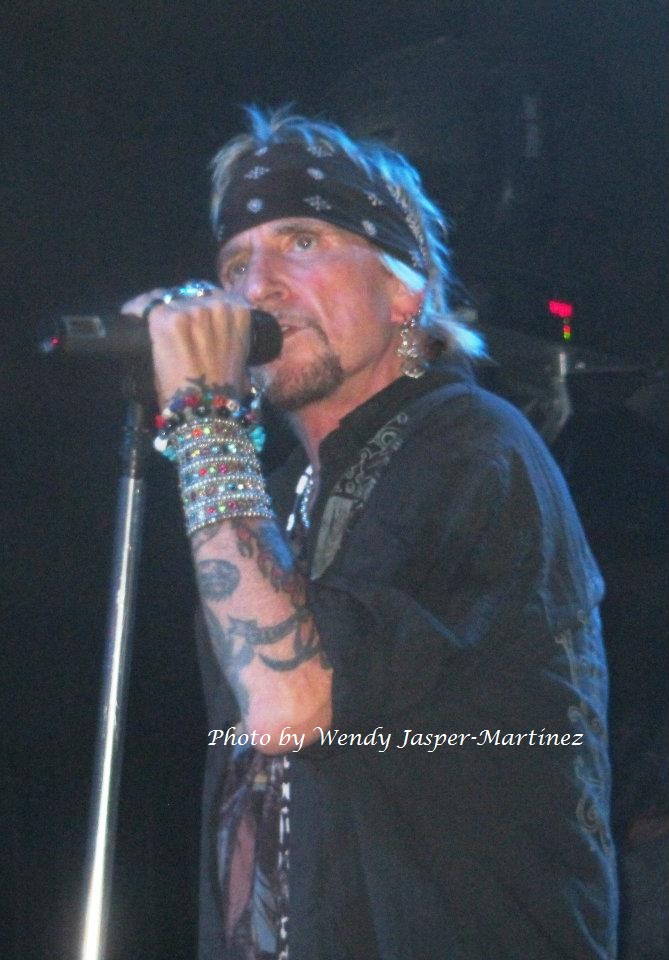 "God has blessed me with another chance and I'm not going to mess that up," he said. "The tour was a huge success and we are still scheduling shows in more of a weekend warrior fashion right now, but there is talk of a bus tour again this summer. So far press coverage has been great and the entire touring package was so well received. I get choked up every time we do a show and the fans come up to me and share with me how they feel about the music."
Jack's enthusiasm is contagious as he talks about his new band members, all of whom he has a history of performing with. Guitarist Matthew Johnson and Jack have a history in GREAT WHITE as Matt was chosen to cover a void in the band due the departure of Mark Kendall in the 90's. He also has writing credit on 1996's Let It Rock for the song "My World" and performed on Russell's solo album, Shelter Me. Rounding out the guitars is "Shred Master General" Robby Lochner, whom many will remember from his days in FIGHT with JUDAS PRIEST vocalist Rob Halford. Bassist Dario Seixas is also well known in the metal world, having toured as a long term member of FIREHOUSE and then later joining forces with RATT vocalist Stephen Pearcy. Drummer Derrick Pontier has an impressive career that includes being sought after for workshops, teaching clinics and studio sessions. He has a history of performing with GREAT WHITE in the early 2000's as well as being involved with C.C. Deville's SAMANTHA 7 and an all-star act with ANGEL's Frank DiMino and STRYPER's Oz Fox.
"There is so much talent in this band," Russell said. "For the first time in many years I am having fun. I enjoy spending time with these guys. It doesn't feel like a business, it feels like a brotherhood. I have known my manager, Valerie Ince, for many years and it was very serendipitous how it all came about that we would sign on with her. She has the right vision and knows what we are about," Russell said. "There also has to be that same level of professionalism on the road and our tour manager, Claude Van Trotha, is arguably the best in the field. He is also an incredible sound engineer so we are blessed in that respect as well. In so many cases a band has to rely on the house sound guy and if they don't understand you, or your band, the sound can suffer and when you hear about it from the audience's perspective, you realize how important it is to have a professional crew."
Unfortunately, Russell has recently dealt with debilitating health issues and legal altercations with his former band mates, who also insist upon the right to use the name GREAT WHITE. However, confidence is a key part of Russell's new lease on life and he knows that the truth will prevail regarding his history and association with the band name.
From the first show in 1981, Russell has been a mainstay, band founder and focal point for GREAT WHITE. Through multi-platinum albums, sold out world tours, and a revolving door of band members, he managed to keep the band going until 2001, when he decided it would be time to call it quits and pursue a solo career. He released his second solo album, For You, in 2002.
"That album was different than Shelter Me. With Shelter Me, you could almost call it another GREAT WHITE record. It had that tone and feel, but For You was not subject to so much of that influence. It had more pop inspired melodies and it was not really a heavy rock album," he said.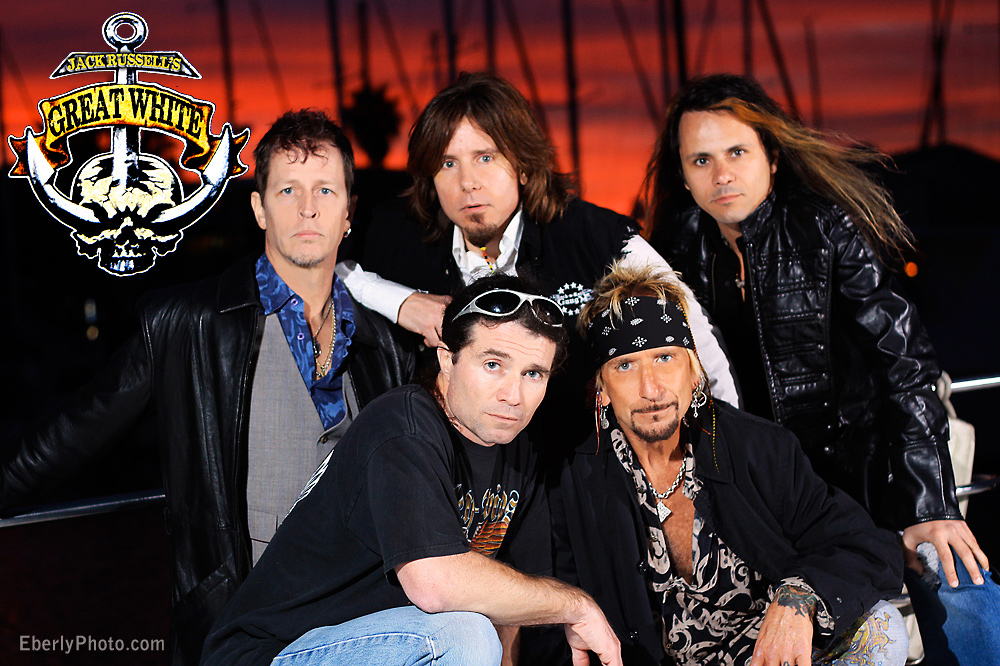 However, on the heels of the solo release came the demand for more GREAT WHITE. Never one to disappoint his fans, Russell and former band mates once again joined forces to tour and record. Over the next several years, the band toured, reunited their classic lineup in 2006, and in 2007 released their first studio album in eight years, Rising.
During 2010, Russell would face health problems that would remove him from performing with the band and would involve lengthy hospitalizations.
"I almost died," he said. "There is no other way to describe it. I truly did not think I was going to make it. When I would get to the point that I thought I was better and could return, I would find out that I couldn't and without the love of my wife, family, God and the fans, I truly didn't think I would get through it. I am grateful to be here to talk about it and I owe it to the fans and people who have stood beside me."
While legal issues still abound regarding the use of the band name, Russell has prevailed with his incarnation of the band and is truly considered by many to be the only recognizable singer of GREAT WHITEe.
"I'm here for the duration. My health is good, the shows are full and I have so many projects in the works," he said. "I am going to be featured in my own show called "Jack On" on RadioScreamer.com just playing music that I like every Wednesday from 3-5PM Pacific time, and there is even some work being done toward a reality show for me; just me and my boat and some fishing! I'm even working on an autobiography. I am so busy and so excited about all that is going on right now!"
Additionally, the band will be a featured artist at this year's M3 Festival. Until then, Jack and crew will be working on new music that will ultimately be recorded.
"We've been working on some songs that are just straight forward rock and roll. It's GREAT WHITE, my voice, and a great set of players. The music is up tempo and we are going to keep writing until it's time for a new record."
Until it's time for that new record, fans are flocking to the shows and eagerly awaiting Captain Jack in their town.
For more information about the tour, be sure to check out the band's website at www.jacksgreatwhite.com or his Facebook page at http://www.facebook.com/#!/jacksgwpiratespage
Please log in to view RANTS