Dig: An Exclusive Interview With HEAVEN & EARTH Bassist Chuck Wright

By Charlie Steffens aka Gnarly Charlie, Writer/Photographer
Sunday, April 7, 2013 @ 9:12 AM

| | | |
| --- | --- | --- |
| | | "That's the amazing thing about music. It can really change your mood." |
Since forming the HEAVEN & EARTH, guitarist and founding member Stuart Smith has aligned himself with some of the most talented musicians in the business. Names such as singer Joe Lynn Turner (RAINBOW), guitarists Richie Sambora (BON JOVI) and Howard Leese (HEART, BAD COMPANY), singer/bassist Glenn Hughes (DEEP PURPLE, BLACK COUNTRY COMMUNION) and drummer Carmine Appice (JEFF BECK GROUP, VANILLA FUDGE, ROD STEWART) are part of the HEAVEN & EARTH legacy. These renowned players, and others unmentioned, gave Smith the platform to make his band's first two albums, HEAVEN & EARTH Featuring Stuart Smith (1994) and Windows to the World (2000).

HEAVEN & EARTH has brought a refreshing, long-overdue revival of 70s rock with Dig, the band's third album, which features guitarist Stuart Smith, singer Joe Retta (SWEET), bassist Chuck Wright (QUIET RIOT), Richie Onori (SWEET), and prolific sessions keyboardist Arlan Schierbaum. The sound of HEAVEN & EARTH draws immediate comparison to DEEP PURPLE, LED ZEPPELIN, and BAD COMPANY. They come by it honestly, the band's lineage. Early in his career, Stuart Smith was mentored by DEEP PURPLE guitarist Ritchie Blackmore, which may be the reason that Smith's guitar phrasing and tone are similar to Blackmore's. Likewise, singer Joe Retta could easily have been one of the voices in RAINBOW sometime in between Joe Lynn Turnerís and Ronnie James Dio's tenures. Arlan Schierbaum's wizardry on the Hammond organ adds another shade to the Purple-like sound, and then there's Chuck Wright, whose band GIUFFRIA toured with DEEP PURPPLE in 1985 while on the Perfect Strangers tour.

Wright, a longtime bassist for QUIET RIOT, has a staggering resume, having recorded on 80 albums or more. He's worked with Alice Cooper, Ted Nugent, Gregg Allman, Doro Pesch, and Michael Schenker, to name a few. As a member of HOUSE OF LORDS and GIUFFRIA, Wright toured around the world while learning the ins-and-outs of the business. Now, wearing his HEAVEN & EARTH hat again, Wright is pumped about the new album, Dig.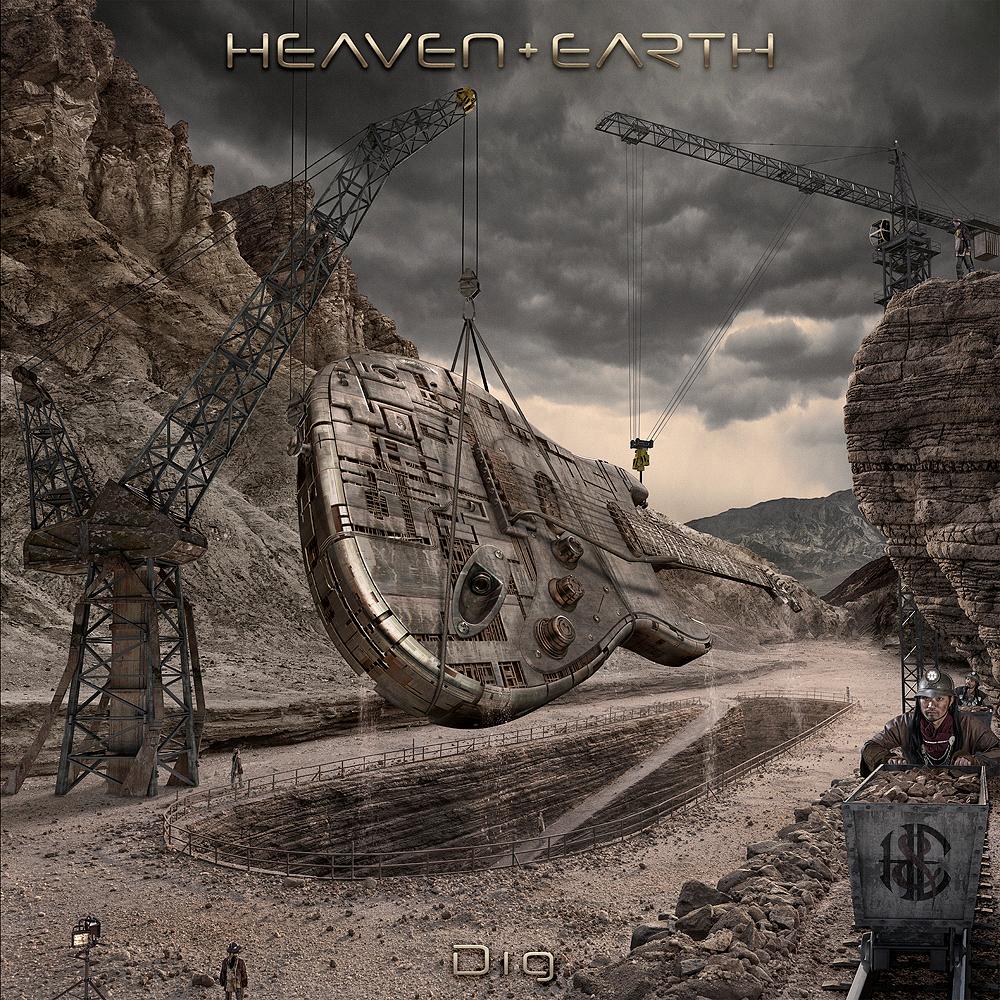 "I can't wait to get this stuff out there and play it for people live," the bassist says enthusiastically. "We put a lot of time in--14 months--working on the record. Everybody had schedules, because the guys are in different bands, but we worked hard on it. Dave Jenkins produced the album. He's brilliant. He's worked with a huge variety of acts from METALLICA to Tori Amos to TOWER OF POWER. He brought a lot to the table, as you can hear when you're listening to the record. We really tried to go old school, and we used this thing called the CLASP (Closed Loop Analog Signal Processor), which enables you to hit two-inch tape really hard, like we would do in the old days, before computers came around, to get that fat, warm sound. The problem has always been you get that latency from the heads of the tape to a computer. So now they have this new device that makes it seem instant but you get that sound captured. So we're trying to get back to that. In every aspect of what we're doing, we're trying to get it back to stuff that we grew up on."
Referring to the band's old school sound, Wright says without apology: "We're not trying to avoid it. That's what we want to do. We want to do what we grew up loving. I see kids out today wearing t-shirts for '70s-type bands and they're not getting new music. They have to look at the old catalog. We want to give them something new that has that same feeling. It's all about a vibe and a feeling. We did it in the same room. We got in the studio and cut the tracks. Of course we did some overdubs afterwards, but the actual vibe you're getting when you put the thing on--that's us in the room. That's the feeling."
In addition to its exemplary production, the Dig artwork is remarkable. "You grab the album cover and you go 'Oh my God! I gotta check this out.' I think we got the best possible person to be our creative director and that's a guy named Glen Wexler, who has been a friend of mine for--I don't even want to tell you how many years (laughs). It's a long time. He's worked with some of the biggest in the business, from Michael Jackson to VAN HALEN and WHITESNAKE and ZZ TOP, BLACK SABBATH--the list goes on and on. We're really, really blessed that we have a record company and we have someone who really believes in what we're trying to do and is willing to pay for it and make it happen. And that's so rare. I feel so lucky to be in the position to be able to do that these days."
Once the players were in place, ready to write and record, Dig became more of a collaborative effort than were the two previous HEAVEN & EARTH albums. "It is his band," Wright explains about Smith. "But we discuss most things. Basically, the bottom line is always his, but he does come to me for advice or whatever. The way this album came to be musically, for most of the songs--Stuart would come in with a riff and an idea. Joe would take that and go home and work on vocal ideas, and he'd come back and we'd arrange around his vocal ideas. To me, he's a really integral part of this whole thing."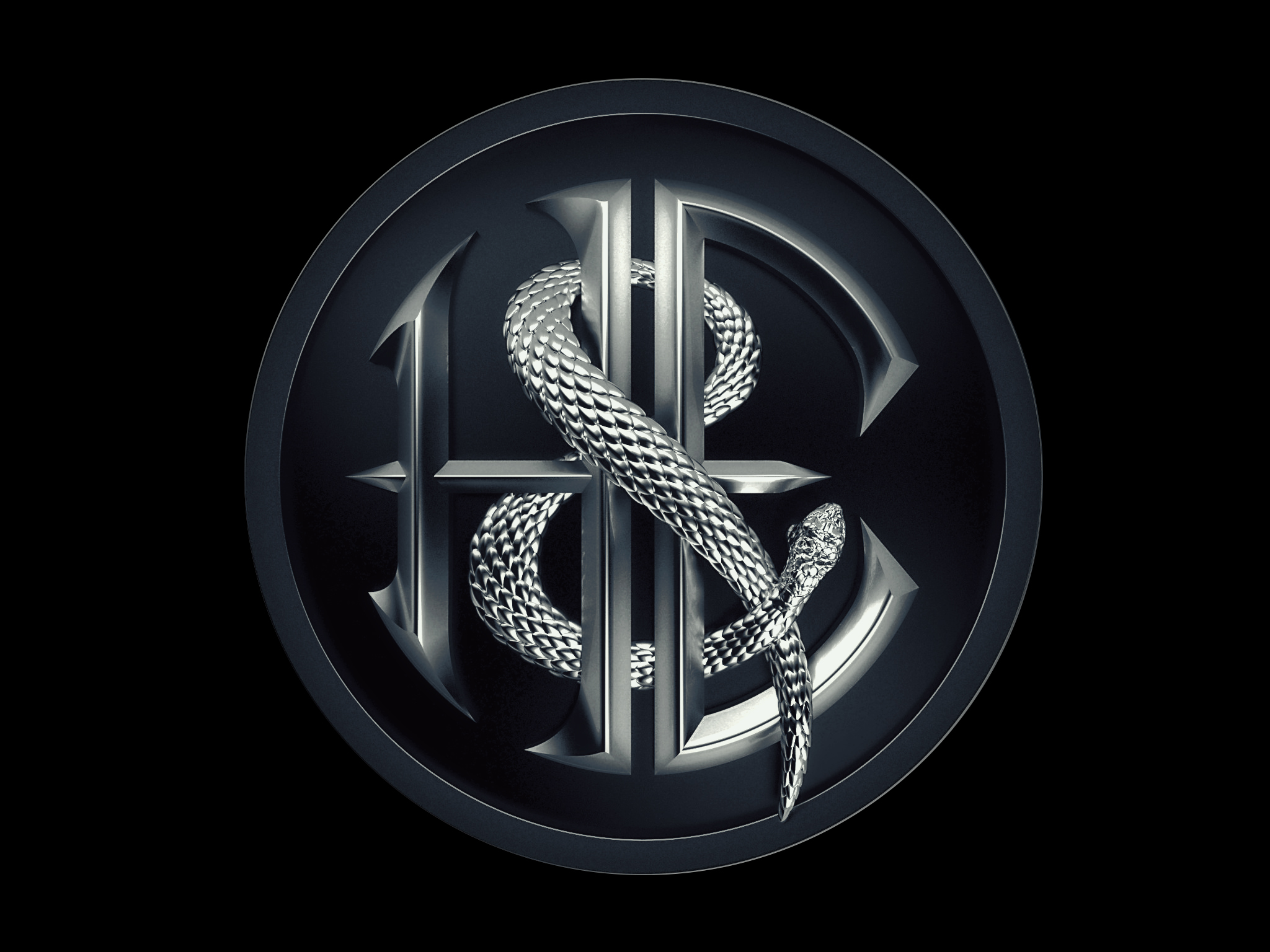 Wright claims that Joe Retta is one of the best singers he has ever worked with, and is confident that vocally, Retta could go toe-to-toe with Paul Rodgers. "You should hear him do R&B stuff. It'll blow your mind. Like Stevie Wonder. He can nail that stuff great. He's just got a very versatile, killer voice, and when he plays the HEAVEN & EARTH music, it's more of a Paul Rodgers-y/Joe Lynn Turner kind of thing, so you're going to get a really good feel for the band just on the instrumentation in Joe's voice and the way we play the song."
"If you'd listen to the album and read the lyrics at the same time--there's some really thoughtful, deep, subject matter. And the way he puts it out there, it's not just trite stuff that you hear all the time. It's really well thought out, like on "House of Blues", for instance. His delivery slays me. I got the same feeling when I hear "Since I've Been Loving You" by Zeppelin. It's a blues tune, but I get that same kind of feeling. It's just so passionate."
So the obvious question concerning Retta: Where have they been hiding this guy?
"Right when he started to happen--he had two daughters--and his wife passed," Wright explains. "He just put everything aside and just raised his daughters. Now they're grown and now he's back. Now we get to share him with everybody. To work with somebody this talented again, that's such a great vocalist--he can sing anything. He's a gem. A rare find."
Along with special guests Howard Leese and David Paich from TOTO, guitarist Ritchie Sambora brought his talent to the Dig party.
"Ritchie is a friend of Stuart's, and he heard the song "Man & Machine", and he wanted to jump in. We got him doing his signature talk-box thing and he's doing slide guitar, he's playing rhythm guitar. It's really, really great. He added so much. That song was kickass anyway, but it just went up like ten more notches when he put his sauce on it."
When the work on Dig had first begun, Stuart Smith had just experienced a fierce breakup. The pain was a catalyst for Smith to write "Back in Anger", "No Money No Love", and "I Don't Know What Love is Anymore".
"Originally the album was to be called Back in Anger and that was all about where Stuart's head was at when we started doing this 14 months ago--being kind of angry." Over time, and as work progressed, Smith's emotional state improved and the songs changed as a result. The brisk rocker, "Back in Anger", underwent some changes lyrically. "It came from his bad breakup," Wright affirms about Smith's musical brainchild. 'I'm back and I'm pissed. Watch out,' he adds. That's a really fun one. Powerful. Joe took it more into about what's going on in the world. There's a lot of political undertones in the lyrics about what's going on in the world with Wall Street and all that."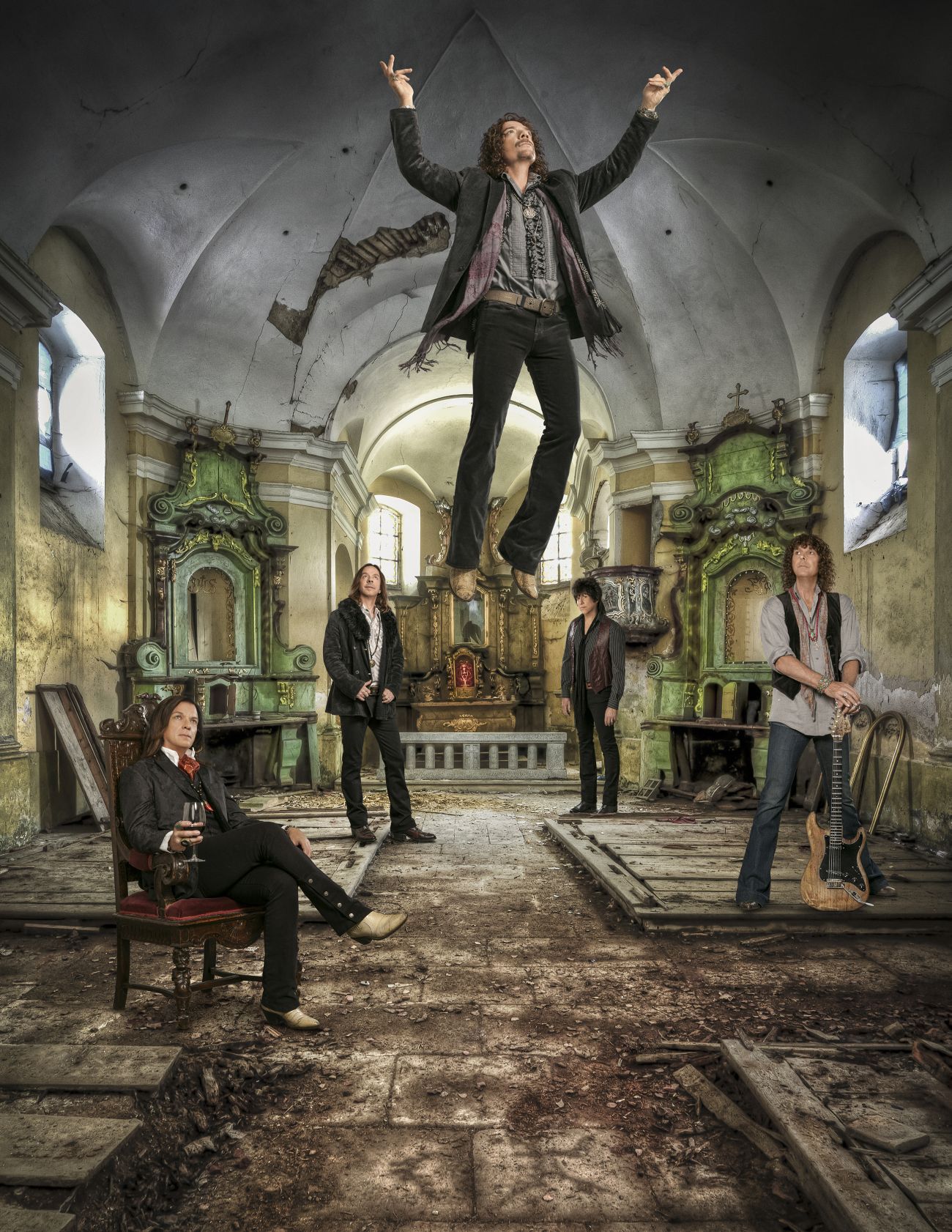 ""Live as One", that's actually another Joe piece that he kind of brought into it. We love the song and we love the message. Our goal with that song is to tie it to a peace organization at some point and kind of have it be their anthem and put it to use. I'd really like if we could put it toward a charity or something, because that song has a very good message."
While in RAINBOW, Ronnie James Dio sang one of the most prolific rock anthems ever with "Long Live Rock and Roll". "Rock and Roll Does", a song on Dig, serves as a moving tribute to RJD and another reminder of what music, most particularly rock and roll, can do. "The message is--no matter what's going on, you can put on a record and it can take you to a good place," says Wright. "Whatever doesn't get you there, whether it be politics, religion, or whatever--a love life. Rock and roll will do it for you. And that's what Joe's message was when he wrote that song. It's a 'Long Live Rock and Roll' kind of vibe, which I'd love to encore with that, because Joe sings that really great (laughs). It has our mission statement, that song. That's the amazing thing about music. It can really change your mood."
http://www.heavenandearthband.com/
Check out the official video for "No Money, No Love":
Please log in to view RANTS