ALICE COOPER and AEROSMITH - "An Iconic Weekend" Double Show Review

By Junkman, On-Air Personality
Tuesday, January 1, 2013 @ 4:13 PM




Rock icons. That is a phrase that I see a lot, in trade publications, blogs and websites. Also in publicists e mails. They LOVE to use that phrase. Icon, when you look it up in the dictionary (or "Google it", as is the norm these days...), refers to a religious work of art, specifically a painting. Why then, would that apply to a rock artist? I guess you could quote Ozzy Osbourne, (another rock icon, right?) and say "Rock and Roll is my religion and my law", and make a case out of that. And, yes, there are artists who merely just STAND THERE onstage, looking like a painting, as opposed to a live show.

Last weekend, in the course of 2 nights, I saw 2 of rocks most "Iconic" bands perform. When I say "Iconic" I mean worthy of stature in the halls of rock fame, and indeed they are, in Cleveland. Alice Cooper and AEROSMITH. Both of these bands need no introduction. Both of these bands have been around since the early seventies (sixties in Cooper's case, actually.) I have been listening to each of these bands since I've been listening to bands. Most fans of American rock have as well. The fact they have both lived through "rock n roll excess" for so long and continue to perform nightly, at an age where so many have retired, or embarrass themselves by NOT retiring, is extraordinary. My friend and I drove through the desert that surroundsCoachella Valley in Eastern California, to an Indian Casino called Fantasy Springs. There are a lot of these casino's in this area, but this one seems to have a great booking agent for rock acts. I say this because, I've looked at some of the other resorts and am amazed by what they consider talent, and am even more amazed that people still pay money to see it. Mostly old TV stars or "One -hit wonders" from long ago.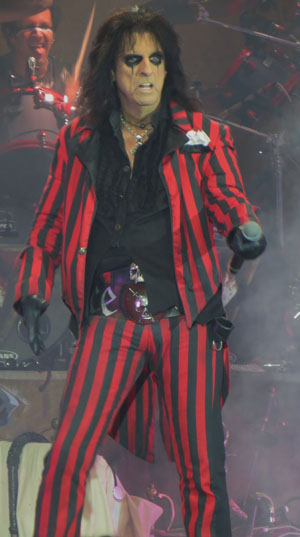 I know. Alice Cooper is from "Long ago" too. But he has a new band, new material, and a new stage show. Every bit as contemporary as he was when he first came on the scene. Hitting the stage a little after 8 PM with no warm-up act, he opened with, appropriately, "Hello, Hooray". These were the two thoughts that were going through my head, as well as the title of the song from 1973's monumental Billion Dollar Babies release.
Sporting a red and black striped suit with a black ruffled shirt ( a "puffy shirt", right Seinfeld fans?) Alice Cooper proceeded to prowl the stage like the pro that he is. Sometimes with props, like a whip or a snake, or even a crutch-"Oh my"! During "Billion Dollar Babies" he produced a saber, skewered with dollar bills adorning his face, which were then sprinkled amongst the scrambling audience. He is the master showman, a true ring leader of the rock and roll circus. And what a cast he has alongside him!
He is surrounded by a terrific band, and outside of the original Alice Cooper Band from the seventies, this is what I consider his best touring band ever. Longtime bassist Chuck Garrick is truly the anchor of the band. Rock solid. Has been doing it for a number of years and right "in the pocket", to use a musicians term.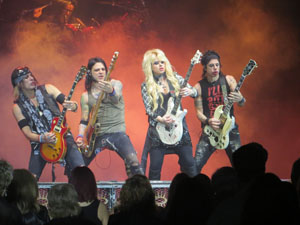 New to this tour is the incredible talents of drummer Glen Sobel. This guy has more chops than Benihana! Glen adds so much added flash and excitement to the show. I can't think of another drummer in the business that backspins his sticks with such authority throughout a performance. Together with Garrick, they make one hell of a team. New fire was added throughout the set to older favorites like "No More Mr Nice Guy" and "Be My Lover".
This band has not one but THREE guitarists, and this of course,adds to the excitement and showmanship. Tommy Henriksen joined the band in 2011 after working with Alice Cooper on the Wecome 2 My Nightmare sequal release, in which the songs "Caffeine" and "I'll Bite Your Face Off" were represented during the set.
After moving to Europe a few years ago, guitarist Ryan Roxie has returned to the band. Ryan is a great songwriter and showman, and tonight was not only the last show on the tour, but also his birthday, adding to the fun of the evening. There was lots of celebrating before, during and after the show, and the song "He's Back (The Man Behind the Mask)" was especially fitting in light of Roxie's return to the fold.
Guitarist Orianthi Panagaris (simply known as "Orianthi") rounds out the band and is a great addition. Not only is she a great guitarist, but she has truly taken the role of Alice Coopers onstage foil. Whenever he is doing something onstage, like using his props or emphasising a phrase like "I'll Bite Your Face Off", or "Hey Stoopid", Orianthi is his onstage muse, all the while delivering blistering guitar licks.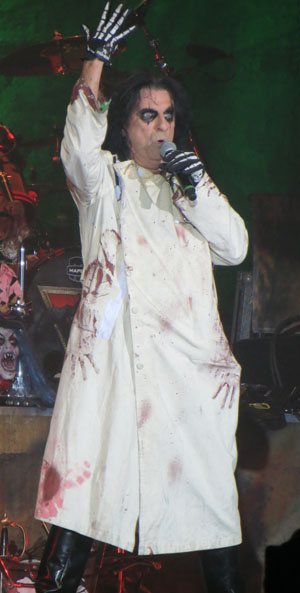 All the band members get their time in the limelight. Glen Sobel's drum solo is off the hook, and all the guitarists get a spotlight during a medley of songs from dead rock stars (complete with gravestones, naturally) towards the end of the set. A big highlight of the show is during "Feed My Frankenstein", in which Alice Cooper is forced into a straight jacket and transformed into a huge, monster-ish version of himself, complete with explosions and lab equiptment.
Finishing the set with a trio of his most popular tunes, "I'm Eighteen", "Under My Wheels", and "Poison", the band raced around the stage to thunderous applause, joining each other at center stage as they gave the crowd what it wanted. Encoring with, predictably, "School's Out", that had the entire audience screaming the words, and getting showered in confetti released inside huge balloons that floated above the crowd.
Afterwards, I spoke with Alice Cooper, and he was a gracious as can be. He was looking forward to his upcoming annual "Christmas Pudding" charity show the following week, as well as getting in a round of golf the next day at one of the area's great golf courses. As I drove back through the desert that evening, smiling and reliving the nights events, I thought about all of the bands that this man had preceded and influenced, as well as how lucky I am to get to see, and speak with, a true...wait for it...Rock Icon!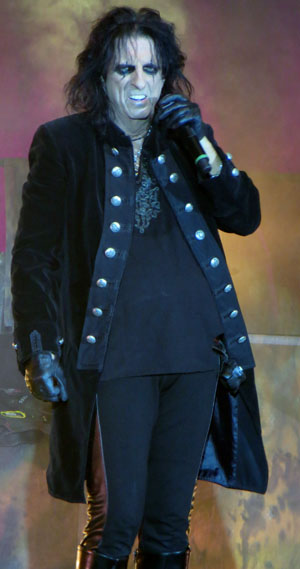 Alice Cooper Setlist:
"Hello Hooray"
"House of Fire"
"No More Mr Nice Guy"
"I'll Bit Your Face Off"
"Be My Lover"
"Caffeine"
"Billion Dollar Babies"
"The Congregation"
"Hey Stoopid"
"Dirty Diamonds"
"Welcome To My Nightmare"
"Ballad Of Dwight Fry"
"He's Back ( The Man The Mask)"
"Devils Food"
"Feed My Frankenstein"
"Break On Through ( DOORS cover)"
"Revolution ( BEATLES cover)"
"Foxy Lady ( Hendrix cover)"
"My Generation ( WHO cover)"
"I'm Eighteen"
"Under My Wheels"
"Poison"
Encore: Two days later, I finish my show on KNAC.COM, and head to Staples Center in downtown Los Angeles to see another "Iconic" rock show, featuring two of my generations biggest touring acts, AEROSMITH and CHEAP TRICK. Yes, this show could have, and probably was a $7.50 ticket in the late 1970's before the big corporations turned the concert business into a complete rip-off for most shows. Not tonight. No rip-off here.

What I saw was two professional touring bands that deliver more hits in the first 20 minutes of the set, than most of today's bands will have in their career. What an arsenal of quality rock! Openers CHEAP TRICK (aren't they ALWAYS opening for somebody?) did what they have done for the last 35 years or so, deliver the goods onstage and get out of the way for the headliner. hey, not a bad gig if you can get it. And deliver they do.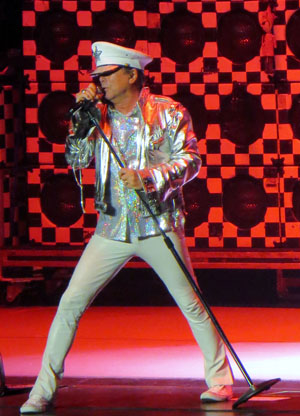 Opening with, what I consider to be one of the greatest concert opening anthems ever written ( you can quote me on that...) "Hello There", the Rockford, Illinois based quartet did not disappoint the half filled arena that witnessed their set. Guitarist Rick Nielsen is the bands focal point, a man in constant motion, mugging for the crown throughout the show, and throwing them hundreds of guitar pics. He also keeps his guitar tech VERY busy, because he changes guitars every song. Always fun to watch.
Singer Robin Zander is on his game. Dressed in white with a matching "Dream Police" hat and silver jacket, he rocked the crowd with lots of CT favorites, like "Big Eyes", "California Man", and my personal favorite, "Baby Loves to Rock". But he really shined with a cover of the BEATLES "Abbey Road Medley"- "Golden Slumbers/Carry That Weight/The End" which also featured AEROSMITH touring keyboardist Russ Irwin.
Tom Petersson and his 12 string bass and Rick Nielson's son Dax Nielson on drums, round out the band. It's still strange not seeing original drummer Bun E Carlos behind the kit, but Dax is a great drummer, and has been filling CHEAP TRICK's drum spot admirably for years. Petersson, clearly still having fun lugging that huge bass around onstage, even gets a chance at lead vocals on "I Know What I Want". After getting the usually jaded crowds attention with "Dream Police", that band finished their set, as always with "Surrender" and were joined by AEROSMITH guitarist Brad Whitford for the entire song. Speaking of big guitars, that song also featured Rick Nielsen's famous five-neck guitar, and it's always a blast watching him try to maneuver that beast around the stage.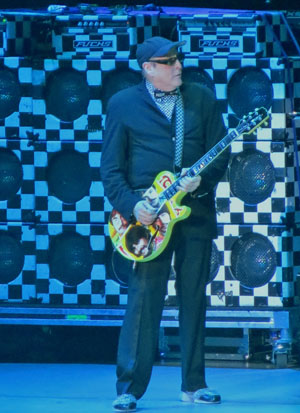 After a brief wait, and a $14 beer, out went the house lights, and enter AEROSMITH, appearing through a thick cloud of smoke, and right at the edge of a long runway. Opening with the title track of 1975's ( yes iconic....) release Toys In The Attic, there they were- Steven Tyler, and Joe Perry sharing the mic and looking and sounding exactly like they did when the record was released. Tyler, all 64 years old of him, looking half his age and dressed in white, with matching sunglasses and top hat, is still the most commanding front man in rock. Perry, thin as a rail as well, and looking like the coolest guy in rock, with a white streak in his hair and guitar slung low, immediately lit up the still arriving crowd. Blasting out a few of their later radio singles, "Love In An Elevator", and "Jaded", Tyler and Perry made their way back to the main part of the stage joining long time bandmates, guitarist Brad Whitford, bassist Tom Hamilton, and drummer Joey Kramer. Name me another band that's been around this long and still have the original members. Can't do it, can ya?
Not only has this band been together since the early seventies, but they are still releasing quality product. Oh, sure, they have had their share of sugary singles, and a few bits of drama between the band members, but their latest collection of songs, Music From Another Dimension is a winner. Two of the best rockers from that were represented in the set, "Oh Yeah" and "Lover Alot". Unfortunately, LA radio hasn't supported anything new from rock bands lately, and these songs produced a mild applause from an audience that was clearly here to listen to music from days gone by.
And that is precisely what they were given as the band retreated to its "back catalogue" of material. The still timely "Livin On The Edge" is also one of the bands best, bringing out the raised fists and sing-alongs from a now filled Staples Center. Next, they went back to the very first AEROSMITH album with "Movin' Out" , followed by their rendition of the old Rufus Thomas boogie classic "Walkin' the Dog". But things really got funky, when they followed that one up with "Last Child" from what I consider AEROSMITH's best record, 1976's Rocks.
The blues and boogie continued, along with a tasty drum solo from Joey Kramer, who, along with bassist Tom Hamilton, really keeps the gas in this train that keeps--rollin' that is AEROSMITH. another of my favorite grooves from Rocks - "Combination" had the band playing as a complete unit-yes, a "Rock n Roll Locomotive", if there ever was one.
Again, this is Los Angeles, and of course, the stars come out for the big shows. as the band launched into yet another tasty blues, tune- the old FLEETWOOD MAC gem "Stop Messin Around" out of the wings steps none other than uber-cool actor Johnny Depp sporting a guitar and a big hat, and looking very 70's rockstar. And, like he had done earlier in the week with Alice Cooper, (although not the show I attended...) he stayed and rocked, trading licks and holding his own with Perry and Whitford. Fittingly, he stayed and played on "Come Together", AEROSMITH's cover of a great BEATLES song from one of the worst movies ever made. Coincidence? Maybe so. After Depp left to screams from the female fans in attendance, AEROSMITH soldiered on, first with the new song "Lover Alot" and the mid-tempo balled "What It Takes", before blowing my mind with a terrific version of one of my favorites from 1975, "No More, No More", which had me flashing back to that point in time. I swear, I closed my eyes for a moment, looked for my bong, and tried to crank up the Pioneer Supertuner in my friends Trans Am. The power of a great rock song, instantly transforming you back and forth from reality to fantasy and back. After the "so- LA" number "Dude, Looks Like A Lady", AEROSMITH closed out the set by reaching again into the Toys In The Attic pocket for the classic "Walk This Way", complete with a James Brown "Mother Popcorn" funky intro, which had everyone, including this writer, bustin' out their best and most ridiculous white-boy dance moves.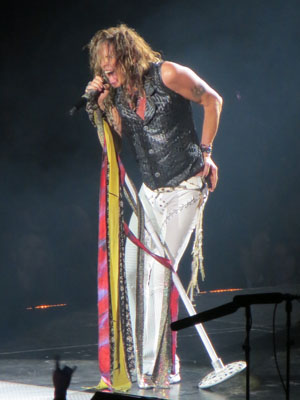 AEROSMITH then left the stage, the crowd mightily screaming for more from their heroes. After a brief pause, the smoke filled cat walk once again lit up, this time to the sight of a white grand piano elevated from underneath with the great Steven Tyler pounding out the familiar strains of the intro to their first classic-1973's ( and re-released in 1975..) "Dream On". Predictably, out came the cell phones from most of the crowd, lighting up Staples, soon to produce tons of shitty, shaky, YouTube videos from thousands of "would-be Spielbergs". Tyler didn't miss a thing, to paraphrase one of his later ballads,( luckily for us, not included in the set...) and yes, he absolutely NAILED the primal scream part in the songs last verse!
Again the band was joined by another guest. Former GUNS N ROSES guitarist Izzy Stradlin joined for a ramped up version of one of AEROSMITHs earliest of songs, "Mama Kin" from their debut album, and of course, covered by GUNS N ROSES back when Izzy was a member of that classic outfit. The "Toxic Twins" aka Tyler and Perry, smiled at their guest, looking like proud parents of rock n roll offspring.
Ending the show with the familiar bass guitar and unmistakable sound of Joe Perry's "Talkbox" fed the intro to, once again a classic from Toys In The Attic, the iconic (there's that WORD again...) "Sweet Emotion". The groove and hooks of that song have no doubt inspired so many rockers like myself, to get into the game. The combination of slow and rocking tempo, along with a killer back beat, again, transformed me back to a time when the radio and tape decks ruled our world. i will never get tired of that song, and good thing, because from the looks of things, this band is not getting tired either. At the songs coda, the confetti canons fired, and I found myself standing, saluting, screaming and applauding along with the rest the crowd, our American Rock, yep, you guessed it, ICONS! Long live the great AEROSMITH.
CHEAP TRICK Setlist:
"Hello There"
"Big Eyes"
"California Man"
"On Top Of The World"
"Need Your Love"
"I Can't Take It"
"I Know What I Want"
"Baby Loves To Rock"
"Sick Man Of Europe"
"Golden Slumbers/Carry That Weight/The End"
"I Want You To Want Me"
"Dream Police"
"Surrender" ( with Brad Whitford)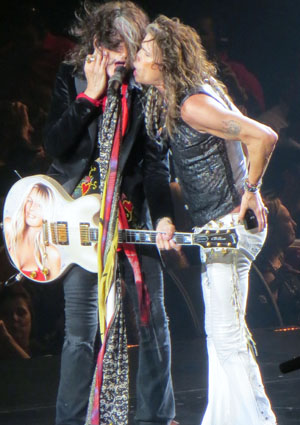 AEROSMITH Setlist:
"Toys In The Attic"
"Love In An Elevator"
"Jaded"
"Oh Yeah"
"Livin' On The Edge"
"Movin Out"
"Walkin' The Dog"
"Last Child"
Joey Kramer drum solo
"Rag Doll"
"Boogie Man"
"Combination"
"Stop Messin' Around" ( FLEETWOOD MAC cover with Johnny Depp)
"Come Together" ( BEATLES cover with Johnny Depp)
"Lover Alot"
"What It Takes"
"No More, No More"
"Dude ( Looks Like a Lady)"
"Walk This Way"
Encore:
"Dream On"
"Mama Kin" ( with Izzy Stradlin)
"Sweet Emotion"
Please log in to view RANTS