Got Animetal? An Exclusive Interview With ANIMETAL USA Bassist Rudy Sarzo

By Larry Petro, News Monkey
Tuesday, July 24, 2012 @ 8:29 AM

| | | |
| --- | --- | --- |
| | | |
There are few musicians with a resume as extensive as his. He's banged his head and felt the noize. He's been the last in line on a crazy train going over the mountain and has endured heaven and hell, but instead of taking it slow and easy and riding into the still of the night, here he goes again with yet another project, this time the anime-inspired band called ANIMETAL USA, a supergroup of American musicians bringing back Japanese-infused metal to the masses. I had the extreme pleasure of speaking with bassist extraordinaire Rudy Sarzo, aka War Bringer, about this new endeavor, how anime inspired the project, and what motivates him to continue making music.

KNAC.COM:For the benefit of our readers who don't know, exactly what is ANIMETAL USA?

SARZO: The name is actually a fusion of anime and metal. Now, the genesis of the band came from our singer, Mike Vescera, who people would know from YNGWIE MALMSTEEN and LOUDNESS, the Japanese iconic metal band. He was living in Japan for about 3 years and during that time he became a huge fan of anime. There was an incarnation of ANIMETAL that was Japanese, about 20 years ago and they were very popular and very successful. About a year and a half ago he was talking to the head of the Sony A&R department in Japan and said hey, how about resurecting the whole concept of ANIMETAL?, and he loved the idea and this time it was going to be more of a world-renowned musicians group, people that had been touring outside of Japan successfully and recording records and who also were fans of anime. So, they called me up and, besides playing with all the older bands you know me from, I'm also a 3D animator, I do animation and am also a fan of anime. So, when I got the call I was very excited and, of course I accepted. After that we recruited Chris Impellitteri, who is one of the most incredible guitar players you'll ever hear. I'm sure you're familiar with his IMPELLITTERI records and he was successful in Japan with his own band and very influential. I mean, when we played there so many guitar players came out to see him and you could tell who they are because they were all staring at him while he was playing. It's just amazing to be playing with him. Now, our first drummer was Scott Travis who played on the first album. but he's been so busy with JUDAS PRIEST that he couldn't commit to the band so when it came time to find another drummer we were so lucky to find Jon Dette, who played with SLAYER and TESTAMENT. He's such an incredible drummer and so we did our first show in October of last year at Loudpark and it was just amazing. Then we did our second album with this lineup that was released in Japan called W, and now we have Century Media putting out what's basically called a 'Special Edition', which is basically a compilation of our first and second album.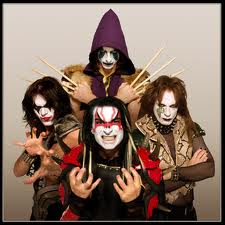 KNAC.COM: What seemed interseting to me when I noticed that Mike Vescera was in the band was the fact that he was indeed the vocalist for another Japanese band, LOUDNESS and I wondered if that was coincidental or if it was intentional on his part.
SARZO: Oh yeah, like I said before, he had beeen living in Japan for about 3 years and became a big fan of anime by watching it. And, you know, anime, it's not just in the mornings like when you watch cartoons. No, anime as an art form encompassing everything. It's what I call the CNN of Japan because it deals with all mature subjects in addition to entertaining children. It deals with subjects like ecology, social consciousness and cultural aspects of Japan and in some cases, even pornography (laughs).
KNAC.COM: Had you ever collaborated with any of these musicians prior to ANIMETAL USA?
SARZO: Prior? No, never, though I've always been a fan. To be with them in the same group is like a dream come true, absolutely.
KNAC.COM: What was Marty Friedman's involvement with the project?
SARZO: Well, Marty Friedman lives in Japan now and he's incredibly successful with alot of the J-Pop(Japanese Pop) and K-Pop(Korean Pop) bands and also maintaining his roots of metal. He was the arranger on our first record and actually helped us to really grasp the vision of what the record company needed as far as us delivering the perfect ANIMETAL USA record. Living there, he really understands the Japanese culture so at least he gave us a path to follow, a direction, and that became very helpful. On the second album, Chris Impellitteri did the bulk of the arrangement between the guitar parts and everything, Mike with the vocal arrangements and such. Alot of things came together organically in the studio as we were recording the album.
KNAC.COM: So Marty was involved in more of an indirect way as opposed to contributing music or performing on the album.
SARZO: No, he did not perform on the record, but his contribution cannot be overlooked, it was definitely significant.
KNAC.COM: How would you describe the sound, the music of ANIMETAL USA?
SARZO: We are characters in the band. We are superheroes and we have to look and sound like superheroes. We have to play as fast as superheroes and Mike has to sing as high as a superhero. That is what the band is all about. We play speed metal, melodic speed metal. We're taking anime theme songs and bringing them to the speed metal genre. It's a marriage of both anime and metal.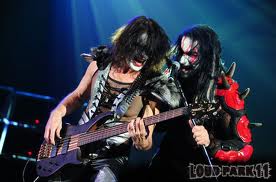 KNAC.COM: For the most part, all the bands you've been a part of throughout your career have been pretty much straightforward hard rock and metal, so how was it for you switching to this speed metal style?
SARZO: You know, that's interseting, we just play faster and play more notes (laughs). As a matter of fact, between QUIET RIOT in 2003 and DIO in 2004 I got to tour with YNGWIE MALMSTEEN so I got to bring out my speed metal chops cuz you know how Yngwie is, he records the bass parts on his albums as fast as the guitar parts (laughs). I had a blast! Look, I grew up in the 70's when the role of the bass player was more upfront, more melodic. In the 70's you listened to your more progressive rock bass players like Chris Squire or Greg Lake or Stanley Clark. Bass players, we had a certain voice within the band. In the 80's, it just became a whole different thing, it was more about playing the eighth notes, so I never got to perform outside of the Ozzy live records that I did, you know the Tribute or Speak of the Devil, I never really got to play the essence of the 70's music that I grew up with. It was still there, it's part of what got me through being passionate about being a bass player so being able to play like that in ANIMETAL USA just brings out the true essence of who I am as a bass player.
KNAC.COM: It sound like you're having a lot of fun doing that.
SARZO: It's really a blast because, you know, music should not only inspire you, it should challenge you because you always challegne yourself as a musician. Let's put it this way, being in a band is like being on a team. Without being gender specific, male or female musicians, we're all the same, we're all musicians, but there's something about guys in a band that we challenge each other to be better. Some of the favorite musicians that I've played with like Steve Vai, he challenges you. Randy Rhoads challenges you. Tommy Aldridge challenges you. Ronnie James Dio, Ozzy, you know these are the musicians that are going to get up on stage and challenge you to be the best that you can be, just leading by example. And you can do 2 things: You can just not take the challenge and miss out on an incredible opportunity or embrace it and say 'Yeah! Thank you! I'm gonna be the best that I can be because you challenge me and inspire me to do that'. That's the way I feel with ANIMETAL USA. We just challenge each other to be the best that we can be as individuals and it comes out in our music.
KNAC.COM: As you menitoned, the original ANIMETAL band was Japanese and so all the lyrics to the songs were in Japanese as well. How much of a challenge was it translating all of the songs into English but still maintaining the meaning of the originals?
SARZO: That's a question best answered by Mike Vescera because I've been in the same room with him as he tackled that question. It's really a challenge because not only are you translating into English but you've also got to keep the essence of what that theme song pertains to in that particular anime series or feature. So you could actually be screwing around with the meaning of it, you know. But he's such an amazing singer. We make jokes about it because he can be singing about unicorns or little girls and boys and be convincing and be metal about it! (laughs) It really is a unique talent to be able to do that.
KNAC.COM: I would assume that having been in Japan, having lived in Japan and being in a Japanese band prior probably gave him more of an advantage when it came to translating these songs as opposed to somebody who maybe had never been exposed to the culture before.
SARZO: Yeah, absolutely. Anybody who's ever been to Japan can really understand and appreciate it. That's a great thing that you brought up because when we do ANIMETAL USA we have the opportunity individually and as a band collectively to say thank you to the fans who have been supporting us because, let me tell you, metal has come through phases as far as popularity through the years, but in Japan, it never let down. It's like the old cliche 'Oh, we're huge in Japan'. Yeah, it matters because Japan has allowed us to continue and to grow. Japan doesn't care if your band is not as big anymore in the United States as it used to be. What matters to them is that if you continue to deliver the quality of music that you always do, they will always embrace you. They're not just gonna accept you because you have the #1 album in the US or in the UK, it doesn't matter to them. What matters to them is that they feel that you are a band that they should respect and admire and actually suppport. That's what really matters to the Japanese fans.
KNAC.COM: And that's a big difference when you compare that to American audiences or American fans who tend be a little more fickle about things. They expect a little bit more out of the bands that they like.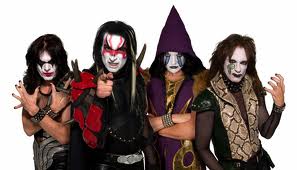 SARZO: You know, they do pay attention to detail in Japan. Shredders, which speed metal musicians fall into that category, are the most popular guitar players in Japan. Guys like Marty Friedman, Chris Impelletteri, Paul Gilbert, guys like that will always have a career in Japan because that's the attention to detail that's expected in their musicianship.
KNAC.COM: ANIMETAL USA got to play it's first show on US soil in Los Angeles at the Anime Convention. How was the response to that show?
SARZO: (Laughs) It was incredible! You know, one of the advantages we have playing in ANIMETAL USA is that when we play in front of an anime-centric crowd, even if they have never heard our records, they know the songs. We're doing songs that they're familiar with because of the anime series that they watch. So immediately they embrace you and sing along with you and to us as musicians, we love that instant gratification of the audience embracing the music. This is why we get up on stage. To me, going into the studio is something that you do and it's like the difference between an actor making a movie and going up onstage and doing a play every single night. To us, it's the same thing, our movie is going into the studio to make the record. Our play is going out every single night on tour and performing it live for everybody, for our fans. So yeah, you can listen to the album and say that I'm so proud of being a part of that record but the gratification that you get from playing live every single night in front of the fans, that is the most rewarding experience of it all.
KNAC.COM: Has there been any interest in going out and doing a more full US tour out of this?
SARZO: Yes, absolutely and they're putting together dates right now. Because we're doing a specific type of band, we're anime-centric, we're being very careful with the steps that we take, so I'm certain that a lot of the dates are going to be centered around anime expos, which are huge all over the world like the United States, Europe, South America and so on. I'm pretty sure that they're gonna have shows be around those dates and then we're going to be doing cities and towns around those specific expo dates.
KNAC.COM: Have you been approached by any other bands as far as going out and being openers for them or is this something that you want to go out and do a headline thing of your own?
SARZO: No, no, it's not about doing a headline thing. For us, it's about getting up onstage and bringing our music to as many fans as possible, fans of metal and anime. We're not just aiming at the anime audience. We actually want to reach as many of the metal fans as possible and expose them, the ones who are not familiar with anime, to that art form. So, we are open to touring with everybody. As a matter of fact, we just did a tour last month in Japan with Jam Project, which is another anime-centric band. We opened up, they came on in the middle and then we played together at the end of the show and it was an incredible experience for me as a musician. I'm such a huge fan of music in general so for me to collaborate with other bands is the ultimate experience, and the fans were able to witness that.
KNAC.COM: Now, you've never been a real flashy, gimmicky style musician. Did you find yourself catching any kind of flak from any of your fans for wearing a costume and kibuki-style makeup?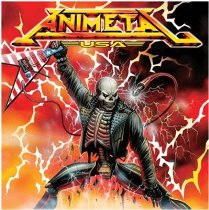 SARZO: No, not really, you know (laughs), look, I grew up watching bandslike ALICE COOPER, you know, the pioneers of theater rock. Of course, after that you have KISS and MOTLEY CRUE and when I was a member of Ozzy doing the Diary of a Madman tour we had a castle, we had special effects, fire and fireworks and stuff like that. We had a dwarf running around dressed like a mad monk in a hood with makeup on. We used to wear costumes like medieval outfits and so, yeah, I've kind of already done something like that (laughs). It's fun, it should be spectacular, something to talk about you know, not just getting up there and wearing the same t-shirt that you wore for soundcheck during the show. For some people that works, but for me, I've never been that guy. That's not gonna make me stand line to buy a ticket to see a band. No, I've always wanted to watch a spectacle. It has to sound and look spectacular.
KNAC.COM: And you said it. The bottom line is to have fun doing it, because if you're not having fun doing it, then it just becomes a chore and when you're onstage with that kind of mentality the fans are gonna pick up on that.
SARZO: Absolutely
KNAC.COM: So, the first ANIMETAL USA release you can get here in the States. The second album was released in Japan and, other than the compilation album through Century Media, are there any plans to release the full second album in the US?
SARZO: You know, there will probably be a third album before we do that, but you know things change every single day with the band, the band is taking off so fast that there might be a change of strategy.
KNAC.COM: So you guys are continously writing for this band now?
SARZO: Oh yeah, as a matter of fact, on our second album there is a track called "Rock Lee", which is the theme song to a spinoff of the currently most popular anime series called Naruto. Rock Lee is a character from Naruto and he has his own series and we are the band that performs on the soundtrack of the anime series. We do the theme song for Rock Lee, which is something that we haven't done before and we look forward to doing more of that.
KNAC.COM: You've been pretty busy and throughout your career you've been a part of some pretty big bands like QUIET RIOT, OZZY, WHITESNAKE, YNGWIE, DIO and most recently BLUE OYSTER CULT. Besides ANIMETAL USA, what's next for you?
SARZO: Well, if ANIMETAL USA is my ying, then my yang is this other band I have called TRED. We are about to finish the album and the members are: Mike Orlando, from ADRENALINE MOB, who's just tremendous, unbelievable. Then we have AJ Pero, from TWISTED SISTER. I was talking to AJ last week out on the East Coast where I was doing some promos and I didn't know this, but he comes from a jazz, big band background, and so he plays some drumming on it that you have never heard before and of course he couldn't do that with TWISTED SISTER. Then we have Dan Nelson, who was briefly in ANTHRAX on vocals and he's just an amazing singer and the best way I can describe it is a tribal, funk metal. I get to play in a style where I'm doing a lot of slapping and a lot of really fast fusion playing on it that I hadn't had the chance to actually record with bands like that. Each individual puts in their own special element, it's kind of like our wish list. If we got a band where we could each actually play in a style we've never played in before, these are the ingredients that we are bringing to the band.
KNAC.COM: And it must be exciting for you after being in the business as long as you have to actually, even now, being able to do something that you've never done before.
SARZO: Yeah, you know what? I was a memebr of DIO until Ronnie passed away and one of the many things that I learned from playing with Ronnie was to always be creative. It doesn't matter how many records you're gonna be selling today, you have to create, you have to progress as a musician. That which doesn't grow will die, and that's the law of nature. And you know, I understand why certain bands decide not to make new records, because it can be very expensive BUT, if you take it upon yourself, if you can actually do that, then come up with new music, for yourself and for the fans, and just for music in general. If we musicians don't make new music, what's going to happen to the future of music? We must make new music! All musicians, new generation, old generation, we must continue to grow, because that which doesn't grow will eventually die. Don't think of how many records you're gonna sell, just think about what great music you're gonna contribute to society. Music is a language, communicate, bring out new ideas, make new styles. There's so many things to be done yet and if they don't get done , they will whither away and it's our responsibility to keep that from happening.
KNAC.COM: Any special message for the fans?
SARZO: Boy... thank you, for your support. I hope that we, ANIMETAL USA, have the opportunity to bring to the metal fans around the world the art form of anime. Discover it, realize that there's so much in common between metal and anime. Metal to me is the ultimate art form of sound, of music, an expression of your imagination, the limitless possibilities. And the visual counterpart, the incredible story that anime has to offer, just check it out! Especially in the United States, if you've got Netflix, the Netflix genre of anime, discover all the incredible stories that anime has to offer, and if you're a fan of metal, you will become a fan of anime.
You can order the ANIMETAL USA: Special Edition in the KNAC.COM More Store.
Please log in to view RANTS