Spirit Caravan, Stinking Lizaveta, More On Upcoming Stoner Rock Festival

By Ken Shimamoto, Contributor
Thursday, May 16, 2002 @ 5:31 PM

| | | |
| --- | --- | --- |
| | | The Annual Emissions From The |
We live in strange times. Who would have guessed 30 years ago that Black Sabbath would be one of the most influential bands on Earth in 2002? Or that a whole genre of music called "stoner rock" (as practiced by the likes of Monster Magnet, Queens of the Stone Age, Fu Manchu, and Nebula) would have arisen in their wake? Or that Ozzy Osbourne would be a TV personality who attends formal dinners with the President of the United States? The mind boggles.
If you're one who likes your music in shades of Black (as in Sabbath) and Blue (as in Cheer), make plans to be in Youngstown, Ohio (about an hour from either Cleveland or Pittsburgh) over Memorial Day weekend (May 24th-26th). That's the weekend when the hair will be flying and the Marshalls cranking at Nyabinghi (1229 Salt Springs Road) as Emissions From The Monolith IV, a veritable SXSW or CMJ of stoner rock, kicks off. Thirty-five bands are promised, including headliners Orange Goblin, Spirit Caravan, the intriguingly-named Alabama Thunder Pussy, Bottom, and Electric Frankenstein. The shows are all indoor, 18-and-over, and tickets are $45 for the weekend, less for individual nights, with free admission for attendees from outside the U.S. and Canada. Surf to Emissionsfromthemonolith.com for info. Emissions From The Monolith is the brainchild of promoter Greg Barratt, who's owned Nyabinghi (the name dates from its previous incarnation as a reggae club) since 1992 and presented the first Emissions festival there in 1999. "I realized there were no festivals in the U.S. featuring heavy rock," he explained. "Plenty of metal festivals, just no consistent heavy rock event. So I did some figuring and decided, 'Hell, I can pull this off.' Easier said than done, but after a few years of trial and error, it runs pretty smoothly now. Initially, we had less musical range than we do now. We've been trying for several years to put together a KILLER lineup; this year, I think we have achieved that." Drummer Cheshire Agusta, whose band, the Philadelphia instrumental trio Stinking Lizaveta, appears on the first day of the festival, agreed with the promoter about the lineup. "All the bands at Emissions will have their own version of stoner rock," she said. "Mastodon is as different from Spirit Caravan as we are from Alabama Thunder Pussy. Perhaps the fact that so many different-sounding bands have been included in the festival is a tribute to the open minds and ears of those who chose the line up. Spirit Caravan has been one of my favorite bands of all time in all of its permutations since early Obsessed. Stinking Liz has gigged with them and with Disengage many times to great effect. I love Mastadon. Their drummer inspires. There are many bands on the bill that I'm looking forward to hearing for the first time."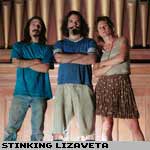 "I'm expecting to see some of the most accomplished musicians in the country lay down some of their heaviest and most shapely grooves," she continued. "Stoner rock seems to have inherited what was once one of the prerequisites for Heavy Metal: good playing with real passion and a nose for cheese. Rock cheese is the good kind. Don't knock it. Cut it. Eat it. Love it." "We've played every Emissions except the one they did in Chicago," said guitarist/singer Scott "Wino" Weinrich of first-day headliner Spirit Caravan. "Basically what it is, is a meeting of like minds. Everybody's gonna go there and make it a long weekend to see our and others' brand of this style of music. It's pretty diverse; it's not limited. Usually we play Sunday night, last, and for us, that would usually mean getting there the same day, playing and then doing whatever. This time, we're playing the first day, which is a shorter day because it's also a workday. I think that's pretty cool of Greg; he starts Friday at 5. I think what we can expect is maybe a little bit of a smaller crowd as people kind of get there for the weekend. I don't know how many people will be going for Friday, but I anticipate a good crowd. We're going to stay and see all the bands on Saturday, too. I'm definitely looking forward to seeing Bottom, the Brought Low, there's a couple of newer bands." What can fans who attend the shows expect? According to Barratt, "A safe and friendly environment is important, we try our best to make sure everyone is having a good time. We have food vendors, and of course libations. We feature some very loud acts, so expect to have some earplugs, or be deafened, it's up to you." Regarding the offer of free admission to fans from outside the U.S. and Canada, he said, "We've had a few overseas visitors in the past, and we figured it was the least we could do. If you're shelling out $500 + for a plane ticket, you almost deserve to see the show for free! Ticket sales have been quite brisk, and we will easily surpass the previous years' attendance levels." Regarding Spirit Caravan's performance, Wino promises "a lot of new material. We just got done with a three-week U.S. tour with Victor Griffin's band, Place of Skulls, and we're probably gonna be playing a lot of material we were playing on tour then, which is the stuff that's gonna be on our next release, and we're playing the songs off the new single. Actually, there's quite a bit of new stuff in the set, and then we spice it up with some REALLY old stuff. We have a working repertoire of about 70 songs now -- three records, plus all the stuff we do from the Obsessed, so when we make a set, it's kind of a 'can't please everybody.' It's always hard because people want to hear their favorite songs, but we have to play some new stuff, too, because we've been playing a lot of that stuff for a couple of years."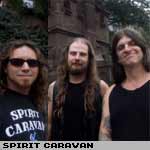 An interesting development of the last couple of years: it seems that, as Ross the Boss of the Dictators says, "Chicks LIKE rock'n'roll now." More and more sisters are doin' it for themselves -- playing in bands and attending shows not because their boyfriend drags them along, but because they truly dig the noise and want to go off. This year's Emissions lineup will feature several bands (besides Stinking Lizaveta, Bottom and Lost Goat spring to mind) that include women musicians. KNAC.COM asked Stinking Lizaveta's Cheshire about the current state of Women in Rock. "I have a lot of resistance to this question for some reason," she began. "I saw a 'women in rock' mag the other day which had a headline that read, 'Rock and Roll, A Feminist Issue' and I thought, 'Gee, that's funny, I always thought it was a musical issue.' But the fact is there are real gender issues and questions, like is there a difference between what women bring to the drums and what men bring to the drums, and what is that difference in terms of the attitude of their respective sounds? Do women have different things to say than men? If so, then the character of their playing should reflect those differences. I want men and women to have enough free mind space to stop being reactionary and political in sound and instead be individually female and uniquely male. This is a situation that will develop as more and more women and men take the time to learn to play and to be themselves. Rock is a young art form." "I think there are more women-run promotional businesses and booking agencies now than there were 15 years ago," she continued. "There is more woman-focused rock press now and there are more women players gaining national prominence. Women are still the minority on any bill that I play anywhere in the country. So I'm either not where they are, or they're not where I am, or something. The women I do meet on the circuit are all phenomenal."
The ballooning popularity of the stoner style is no mystery to Greg Barratt. "Stoner rock is nothing new," he pointed out. "Black Sabbath have been doing it for 30+ years. Like anything good, it never goes out of style." Wino agrees. "Everyone keeps telling me, 'Oh, stoner rock is the next big trend.' But stoner rock is not really a trend! Stoner rock is kind of a revamping of a combination of psychedelic, punk, and metal, really. With some rock'n'roll thrown in. I heard a brand new term for the first time when we played New York City a few nights ago: 'Southern stoner!' I guess that means like Weedeater or Alabama Thunder Pussy. I don't know!" "People need something more," he continued. "People need more reality! This pop stuff isn't reality... this happy-sounding, Green Day, what they call melodic hardcore... this stuff isn't real music. People need something else. As many people as are into rap, as many people as are into this Green Day spawn of bands, all these young bands, they're all the same. People need something different, and the people that need something different are usually the intellects. It's the same way that you'll find the brightest person in the room is also a heroin addict. The intellects seek something more, there's something about life that just AIN'T ENOUGH. So this type of music strikes a chord there. Hey, there's still life here." Stinking Lizaveta's drummer had a different take on it. Said Cheshire: "Must be the size of the J." (Be sure to look for the upcoming interview with Spirit Caravan's "Wino" in addition to this article!)
Please log in to view RANTS