Getting Hammered With Motorhead's Lemmy

By Don Sill, Contributor
Sunday, May 5, 2002 @ 5:16 PM

| | | |
| --- | --- | --- |
| | | Lemmy May Be A Legend, But Don |
With Aerosmith recently being honored and given MTV's ICON Award along with the enormous success of MTV's The Osbournes, it would seem that metal legends are in vogue once again. But, would Lemmy (legendary bassist and lead singer for Motorhead) ever consider letting the cameras invade his home? "No way, man," says Lemmy, "Not because I don't like cameras, but because usually I don't like the guys that are carrying them around." Lemmy, Phillip Campbell, & Mikkey Dee -- better known as Motorhead -- have been blessing the metal underground with their high-octane musical assault for nearly 30 years, but whatever you do, don't mistake them for ICONS. "I don't like to be considered an icon, I'd much rather be a contender," says Lemmy, "People who think of me as an icon stopped thinking of me as a contender, and that's just bullshit, man and anybody who sees our live show will know that." Okay, so they're not icons, but Motorhead are still metal's living legends. Lemmy first rose to fame in the late '70s when he formed Motorhead and hit the American shores in 1975. Most U.S. fans of heavy metal had never heard such fast paced guitar licks before. It was that fast paced, extreme energy that burned the path for such speed metal acts as Anthrax, Metallica, Exodus and Megadeth. But, Lemmy isn't exactly too excited about the latest nu-metal, which he helped pioneer decades ago. "I think the old bands are still better than all this new stuff. I mean, metal and rap? Those two forms really don't mix but, they sure try and make it mix, but it just doesn't work as far as I can see." He says, "This generation seems to have missed out on 'songs.' They're just writing a riff and screaming their heads off over it. Now, I know that's what people used to say about us and I sound like my father talking, but all the same it's true. Don't tell me I'm old-fashioned; I know garbage when I hear it. I've been listening to music for the last 40 years and I know crap when I hear it."
Motorhead's latest album, Hammered on Metal-Is Records, is just as brutal and gut wrenching as ever. "The new album sounds like Motorhead 'cuz hey -- we're Motorhead," explains Lemmy. "We did a lot of stuff on it that is within our own form, but we did do a lot of different stuff on it and people might be surprised; especially people who haven't listened to us in a few years." Tracks like "Red Raw," "No Remorse," and "Kill the World" prove that Motorhead has certainly not lost their edge, and on "Shut Your Mouth" Lemmy goes in right for the jugular. "I like that track a lot," he says, "It's directed towards idiots [Laughs]." Hammered also marks the first time Lemmy has attempted spoken word. On "Serial Killer," Lemmy does an awesome job talking us through this twisted and disturbing track; his creepy voice complete with raspy English accent is truly spooky. "I had the words for that for about 10 years and I couldn't think of anything to do with 'em so I said, 'Fuck it, let me just try this with spoken word and some sound effects and see what happens,'" explained Lemmy. "It turned out okay."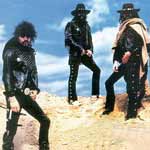 Through the years, Motorhead seemed to fade back into the underground, appealing mainly to their core fan base who now are well into their '30s & '40s, but recently Motorhead has become rediscovered. The WWF, of all things, have breathed a new life into Motorhead when superstar wrestler, Triple H. contacted Motorhead to record the track, "The Game," for his personal his theme song. This move would ultimately introduce a whole new generation of metal heads to the rock legends and rise them above ground yet again. Says Lemmy, "It's cool, I guess." Currently, Motorhead are on the road once again in support ofHammered and they look forward to tearing down a city near you. As Lemmy puts it, "Expect to see Motorhead, Mate. We do it as good as anybody and better than a lot." For more info on Motorhead log to: imotorhead.com.
Please log in to view RANTS