The music of Led Zeppelin is classic, perpetually cool and heavy, defying timestamp. In Through the Out Door, which was released in 1979, was the last studio album recorded before Zep disbanded, due to the death of drummer John Bonham.
While there have been good imitators and scores of Led Zeppelin covers played, the closest taste we've had of the greatest rock and roll band of all time was when Jimmy Page, Robert Plant, and John Paul Jones took the stage in 2007 with Jason Bonham at the drum kit.
And if anyone can fill John Bonham's Led boots it is, unequivocally, Jason, the Son of Bonzo.
ringing Bonham's hotel room...
BONHAM: Hello.
KNAC.COM: Hello, Jason?
BONHAM: Uh, that'll be me.
KNAC.COM: Hi Jason. It's Charlie at KNAC.COM.
BONHAM: Hey Charlie, how's it going?
KNAC.COM: Excellent. Want to get to it?
BONHAM: (Yup)
KNAC.COM: You're playing "Moby Dick" in your set, of course.
BONHAM: Yes, very much so. And I do that with Dad, and it's just a very special thing to do each night. Something we didn't do together because we only had one drum kit in the house.
KNAC.COM: After recording In the Name of my Father - The Zepset [The Jason Bonham Band] album in '97, could you imagine that you'd be doing tours playing full sets of Led Zeppelin songs in the years to come?
BONHAM: It's a different band. One guitarist stayed with me, but it's a completely different band from those people. This is a whole different entity. This is done with the use of video screens. It's a full on stage show. We're playing some pretty nice places and we end the tour at The Greek. I thought it was a mistake (laughs). When I saw that I said, "Are you sure about that? Who are we opening up for?" I just feel very honored and privileged to perform and represent the Bonham estate and do these kind of tours. The reviews are still coming in now. We've got the fans that can post right away on the Facebook site. It's been fantastic. It's mind-blowing, really.
KNAC.COM: How long is the set?
BONHAM: The set? Well, on opening night it was over three hours (laughs). The production guys and the management said, "We gotta cut this down, guys. This is too much." But nobody left. That was the thing--nobody left. We still do two hours and thirty-five.
KNAC.COM: What songs can people expect to hear on this tour?
BONHAM: We kind of mix it up. We do some obscure (songs), but we do s "Since I've Been Loving You," I love. "The Rain Song" we've been doing, which is just a huge, beautiful musical masterpiece which the guitarist does wonderfully well as well as the singer. The whole band has been playing really, really at the top of its game. Some of the songs we choose are tricky musical pieces, so you've got to be a competent musician to even attempt it. The last thing I want to do is pick a song that we couldn't really pull off. There's other songs in there, like, "You're Time is Gonna Come," which was never done by Zeppelin live from Led Zeppelin one. "Babe I'm Gonna Leave You" is just a show stopper. That's the first time you get a standing ovation.
KNAC.COM: That must be extremely satisfying, to say the least.
BONHAM: Every night we throw in a different song, like, "In the Light" from Physical Graffiti. And that goes down hugely well. We did "Achilles Last Stand" on the first couple of nights as well. So we have a huge knowledge of all the songs, and that is the one thing that you have to have to be in the band. We didn't want to have to keep rehearsing. The soundchecks are useful for fine-tuning things. ["When the] Levee Breaks" is always a showstopper, especially with Dad playing the drums on it. He's the main drummer on that song.
KNAC.COM: A long time ago when I was reading the liner notes on Robert Plant's solo album, Principle of Moments, and saw your name. Did you record tracks for that?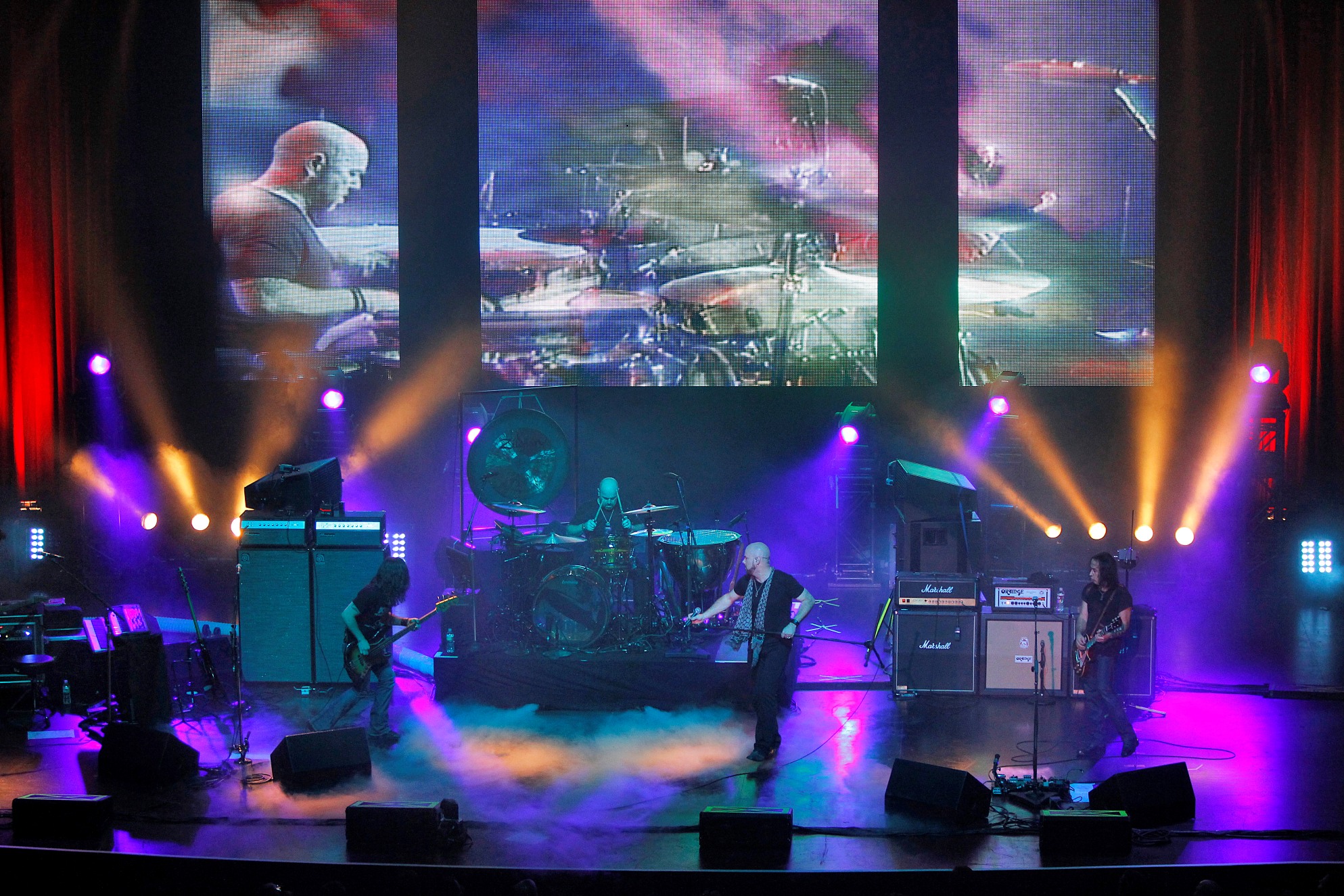 BONHAM: I did all the demos for both Pictures at Eleven and Principle of Moments.
KNAC.COM: You must have been only 15 or 16 then. I saw the L.A. Forum show on that tour in 1983 and Phil Collins was drumming. How was it to be playing drums, making those two amazing records?
BONHAM: He used to pick me up from school and he'd say, "Can you help me finish up these new songs I've got?" Yeah, it was a lot of fun.
KNAC.COM: Robert Plant used to pick you up from school?
BONHAM: Yeah. It was my last year of school. "Okay, I've asked your mom. I just need you for a couple hours. Do you want to come and jam?"
KNAC.COM: It must be the most exhilarating thing in the world to get up onstage with Robert, Jimmy (Page), and John Paul Jones, yeah?
BONHAM: Oh yeah. As I say--for me--it brings me closer to my father to play with my dad's bandmates. I always say if I can't play with them, then I'll play for my dad's audience. And that's another way of bringing me closer to him, too.
KNAC.COM: Do you get choked up?
BONHAM: The last time it took about twenty-six shows before I could get through without crying. And we're only on show seven of this and it's still a tough one. Since the last tour I've lost my grandmother, who was my dad's mom, who was the real BONHAM: the one who could out-drink my dad (laughs). She was the true partier and a wonderful woman. That song "Thank You"--I would always talk about her, because she supplied the footage. It features her when she was young with Dad, as a child, on their vacations. It's a real personal look at the man who grew up to be "Bonzo the Beast." This little kid, going through growth spurts. He looked like a big, gangly kid. Recently that song was playing at her passing and when that song starts now I have an image in my head I go to that's kind of sad. But, at the same time, I know she's looking down with Dad now, and my other grandfather So it's become a tough one again, if you know what I mean.
KNAC.COM: What were the fondest memories of your dad?
BONHAM: I think the little things. The ones, when occasionally we'd go off, just to the races, where I'd race my dirt bikes, and he was always the first one up. He'd be making sandwiches and the flasks of coffee and tea. We would drive these three, four hour drives, off into the Welsh Mountains, listening to Rumors over and over again on the 8-track. Very, very cool times. Just "me and him" times. I remember always moaning about him smoking. I said, "Dad, if we're going to be in the car together, you can't smoke." And he'd try to drive with his head out the window (laughs). "Okay, I'll smoke like this." He was a character, all that. Big family man. We always had family around. My mom's family were always there. Yeah. Lots of happy times.
KNAC.COM: What kind of rig are you playing with these days?
BONHAM: I'm on a full DW rig now. I went back to DW. I was with DW twenty-three years, and then went to Ludwig for five, and then went back to DW...I've known those guys there for years. We're like family. So we've been having fun designing the new kit for Black Country Communion. I've gone back to the what I used to play, with three rack toms, three floor toms, you know--remote control bass drums. It's gonna be cool.
KNAC.COM: Do you consciously play in the tradition of your dad when you're doing the Experience and change your style and setup when you're doing your other projects?
BONHAM: On the Black Country [Communion] album I get to be a bit more like the other influences I have. I did setup the kit differently and did have a different vibe.
KNAC.COM: Who are your other influences?
BONHAM: Well, from Phil Collins to Mel Gaynor, from Richie Hayward to Simon Phillips. Jeff Porcaro, Steve Gadd. Chad Smith also. I love Chad Smith's playing. He's a great guy. Huge Bonzo fan. Blood Sugar Sex Magik is still an album on my playlist.
KNAC.COM: You're going to be releasing the second album with Black Country Communion soon, right?
BONHAM: Yes, we're out on the road, starting in California in June. So check out bccommunion.com. It's going exceedingly well. The new album...it really does sound like a band. The Internet got a little carried away. They're saying there's an unfinished Led Zeppelin track. Well, not quite. It was one of the tracks on the album called "Save Me," that I was working on with Jimmy and John Paul prior to the 02 [London] show for a project we were going to work on. But I do have a version of it with Jimmy playing it and John Paul. It was just a riff. It was just them jamming a riff with me for like eight minutes. That was all I had as a reference point to bring to the table to this album. and it was just really nice to finish that song off. When people hear it they'll know which one it is. It's definitely got the feel. When Jimmy said, "Have you got any songs you want to work on?" I said, "I got this one real Zeppy one." (laughs) It has that kind of flavor to it, yeah.
KNAC.COM: Are you in touch with the other three guys?
BONHAM: Yeah, Robert, just lately I've been speaking to quite a bit. It goes in phases. It always goes through phases of who you see a lot more of, or who you're bumping into a lot more.
KNAC.COM: So when will you and Black Country start touring?
BONHAM: We'll start in California and then we'll do all the big festivals in Europe and go to England and do an English tour. Michael Schenker's opening up for us over there. Then we're coming back out with The Experience in October.
KNAC.COM: What was it like to be a member of UFO?
BONHAM: I loved my UFO experience. And one of the funny things about all of that is Pete Way is now playing with Michael Schenker, so it looks like he's going to be there on the English tour when I'm playing. I'm looking forward to getting out there performing.
KNAC.COM: There's been a lot of buzz in the rock community about your Experience shows and you're getting a few stars showing up at your gigs.
BONHAM: We were rehearsing in L.A. on the first day Paul Stanley came and said he wanted to watch us rehearse. He came to the show when we played at The Pantages. And the next day Gene [Simmons] came and sat down at rehearsals and watched us. He said, "Keep a hold of that guitarist. He's good." It was very, very cool. There's been a lot of musicians that have come and seen us. It's nice. They bring their kids. I can imagine them driving home, saying, "Would you do something like that for me when I go?" (laughs) You can just imagine. "No. Because you're not John Bonham. You're not cool." (laughs)
KNAC.COM: My daughter is 18, and she probably knows every song in the catalog. It's gotta be overwhelming for you sometimes...
BONHAM: Now, are we talking about the fact that both of us have 18-year old daughters that's overwhelming sometimes and we're going to have to deal with it? (laughs)
KNAC.COM: Yeah, that is overwhelming. You have two kids, right?
BONHAM: Yeah, my daughter's the oldest. She's 18. She's a handful. That's an understatement. (laughs) It's kind of funny, because when I did the NBA Playoff TV commercial with Nicole [Scherzinger], she's like, "Oh, just because you're playing with someone who's kind of, like, current, it doesn't mean to say you're hip, Dad" I'm like, "Thanks."
KNAC.COM: "Dad, you are so uncool! You're still playing that old dinosaur stuff."
BONHAM: "Just because you jammed with a Pussycat Doll doesn't mean you're any cooler!"
KNAC.COM: What are you listening to as far as up-and-comers and new music these days?
BONHAM: I bought the new Beady Eye, which is Oasis without Noel Gallagher. It's cool, actually. I kinda like it. I bought Adele's album. I'm getting old. (laughs) That's one of the newer things I bought the other day. And I bought the Beastie Boys new thing. So I'm still on the "No Sleep Till Brooklyn" kind of vibe.
KNAC.COM: Are you still "down with O.P.P.", Jason?
BONHAM: Listen, if you need it in the morning or the middle of the night, I ain't too proud to beg, baby.
KNAC.COM: Don't go chasing waterfalls.
BONHAM: Listen, guys. Be safe out there. And don't go chasing waterfalls.
See Jason Bonham's Led Zeppelin Experience, live at the Greek Theatre in Los Angeles, May 27th. Click here to buy tickets.
www.jblze.com
www.jasonbonham.net
www.bccommunion.com