I'm at the Airbourne video shoot here in North Hollywood, CA located in my neck of the woods of the San Fernando Valley and I'm speaking with one half of the O'Keefe brothers, Joel, on the heels of the release of their new CD No Guts No Glory.

KNAC.COM: Whadda say m'man?

Joel: Hey G'day mate what's going on?

KNAC.COM: All good in my world. Welcome back to the states glad to see after the initial false start with the Iceland Volcano eruption grounding most international flights that you were all able to hop on a plane finally.

Joel: Ahhh yeah! y'know They got it all together in the end uh we just sorta waited for the next available date y'know to fly we just booked a flight just sorta fingers crossed y'know that it would leave and it did the ash cloud cleared and we got on the plane and funny thing was there was actually empty seats on the plane.

KNAC.COM: Really? Joel: Yeah a lot of people have actually cancelled their flight and just made their own way home through ferries & trains even all the ferries were booked up till like May like it was you had to sorta bite the bullet and y'know (chuckle) take a punt on something.

KNAC.COM: Did this set you back and cut into rehearsal time for your US tour or I should say did this "set back" cut into rehearsal time for the tour because if I'm not mistaken the 30th is your 1st date back east you guys are pretty much still right on track right? Joel: Yeah. Were going to play uh not tomorrow the day after.

KNAC.COM: I guess timing is everything.

Joel: Timing is everything!(Laughter)

KNAC.COM: Now must be nice having a release out, video being filmed and hitting the road all at once huh? Joel: Oh yeah If you can get all your ducks in a row y'know that's the way to go.

KNAC.COM: Ironically…you just got off a plane and here you are shooting a video… Joel: In a plane!

KNAC.COM: Tell me about this video for the "Blonde, Bad And Beautiful" other than the blonde beautiful women all swarming around… Joel: (laughter) that's pretty much the concept basically. Its a plane full of Penthouse & Playboy Bunnies there going to Vegas and so there on the flight we're on and it gets hot y'know (laughter) we turn up the thermostat, we're hot in there and the girls & the boys have a bit of fun. 4 snakes on a plane. Yeah its good!

KNAC.COM: 4 very lucky snakes! Joel: (Laughter)

KNAC.COM: Is it safe to say the women in your video can't be found ANYWHERE on ANY plane except here right? Joel: Exactly!

KNAC.COM: That's what I thought.I could imagine that the real flight attendants you dealt with on your trip over look NOTHING like I what I just saw a few minutes ago! Joel: Yeah pretty much. (Laughter).

KNAC.COM: Last time I saw Airbourne was that one off gig for the "Maddenpalooza" event a few years back at the Rose Bowl out here. What do you recollect from that event?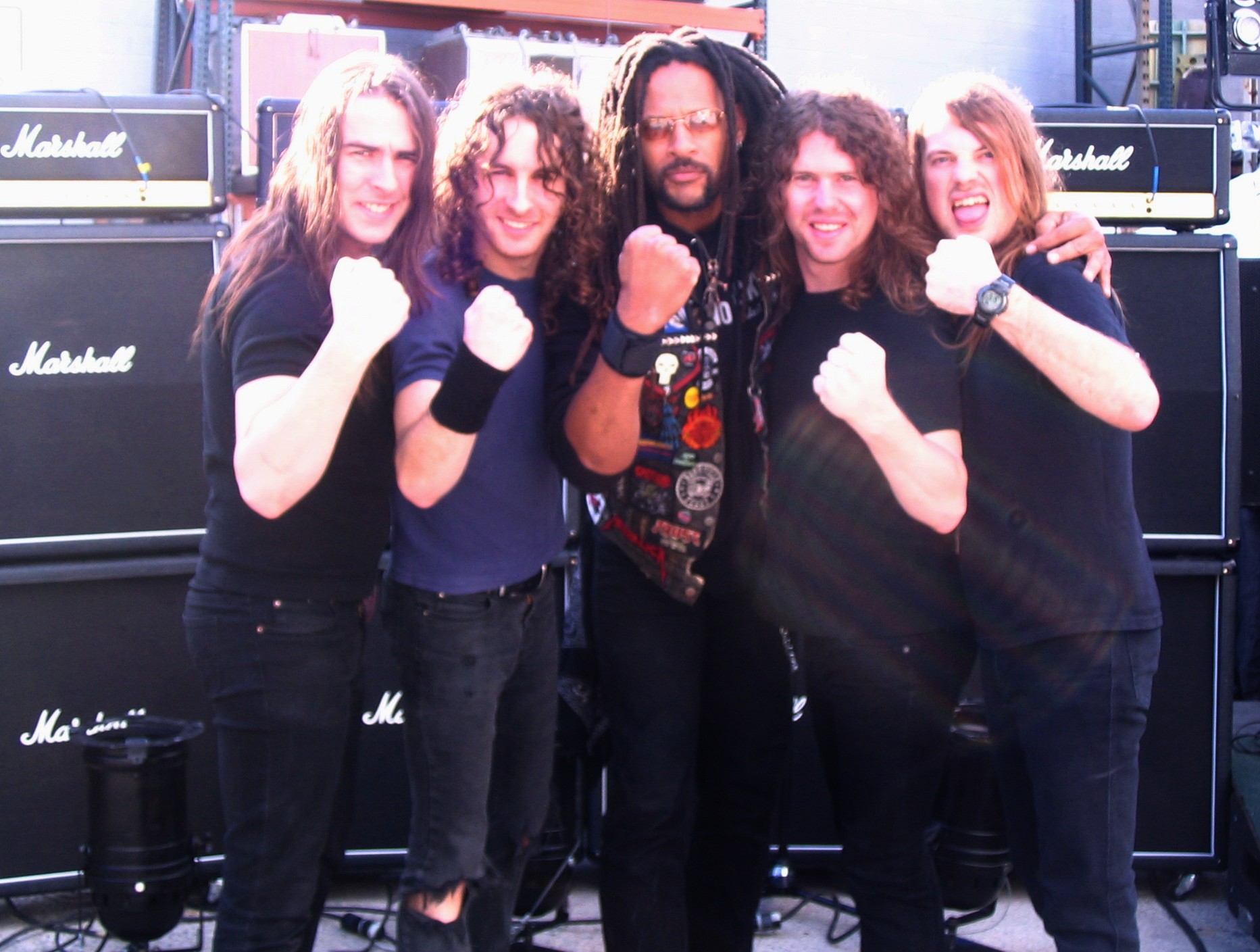 Joel: Well a few of us in the band are big gamers so the folks at EA there just great always about big..they think big..y'know? We love working for them because they're great guys for helping us out y'know stickin'our songs in games and stuff like that and it was just good fun yeah.
KNAC.COM: All in the heat of Pasadena… Joel: Yeah well..we love the heat we're from Australia y'know?
KNAC.COM: (chuckle) true…you know it all too well. Lets talk about your new CD "No Guts No Glory". So going from (producer) Bob Marlette to Johnny K now this being your 2nd full album release & 4th overall did you take the attitude of "well...if its not broke don't fix it?" Joel: Yeah exactly mate ...if its not broke don't fix it y'know with Johnny his two favorite bands in the world he told us were Led Zeppelin & AC/DC so we knew he was the right guy and every conversation we had we were always finishing each others sentences always going to tape making it live making it big and he was really good that's what we did on the first one so wanted to maybe go a bit deeper with the songs and put more on there and just…
(interview is now interrupted as Joel is whisked away back to the set. He returns approximately 15 minutes later during lunch break to finish up with me)
KNAC.COM: Hey we left off talking about the producers you've worked with thus far and your approach with the new CD I mean your attitude has to be look, this is who we are this is what we do I want to know is there still a maturing process with the songwriting?

Joel: I think um yea we've spend bit amount of time on the road for about 2 years so we wrote a lot stuff on the road the more you write I guess the more stuff the more songs you put together the more deeper they're gonna be in away.

KNAC.COM: And there is a going to be a series of bonus tracks are those exclusively for Europe or…? Joel: Umm no, no they will come out here too we did them in Australia at Hothouse Studios with Craig Hanna & Finn King their good mates of ours and we did em down there y'know there's a song on there:"Loaded Gun" is a good one & "My Dynamite Will Blow You Sky High"

KNAC.COM: Nice. I also liked the whole packaging of the album cover concept to me it's a throwback to 70s movies so.. Joel: Yeah we went for action movie cover…"Invasion USA" Chuck Norris

KNAC.COM: Oh yeah! Invasion Airbourne! Joel: Yep!

KNAC.COM: A lot cool of nuances on there like Lemmy driving and...

Joel: Yeah little things that tie it back to the "Running Wild" clip which we had Lemmy in the truck and we like Motorhead y'know and so we like doing things like that.

KNAC.COM: Right on. So besides video games what do you all do to pass the time when not recording or playing live? Joel: Go to the Pub.

KNAC.COM: and have a few Pints eh? Joel: And get on an airplane full of blondes (Laughter)

KNAC.COM: Yeah real tough gig!

Joel: Yeah (chuckle)

KNAC.COM: Last thing, what can we expect set wise? Joel: Set wise on this tour we're about to do?

KNAC.COM: yeah Joel: Well we got a half an hour so were gonna jam as many songs as we can we're gonna change the set everyday y'know cuz no point in playin the same set. Mix it up…be fresh.

KNAC.COM: That's the way to go. Again so good to see you Joel & all the best on tour. Joel: Thanks again Mate.

Special thanks to: Carise Yates, Rick Ernst, Mick Wilkenson & Director Bill Fishman.