Tesla's Jeff Keith Is Cumin' Atcha Live

By Muriel Penoty, Contributor
Monday, March 25, 2002 @ 4:49 PM

| | | |
| --- | --- | --- |
| | | Vocalist Jeff Keith Takes One |
From their first album Mechanical Resonance back in 1986, Tesla have always stood out, not because their image was more extravagant than other bands -- they opted for jeans and t-shirts while the leather and make-up look was the fashion -- but because their songs are so incredibly melodic, catchy; simply timeless. With each album Jeff Keith (vocals), Frank Hannon (guitars), Tommy Skeoch (guitars), Brian Wheat (bass) and Troy Luccketta (drums) gave the music a new magical power. Ballads such as "Love Song" or "What You Give" are forever classics while the more edgy "Comin' Atcha Live" or "Hang Tough" will still rock your world today. In 1990, Tesla came up with something more challenging, a whole acoustic show. Although it was originally just for them to have fun on their off days while on tour with Motley Crue, by an overwhelming demand, Tesla ended up releasing the first live acoustic album. And even though they had no idea at the time, many would follow their footsteps.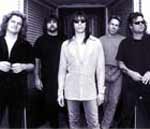 The 'no-image' band, as Jeff Keith calls it, had a long and prosperous road. When fashion and music genres changed from Glam to Grunge, Tesla still remained. Unfortunately, problems within the band emerged and the Sacramento-based quintet broke up in 1996. Tesla's reunion has been wished by many, their mostly sold out North American tour shows that fans are still here, appreciating great music by a band that still has the power to make magic happen on stage. Jeff Keith, a humble and friendly guy takes a look back on Tesla's career and gives us an insight in their future. KNAC.COM: So how's the tour going?
JEFF: We're actually done with the tour, we just got back a month ago. Now we're just playing a few acoustic shows in Southern California and Vegas and we'll go to New York next month. We're just doing a few gigs like that in between writing songs, but we're busy writing and that's where we're at right now. We're only doing the acoustic shows here and there since we only did like 5 shows way back when we recorded the acoustic album so we thought 'hey some people didn't get to see us like that' and it's a more intimate vibe and we're really looking forward to it.

KNAC.COM: How does it feel to be back on the road with Tesla?
JEFF: It feels awesome, man! We're getting a second chance and a lot of people don't get that chance. We learned what our mistakes were and dealt with it and now that we're getting that second chance we're enjoying it and we're respecting each other a lot more and it's a very cool vibe.

KNAC.COM: I guess people mature eventually…
JEFF: Hey, we had to, especially in our situation because we definitely couldn't sit back and do exactly the same thing because things got way out of hands.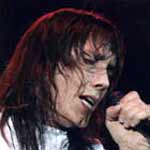 KNAC.COM: What do you think went wrong that made you break up?
JEFF: Well, we just didn't deal with the issues that were right before us and we just put them aside and after a while these things started to accumulate and before you know it you've got a big problem. And then, Tommy left the band and even though we carried on for about a year… it was just not the same. Especially for me, I was so unhappy because I was always into the 'find peace thing…' We were all unhappy really and Tommy wasn't going to come back. It was a tough decision but at the same time, it was the right one.

KNAC.COM: So how did the reunion come about, because you and Tommy were actually in a band called Bar 7?
JEFF: Tommy and I hooked up again a few years ago, he gave me a call and said, "Dude, I'd love to write some music with you again." So we put a band together and made our own little studio album and we were out touring and Tommy ended up leaving that band because he was a little bit too messed up -- started going like the old ways there.
So, we had seven shows left with Bar 7 on the East Coast and I thought, "Man, Frank isn't doing anything with his band," so I called him up and said, "Can you cover these shows?" I sent him the CD and he said, "Sure, I'd love to do it." Then, since I knew Tommy was gone, I tried to see if Frank wanted to join, but it didn't work out for Frank. But then Tommy found out, called me up and said, "I heard that Frank came out and it was great and that he just couldn't join. I'm sorry to hear that but I'm also glad because that means maybe I can find my way back to where I belong and play music with you."
So I gave him a couple of stipulations. He used to carry this Tesla hatred and if anybody ever mentioned Tesla, he would just blow up, and when he was getting messed up he would just lose it. So I tell him, "You have to keep on a level where you can play consistently and stuff -- I mean you don't have to be an angel, but you have to stay on a level where you can play and you have to let go of the Tesla hatred. Tesla was a beautiful thing, you have to let it go." And he said, "I'm ready to drop that luggage and carry on."
Once he said, that I thought, maybe there'd be a chance Tesla can play. And so, we were out on the road, and Brian Wheat, who was our tour manager for Bar 7, calls me up, and at the end Brian and Tommy were really in each other's face. So I'm on the phone with Brian and I say to him, "Hey I want you to talk to somebody…" Next thing you know, I put Tommy on the phone and they're talking, and I'm so excited. So, then I purposely called Frank and gave the phone to Tommy and they hadn't talked for years, and the same with Troy. Once they were all talking I knew there was a good chance that we could possibly at least play one gig again, which we did in Sacramento in October 2000. Once Tommy was talking with everybody, everything just fell into place.



"[People ask] 'How does it feel to be a no-image band…' A lot of people back then didn't necessarily get it and would call us 'tomato farmers,' so we're like, "Cool man, but we're some happy tomato farmers."

KNAC.COM: So how is Tommy now?
JEFF: He's doing great, he stopped the pills, he's doing awesome and he's making us all very, very proud.

KNAC.COM: Why did you release The Best of Tesla and Re-plugged, a live album, just a few months apart?
JEFF: Well, in 2000 they came up with the Millennium album. I think it's because Universal took over Geffen, and they were trying to make their money back on a deal we'd signed back in '94 or something like that. We really had nothing to do with that. And the Re-plugged album… we put it out because we were playing all these shows and we thought, "Man it feels great, maybe we should possibly record something and put it out." And it was also so people would have something to chew on until we could put this studio album, because we knew it would take longer to write new songs and put it all together.

KNAC.COM: How did you hook up with Sanctuary Records?
JEFF: We were recording all these shows and they came and offered to put out the live album and a studio album, so we signed that deal and we'll see where it goes after. And for us it's good, because we're getting bigger shares on the album since our name was already established.

KNAC.COM: Do you think it was easier this time around, or the first time Tesla got signed?
JEFF: When we first got signed it was a whole different thing. Back then we were young, they were giving you 6 months at a time and that was just the way it was and you had nothing to say about it. Plus in our case, Geffen had put all this money in us, paying for videos and everything and that's all stuff that they had to recoup on, so before you could see some money, you had to be pretty successful, which did happen for us. With this deal now, we're doing things more on our terms. Like we try to set up tours so we only go out for about 3 weeks at a time, so we can come home for a couple of weeks and then go back out. We're not as tough as we used to be and a long tour tends to make you do things that you don't want to do.

KNAC.COM: That's not going to keep you from going to Europe?
JEFF: Absolutely not. In fact, we can't wait to go back to Europe, but we'd like to have a new album to do that.

KNAC.COM: How's the writing going and do you think you're getting influenced by the new trends?
JEFF: The writing is going great, and it's got a little flavor of today. But we have some songs that are down right Tesla-like. And we feel that if you write a great song, it doesn't matter what time of the year or what, a good song is a good song. Now what may happen to some of those songs that are totally Tesla vibe, they may not get on radio stations, because they think the style is over. But we are happy just satisfying our Tesla fans and if we grab some new ones, great, but the idea is to keep our fan base happy, because that's what it's all about. They've always been here for us and we want to be there for them. We have a few songs that have this newest flavor, but obviously since it will be my voice, it will still have the Tesla vibe.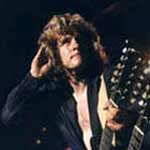 KNAC.COM: Do you have some of the songs finished and if so, can you tell me about some of them?
JEFF: Yeah, we got some songs that are finished. There's a song that we called "Never Break" that was inspired by the twin towers attack. I mean when that happened, we were just getting started with the song writing process, and I mean I was just as shocked as everybody else, but I couldn't write for a good month and a half. I just sat there. And although I always questioned religion, I really started to question God. But the song is basically a message of hope and that whatever those people will do, they're not going to break us and it's questioning the master and stuff. If everything is going like you planned you're never gonna make me understand how this kind of stuff can happen.
But it would be hard for me to tell you about a song now, because by the time we get in the studio, it may not make the record and you could be thinking, "Hey, I remember when you were telling me about this song and where is it at?" You know sometimes it's very hard to choose, but you always write more than what you need and so, some just don't make it. But this particular song tends to be heavy. Then we got one that's very Tesla, kind of more melodic-type that one is "Words Can't Explain." It's the kind of song we could play in an acoustic set -- it's very cool.

KNAC.COM: Will you give us a preview of the new stuff at the shows?
JEFF: Well, it's something we're contemplating, but there are so many bootlegs now and they're finished, but they're fresh off the drying board and until they're recorded we may come back and work on them later. But I was thinking, maybe we could do like a first chorus or something, just to kind of give people a taste, just to give them a tease. And I can even play with the crowd and see what they think, because I like to do that kind of stuff. Just to have fun with it and not be too serious with it, but also to give them a little flavor about the new stuff. Also since the shows are acoustic, we wouldn't want to give them a wrong idea about a song. But we'll see.

KNAC.COM: You said the twin towers event, made you question your belief in God…
JEFF: Oh, man, now we're opening another whole can of worms!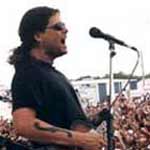 KNAC.COM: Sorry, but you opened the door..
JEFF: I believe in goodness in religion. I question it in a lot of ways. Ever since I was a little kid, I was always asking 'why' for everything. Why did God have to give us so much potential, if we could just stop the food chain? Just the food chain pisses me off. And, when these terrible thing happen like in New York, I'm always going on "If there's a God and he's playing with us, I ain't going for it." It definitely makes me believe in the idea of God a whole lot less. I hope when I go, he still lets me in -- I know I'm a good person, I've never backstabbed anybody or anything like that and I don't think you need to go to church every week to still think the same way. My belief is to love everybody, if someone doesn't want to think the same way or doesn't want to be loved, hey, just don't associate with them. And if my mom gets to Heaven because she goes to church and she prays and I don't get in, then the hell with it! I'll build my own campfire outside.
I have many questions, like old Grandpa, how is it going to be into Heaven? Will he be able to walk there, or will he be back in his prime when I didn't know him because I wasn't even born yet? It's too deep for me. And I'm just such a simple relaxed person, but hey, at the same time, I'm not here to piss anybody off. I mean when you think that these guys actually did it for God, I mean it's unbelievable!

KNAC.COM: When do you think you'll be ready to go in the studio?
JEFF: We're probably going to do some shows this summer on those summer tours. So, we're thinking we'd like to have the writing and the recording in the can, if everything goes well, and things are going really well, then while we're out on tour they can package it up and release it towards the end of the year.

KNAC.COM: Do you have a producer in mind?
JEFF: Yeah, we're working with Roger Summers. He's the guy that mixed the live album. He's not a major producer, but we wanted someone who we could co-produce with, someone we could bounce things off and he's really good for that. He's got a lot of good ideas. That's what we want right now.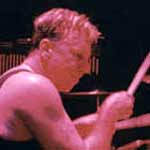 KNAC.COM: Did you take somebody with you on the last tour?
JEFF: We had this band called Lennon -- some national act with a female singer that the record company was pushing for -- we took them with us but before that we'd just have some local act. We used to do that, any big band like Y&T or whatever would come to town, we'd just try to get the show. We thought it was really cool, and we like to do that for new bands.

KNAC.COM: Anyone you'd pick if you had the choice?
JEFF: When we played in Dallas, Staind was the headliner show and Saliva played, and that was really cool. I think it was easier back in the days, we had more of a choice because there were bands more in our vein. Today, to ask Saliva, for instance, to open up for us, might make them a little uncomfortable!

KNAC.COM: You guys started that whole acoustic vibe which was followed later on by everyone doing their own unplugged album, how did that make you feel?
JEFF: It's funny, because everyone has said that to us. You know what, Led Zeppelin was doing that kind of stuff like 10 years before us.

KNAC.COM: Yeah, but they didn't do a whole acoustic show and album!
JEFF: I know, I know and it was really cool, because it was all live and we got to play some of our songs and our favorite covers and there were no overdubs. I guess a lot of people really liked it, because it was 'real.' I think it was crazy, it was at the right time too, because it was just about when Nirvana was coming out and people had realized that they wanted something more real and didn't like a band because of their look or whatever.
Those shows were really cool. We were out on the road with Motley Crue and instead of having just one night off here and there, we ended up by having 2 nights off and so we thought, "Hey, let's find some club where we could play and do some acoustic songs," and when we played Boston, we felt so tight that we thought we should record the next show, maybe to use for a B-side of a single. Next thing you know, we thought we might as well have some cameras come down, so we get 5 cameras, one for each guy, we had the 24-track mobile truck come down, we recorded it, forgot all about it, went back to Boston, played "Signs" acoustic -- me, Frank and Tommy -- for a radio station and everyone started calling the radio station wanting more. So we said, "Hey, we've got an entire night of that." So, we listened to it and we thought, cool we liked it. Geffen wanted us to re-record this and do that, so we said, "Wait, I thought you wanted a live album?" and they said, "Hey, that's the way everybody does it." We told them we didn't want to that and they didn't want to put it out. So, we decided that we had fun playing and we weren't going to put it out. And they finally broke down and put the record out just the way it was.
We always wanted to rely on our music. We had people give us slack all the time. They would say, "How does it feel to be a no-image band?" We're all -- cool man, playing music was all what we wanted to do. A lot of people back then didn't necessarily get it and would call us 'tomato farmers' so we're like, "Cool man, but we're some happy tomato farmers." And that kind of vibe really paid off for us, because when the flannel shirt and relaxed look came out we fit in perfectly. If we had stuck it out, though, I think we'd still be around -- not like many bands of that time, who disappeared because they were stuck in a look or something. And look, we're still with no image and against the trends and walking down the same road again.

KNAC.COM: Do you remember how you guys hooked up?
JEFF: Brian and Frank were in a band called City Kid. They knew Tommy from another band in Sacramento, and Troy, at the time I joined the City Kid, was with the Eric Martin band. I was hauling septic tanks down in Georgetown, California. In the sleeve of the Mechanical Resonance CD they had a cement truck, but I said, "Hey it wasn't a concrete truck, it was a septic truck." "Yeah, but concrete sounds better than septic and I don't think the world is ready to hear the truth yet." But I wanted the truth, so I said now I'm gonna have to tell everyone that it was a septic truck! Anyway, so I went down and joined a contest where I'm singing to the microphone with headphones and bam! I'm in the band. It was my first band ever. I didn't know what I was doing with the microphone.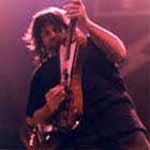 Then the guys knew Tommy. But Tommy was in the Punk scene; he had short hair and pink in his hair. There I am, out of Georgetown, just graduated and I was having a hard time playing with pink in his hair. But the guys were like "Dude, he's a great guitar player." So, I asked him if he could do something about it, and he took it out. I feel bad to this day, you know, but Tommy and I we're so tight and always will be. Now I'm sure I could handle a big pink blotch. Then, Troy joined the band and we started to write songs. Everybody was going out to the lake on the weekend while we'd stay in and write songs. Everybody was giving us shit because we'd always be writing. But then the next thing you know we got signed and everything, here I come straight out of hauling a septic tank truck and some of those bands had been playing for 10 years and they couldn't believe it. But it was a lot of hard work.

KNAC.COM: Is there anything you didn't get to do the first time around that you'd like to do this time?
JEFF: I just don't want to blow it because we've got a good thing going on. I mean we've always had a good thing going on, even in the old days, things just kind of got out of hand a bit. And we're keeping a level head. I mean we're no angels, we still do our share of partying but we just don't do it with the hardcore stuff. I'd like to think that this time we get it right and keep it right.


Please log in to view RANTS