"This Is Rock 'N Roll" For The London Quireboys

By Robert Kreutzer, Contributor
Monday, March 25, 2002 @ 3:19 PM

| | | |
| --- | --- | --- |
| | | Guitarist Guy Griffin Talks Ab |
In this age of hyphenated hard rock -- nu-metal, rap-metal, alterna-metal… it's easy to forget the days when thud-rock was most a lot of British longhairs swiping licks from blues players and revving them up with the amps at 11. Not a common scene nowadays, to be sure, but for those who think it's a thing of the past, please give a warm welcome (back) to the London Quireboys. "People say 'there's nobody doing your kind of music,' and I suppose among younger bands there isn't," concedes Quireboy guitarist Guy Griffin. "Then again in America, the classic rock stations are some of the biggest stations, and they're playing Aerosmith, AC/DC, and the Stones. There is a market for it, it's just that the record companies just really want to jump on the latest thing and make a quick buck."
Nine years after its last CD of original material, the London Quireboys are bringing the tavern back to rock and roll. The new CD, This is Rock 'N Roll, finds the group pounding out bluesy, jagged-edge hard rock in the grand British tradition of bands like Led Zeppelin, Free, and the group with whom it most often draws comparisons, the Faces. More than a mere retro band like Buckcherry or Beautiful Creatures, the Q-boys are simply picking up where they left off. "I never write a song with the intention of it being a certain style," Griffin explained by telephone from Los Angeles. "We just do what we do. There's nothing contrived about it and I think that's the best way to do it. To make a record you're happy with the way it sounds, then actually see it in stores, that's really a bit of achievement." Formed in the mid-'80s in London by singer Spike Gray, guitarist Guy Bailey and keyboardist Chris Johnstone, the band initially went under the moniker the Queerboys -- which cost them a few gigs. A few configurations would happen, with Bailey and Johnstone bowing out and keyboardist Nigel Mogg joining up. By the later part of the decade, thanks to such rockers as 7 O'Clock, the group's name appeared high up on both the charts and on the marquees of big venues all across Europe. On this side of the Atlantic, with "London" added to their sobriquet (to avoid confusion with an Australian band with a similar name), the Quireboys were a critical success, but their attempt at launching a new British invasion was foiled somewhat by the Black Crowes, who featured a somewhat similar style -- and soaked up more press and MTV attention.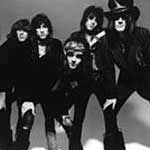 Soon enough, the setbacks were coming fast and furious. Bob Rock, selected to produce the second album, was too busy finishing up Metallica's Black CD. When the new CD, Bitter Sweet & Twisted, finally did hit the racks, many found it a lackadaisical disappointment. Finally, the coming of grunge would jerk record companies and the media completely away from anything pre-Seattle. It mattered not that the Quireboys bore only a slight superficial -- and no musical -- resemblance to suddenly out-of-demand bands like Slaughter or Skid Row. While still invited to some big tours, such as with Guns 'N Roses, and seeing pretty fair sales of the new album, the band was nonetheless finito by 1994. The members of the band would scatter to form different bands, getting major-label deals and frequently drawing critical praise, but otherwise operating without any large-scale attention. Griffin -- who joined up in 1990 -- would form Glimmer. In 2000, Griffin and Gray decided to work together again, with no intention of calling themselves the Quireboys. That changed when Mogg caught wind of what they were up to and said he also wanted in. With the crucial members of the lineup from the band's glory days present, rounded out by ex-Glimmer members Martin Henderson and Luke Bossendorfer, the London Quireboys were back in business again.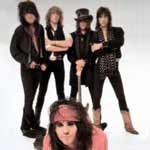 "It seemed real natural the way we got together again," Griffin said. "It was like a new thing in a way, since it was so long since we had done anything. When I look back on pictures of myself (from the '90s), it just seems like such a long time ago." The latest go-round for the Quireboys has gotten off to a promising start. Sanctuary Records wasted little time in signing the band to a record contract, and turnout for the live shows has left Griffin anything but disappointed. "We're not selling as many records as we once were," Griffin admitted. "But we have a semi-sort of recognizable name. In Europe, we're quite well known and we can go out and play regardless of whether we have a record out or not. As a live draw, we're not attracting a lot less than we used to." "That exceeds my expectations. It would be great to get back to the level we were at before, which is not unrealistic, but it's just nice to be back out on the road and that people want to come and hear our music." While Cobain and company contributed to the band's downfall almost ten years ago, these days the world of hard rock is as democratic as it gets. Commercial radio may be fixated on nu-metal, but audiences are turning out big-time for bands ranging Poison to Lynyrd Skynyrd. Griffin feels the inclusive metal market bodes well for his band. Some may interpret the throwback sound as a bit of rebellion to the norm of mainstream metal nowadays. Griffin says the band is not involved in any kind of rebellion or trying to make any kind of statements -- the band just does what it does.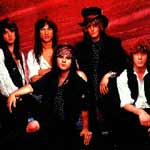 "If we wanted to make it easy for ourselves, we could just jump on whatever bandwagon is going," Griffin said. "But that's not the reason I got into music in the first place. I never write a song with the intention of it being a certain style -- I just get an idea and then I flesh it out. We just want to make records that we would want to listen to. Basic rock and roll records -- what a concept." Though the Quireboys have been around for a while, the good thing is that they started very young. Just getting into in their 30's, the guys are still young enough that they can still do some partying themselves instead of just singing about it. Still, on those occasions when they're not being choirboys, the guys have to pace themselves a bit. "I'm noticing the hangovers are harder to get rid after you go over the 30 mark," said Griffin.
Please log in to view RANTS