I don't think I've ever met anyone who didn't like the Scorpions.

Even if I did, I don't think I would trust that person's judgment on any subject at all. The Scorpions are just one of those bands that metalheads can agree pretty much rocks like hell. The reality is that chicks dig them and guys respect them, and that is an extremely rare combination, especially when one considers that rock fans tend to want to build up their heroes specifically for the purpose of tearing them down whenever they either sell too many records or travel into an unfamiliar musical direction. Essentially, the reason the Scorpions' music has been so readily accepted and adored throughout the years can be traced to one major point: this band has managed to mix pummeling--yet melodic--rockers with lonely hearted ballads better than anyone. Whether this was due in part to the group's German heritage or Klaus' vocals or maybe just regular old band chemistry isn't certain, but what is certain is that the music has endured and had created music that is destined to be listened to and enjoyed for generations to come.

Part of what it means to be a fan of Klaus and the boys is to know exactly how transcendent one of their live performances can be. As the singer states here, the band isn't close to losing their passion for bringing their music to the masses any time soon which is fortunate considering that the Scorpions are looking to head out on yet another epic tour that will doubtlessly take them over the globe once again in support of their new album, Humanity-Hour 1, which was produced by legendary knob-turner/writer Desmond Child. The effort, which is to be released August 28, 2007 in the US, attempts to take the classic Scorpions sound and combine it with more modern effects and lyrics that are more mature. This shouldn't come as too much of a surprise considering that music with a message is nothing new to the band that brought the world the political anthem "Winds of Change" years ago, and those looking for it are apt to find commentary interspersed throughout this album as well. That isn't to say that this record is in any way destined to be viewed as in as dramatically experimental way as Eye II Eye was in the late nineties-- instead, Humanity-Hour 1 is simply meant to be the type of legendary album that a legendary group should be expected to make thirty years after its inception. Make no mistake, the Scorpions are legends by anyone's standards.

KNAC.COM: Why do you think the Scorpions have managed to walk the line between gut wrenching power ballads and explosive rockers as well as anyone?

KLAUS: Good question. We have always just been a band that has been about following our hearts, and playing to all the beautiful girls in the audience just feels great. It's an amazing feeling if you can deliver both to the crowd. It really changes the dynamic of the set when you can play a song like "Still Loving You" and follow it with a rocker like "Rock You Like A Hurricane". There is really a connection with the audience that just blows me away. As for the ballads, you know, I love the rockers, but the ballads are the singer's songs. To be the person delivering the vocals, it's very beautiful. I know, maybe part of the combination back then was also due to Dieter Dierk's production—I think the songs that we play like are great counterpoints for each other. "Rock You Like A Hurricane" is a great partner for a song like "Winds of Change" and the same can be said for "Still Loving You" and "No One Like You."

KNAC.COM: When you set out to write a new album, are you conscious of making sure there is equal attention paid to both the ballads and rockers, or you just write the songs without consciously considering the tempo or categorization?

KLAUS: Well, in the case of the new record, "Humanity" is the title track, and it is a straight-ahead rocker. More important for us than considering what kind of song we are writing is to just write a great song that gets airplay. When I go to see a show, I wanna hear the hits. We want to play music that people recognize. For example, we just played in San Paolo, Brazil to 30,000 fans who were singing along to the new material as well as the old. The reason for that is simple—the songs get airplay there.

KNAC.COM: How discouraging was it for you to come out with an album as solid as Unbreakable was only to see it ultimately get very little attention overall? What is a band that finds itself in that position supposed to do--in what way should they view the situation?

KLAUS: It is very disappointing. Rock radio tends to only play the classics, and it's very hard—if not impossible--to get them to play the new material, but there is nothing you, as musicians, can do. Also, label priority is also a huge consideration when it comes to how a new record is received. All we can do is write strong material and hope that classic radio embraces the single and that it is familiar to crowds by the time we play in the States—the album is released there on August 28.

KNAC.COM: Is it difficult to try to update the classic sound of a band without alienating its fans?

KLAUS: It can be very difficult. One of the most important decisions we made with Humanity 1 was to hire Desmond Child as the producer. He, along with James Michael, are talented writers. It was basically a collaboration with some of the most creative writers available. On this one, I think we made a rock record with a message--that message is to make love, not war and to take care of the planet. Hopefully, this will be a new milestone in the career of the Scorpions. What we have attempted to do here is take our classic sound and give it a more modern sound while not alienating any of our old time fans.

KNAC.COM: Was there ever any conscious effort to avoid the type of backlash that Eye II Eye received in many quarters?

KLAUS: Well, you can always go back and create a record that sounds like something you have already done, but we wanted a Scorpions record that not only sounded like us, but that also sounded like us right now—in the present. It's like we had to analyze…what is the Scorpions' DNA? What makes every song recognizable? We wanted to give the guitars and vocals a more modern song without focusing on nostalgia. That isn't to say that we have made another Eye II Eye or anything. I don't think we were focusing on experimentation as much as creating a milestone record in the career of a band that has been around for 30 years.

KNAC.COM: Does creativity in the studio fuel the desire to tour or does it simply make you want to record in the studio more?

KLAUS: We enjoy both. You can see on the Scorpions website the shows we have done recently. We have played Paris, London and tonight we are going to play in front of 12,000 crazy fans in Monterrey, Mexico. What gives touring life for us is that there is an exciting mix going on with the fans showing up to our concerts these days. There are new fans as well as old fans and it gives us a motivation to continue to go out and play. We haven't lost he passion or the dream at all. We still have it.

KNAC.COM: Why do you think the Scorpions have continued to make writing new material a priority when so many rock bands are content to simply perform their hits in casinos and state fairs across the U.S.?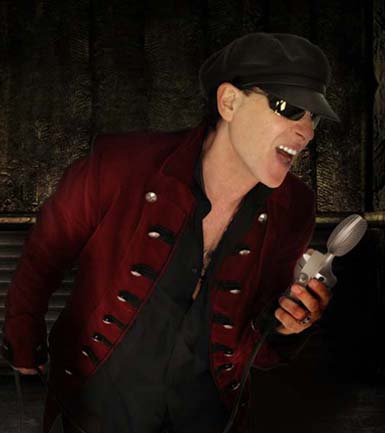 KLAUS: Well, it's true--we could tour forever on classic songs, but the fact is that we still want to express ourselves in our music. If you think about it, our career has spanned a long period of time. It started with vinyl records years ago, and now people are downloading music on the World Wide Web. It just isn't the way it was back in the old days when fans would listen to an album from beginning to end and get a feeling for what the message was that the band was trying to send. It is a new time.
KNAC.COM: Do you feel lucky that the Scorpions came at a time in music history when you could actually have a band with a career that spanned thirty years?
KLAUS: I know, in the old days, there was Sabbath, the Stones and The Who, and the most important thing was whether or not the bands could improve and make good music. It's like when we recorded this record in Los Angeles, we were brokenhearted to learn that Tower Records had closed. When we started, Tower was one of the biggest distributors of music, and now they aren't even around? Although times have changed, we know we just have to grow with the times. The fact is that there are many young fans out there finding out that in addition to us continuing to write rock music, that our live concerts provide a feeling that they just can't get from sitting in front of a computer. We deliver. We bring music with energy and feeling to the people.
KNAC.COM: Do you think the art of the live performance is sort of a lost art in today's music scene?
KLAUS: You're right. Our generation that included Scorpions, AC/DC and Def Leppard learned how to entertain, and that was true whether the venue was a stadium or a bar. Today's bands though seem like they might be able to deliver a great record, but they can't bring it together live the same way the older bands do. It's just a different game entirely. That isn't to say that newer bands like Nickleback, System Of A Down or The Smashing Pumpkins haven't been influenced by us, or that we don't really love what they do--Billy Corgan even sang a part on "The Cross." In these days, it's hard for a band to survive for even ten years. We have survived punk and alternative, and a big reason is that we just love playing to the audiences. We love the fact that they are made up of both the young and the old. I think that many of the newer bands won't ever get to experience what that is like, you know, looking out and seeing the old fans rocking out next to new ones.
KNAC.COM: Does the longevity the Scorpions and others have experienced owe more to the people involved or the time they were born out of?
KLAUS: Jeff, it's the business. There just isn't as much of a chance anymore for a new band to get signed and then be allowed to grow. People are mostly looking for songs these days. Bands that provide just one hit or two aren't going to be around for very long. It seems like they just come very fast and are gone at the same rate. It has just been a privilege for us to be around this long and playing to the audiences that we love.