NAMM 2002 -- What A Week!

By Junkman, On-Air Personality
Monday, March 18, 2002 @ 11:42 AM

| | | |
| --- | --- | --- |
| | | KNAC.COM's Own Junkman Revisit |
The third week in January has become my favorite week of the year. Better than a holiday, a birthday a vacation, whatever. This is MY week! Now living in southern California, as I do, has its advantages. Just about every where else its pretty miserable. Weather-wise most of the country is frozen solid or just plain gloomy. Southern Cal is either sunny and beautiful or raining. That's it!

At the same time, most people are having the post-holiday blues. It's time to pay off the credit card bills from spending way too much at Christmas. Bar owners and restaurant owners are miserable, because nobody is spending. Retail sales are always down this time of year. So why, you may ask, is this my favorite time of the year? I will answer in what may seem to you as code: NAMM.

NAMM? "What the hell is that, Junkman?" NAMM stands for the National Association of Music Merchants and they hold their annual convention at the Anaheim Convention Center here in southern California (actually across the street from Disneyland, to some, the happiest place on earth…) on the third week in January.

Okay, this is more than just a convention of people who work in music stores. It also involves the manufacturers of music products, and the people who endorse these products -- in other words, musicians. These are my heroes and my friends, and NAMM is a great place to meet and greet these friends and heroes without having to make an appointment for each one!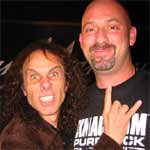 In other words everyone is there. In years past, you walk the aisles and see the people who shaped our musical past, live and approachable. And also friendly and willing to speak with you and answer questions about the product and pose for pictures (unless you are one of those hip-hop guys who's way too full of himself, and no, I won't mention any names!) and sign autographs, etc.

I have spent the better part of my life in the music business, and in just about every aspect of it as well. From being a working musician, to a salesman both in wholesale and retail, to being a club DJ, to a worldwide broadcaster, to a music journalist… and the list keeps growing. The music business has been and continues to be my life and my passion. This convention is the glue that holds it all together for three days or so in the third week in January. I exchange more numbers and business cards and catch up with more of my friends in these 3 days than I do in an entire year.

And what a year 2001 was, like I gotta tell you. I turned 40, got divorced, quit smoking after 25 years or so, and like everyone else, watched a group of assholes destroy part of my home town on September 11th! To say I had a tough year would be an understatement. So 2002 is a welcome sight for me and this convention of friends and people I look up to is a great way to kick it off.

Friday morning I arrive at the convention center bright and early. I go to the registration booth and get my badge. (Badges? We don't need no stinking badges!) As I approach the doors to the convention hall, I pass a group of bagpipers playing. This is a very soothing sound to me, of partial Scot heritage, and the fact that I was expecting a big line at the registration booth. I can just hear Mike Myers say, "There's a piper down, I repeat, a piper is down!" I grab a book that has the booth listings and head towards the Peavey booth, the scene of many great interviews from past NAMMs.

Peavey has lots of endorsees, most notably Edward Van Halen who helped design their 5150 guitar amp. He has appeared at the booth before and it's always an event. This year though, the word is that he is not gonna be there so I check to see who will be appearing at the booth, as they have a schedule of endorsees set up.

11 am, Dave Ellefson of Megadeth appears and the line is stretched around the booth. I figure he'll be there for at least an hour or two signing autographs, so I head over to TAMA and their drum booth, another "hot spot" for endorsees. On display they have these huge drum kits belonging to people like Frank Beard from ZZ Top and Lars Ulrich's signature line of snare drums.

Not too many people I wanna speak with here yet, after all we are talking about musicians and its not even noon yet! I decide to visit some friends of mine that build Baker custom guitars down in Hall E. As I cruise the hall, I bump into Ty Longley from CC DeVille's band, as well as an incarnation of Great White that I reviewed last spring. (Look it up in Headbanger Archives) Ty told me he is working on a side project called 5 Cent Shine that sounded pretty cool. We talked lots of CC stories, (and there are many) and I was on my way to the "Pro Audio" section.

Now for years I was a nightclub DJ. I spun the original KNAC nights years back and I always try to keep and eye on the latest products. I drop by the DENON booth and watch my buddy Jesse demo the new DND 9000 CD player. It's an amazing product. Check out their website for more info. The same with the new Pioneer cd players and mixers, as well. Just plain quality stuff.


Now walking around, and people watching for some, is what this convention is all about. You see lots of "groupies" walking around dressed like someone from the movie "Rock Star, " craning their necks to look at your badge to see if you are someone famous. I just laugh when I see chicks come to this with spiked heels on. What the hell are they thinking? Shit by the time I take off my "comfiest" pair of sneakers after day one, I'm lookin for the Epsom salts! Anyway, it's always fun to watch people as you cruise the aisles. LOTS of mullets and really bad "I have always had long hair and even though its falling out I'm not cutting it" 'dos, (actually they should call them "Don'ts") as well as lots of people wearing sunglasses indoors ("Wow, are they cool!")

By this time its back to the Peavey booth to catch up with Dave Ellefson. He has all but finished his autograph signing and is very gracious as I introduce myself. He tells me that the guys have been in the studio recording tracks for the new Megadeth CD. He seems very excited about how things are going, and promises to come up to our new studio to play them for us. Of course, that may take awhile.

Now Friday at the convention isn't as exciting as Saturday… in the Convention hall! The real fun takes place after 5 pm on Friday, in the adjoining Hilton Bar! This is where the real action is! Everywhere, it seems, there is a rock star. How fitting. The first people I see are Dan and Fuzz from Disturbed. They are great guys and they tell me the next Disturbed CD will be more of the same in your face rock that the first was. It will have the same producer and sound that "The Sickness" had, in other words, if it ain't broke don't fix it! Dan tells me he will be appearing at the Paul Reed Smith booth on Saturday. More on PRS later.

It is amazing how many famous people who you have read about and seen on television (recently, and in the "so that's what happened to him" category) are crowded around such a small bar in the middle of a hotel. And there has to be twice as many girls giggling in packs as they check out who's who, and if they are really serious about hooking up with a rock star, they dangle a hotel room key, no doubt reserved months before, for this sole purpose! It's always entertaining to watch girls literally throw themselves at someone simply because he's been in a famous band at one time or another.

Tonight is no exception. It makes you wonder what it was like to be hanging around the "Riot House" on Sunset back in the '70s when Led Zeppelin was in town. I watched as some girl named Dani, or something like that, made laps around the bar and deliberately bumped into any guy with long hair that walked in, and then pretended to have met him before. I laughed as she approached me, and seeing my shaved head, decided that I was not worth the time of day, as she did a double-take at my badge which had KNAC on it. Ahh, to be young, and clueless…

Another great part about NAMM week is the concerts. Past events have included all-star jams like the year I saw a show headlined by the triple-guitar talent of Edward Van Halen (yeah, he was there that year…) Steve Morse and British country-picker Albert Lee, all jamming with a crack-session band in one of the hotel ballrooms. Or, the year the late, great Sam Kinison and Dee Snider co-hosted the official "NAMM Jam" at the old Celebrity Theater in Anaheim.


Anyway, this year kicked off for me Wednesday evening at the Grove Theater in Anaheim for a show by Austin, Texas' Eric Johnson and his power trio Alien Love Child. Also, known as Eric Johnson on guitar, Chris Maresh on bass, and Billy Maddox on drums. Opening with the title track from their latest Zen release, the band plowed through an evening of tasty riffs on Johnson's vintage Fender Stratocasters. Radio friendly instrumentals like "Trademark " and "Cliffs of Dover" were mixed in with songs that even showed off Johnson's very capable vocals on "40 Mile Town, " and a dedication to the recently departed George Harrison, "Lookout Looking. " The crowd was very knowledgeable and applauded all the solos, (yes kids, this is what they do at shows by real musicians -- no mosh pits here) ALC played their Grammy-nominated tune "Rain" as Johnson and Co. showed off their quiet side. Strapping on a Gibson SG for the tune "Last House On The Block, " Johnson showed why he is a guitarist's guitarist. His 3rd encore, a version of Jimi Hendrix's "Spanish Castle Magic, " made me gasp as he made it look effortless.

Friday night I proceeded to the Galaxy Theater (after the excursion to the Hilton Bar and to see a quick set by "Superdrummer" Dave Weckyl and his band) to the Paul Reed Smith-sponsored show featuring San Diego's Sprung Monkey, San Francisco's Stroke 9, and some old friends of mine, Laidlaw, and "special guests. " Luckily for me, the Galaxy Theater is on my way home, as by now, and with Saturday looming just around the corner, I was pretty beat!

Sprung Monkey played a pretty ordinary set featuring there semi-hit single from a few years back, "Get 'Em Outta Here. " I spent most of my time at the bar shmoozing with a few of my listeners that actually recognized me. I was shocked! Stroke 9 then pumped up the crowd with their mixture of semi-aggressive rock and pop highlighted by their hit single of a few years back, "Little Black Back Pack. " (Yes, I like that song too!)

Headliners Laidlaw are a band that was signed to Nikki Sixx's label for a while and has been out on the road with Lynyrd Skynyrd and ZZ Top. Their style of barroom-boogie southern-swamp rock fits in perfect with a couple of beers and with the combination of Joey Pantera's screamin' vocals, Buzzy James' slide guitar and Craig DeFalco's blistering leads -- you would swear that there was a ghost of departed southern rockers Duane Allman and Skynyrd's Allen Collins in the house!

I've known these guys for a long time and its always good to hang out and see them rock. And tonight was no exception. Filling in as rhythm section were former members of Great White Tony Montana and Audie Desbrow. Not only that, but they brought out former Kiss guitarist Bruce Kulick to join them in a tune entitled "Send My Baby Home," as well as a killer version of the old Head East rocker, "There's Never Been Any Reason." Former MSG and Edgar Winter guitarist Mitch Perry (who will be touring this year with Bulletboys) joined them, as well as Paul Reed Smith himself on guitar for a Johnny Winter style version of "Rock Me Baby. " If that wasn't enough to satisfy yer taste for jammin', another former Great White member, bassist Sean McNabb, joined the group for a cover of Jimi Hendrix's "Hey, Joe" with all four guitarists rippin' it up! The set ended with the classic CCR rocker, "Born On The Bayou," leaving the crowd jumpin' in the aisles!

It was then that I left my seat in the VIP balcony (Thanks, Hap and Karen!) and went backstage to say hello and goodnight. Lots of gearheads back there, all buzzin' about the energy onstage and how great the Paul Reed Smith guitars were. I knew I was out of gas by then, and headed to my nice comfy bed for a couple of hours shut eye, before toodlin' off to the convention center for more abuse on my feet, ears, and voice!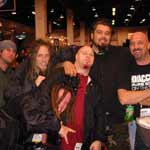 Saturday morning I arrived at the convention center filled with a pot-o-coffee, a breakfast sandwich, and an attitude! Got a message on the cell from our friend Bobby Burns from Primer 55, that he and Kobe would be at Peavey at 11 am. Running on adrenaline and pure caffeine, I arrive just in time to meet up with him. Bobby tells me that they have been touring non-stop and will be putting new material on tape as soon as they take a long-needed break. I asked him if now, that he is a successful musician, if he could splurge on anything he wanted, what would it be. He replied, after a long pause, a motorcycle, much to the chagrin of his tour manager (I think that's who it was). Bobby has been known to hurt himself onstage and the thought of that happening on a break, I'm sure put fear into this attractive but serious woman. He recently messed up his leg, and if you have ever seen Primer 55 live, you would understand her concern.

While at the booth, I ran into my old friend, former Giuffria and House of Lords guitarist Lanny Cordola, who filled me in on the new project he has with Matt Sorum, that will be known as Aztec Circus. This started out as… Lanny helped produce a Sorum solo CD, and evolved into, what sounds like, an interesting project. Scheduled for a spring release, it is 11 songs with Matt on guitar and vocals as well as the drums, of course. Lanny and Slash help out on guitar, and they have also recorded the score to the latest Pauly Shore movie, "You'll Never Wease In This Town Again. " Now that is a movie I've been waiting for!

I then headed over to the E. S. P. guitar booth to see a trio of guitarists, and the longest waiting line for autographs I had seen all weekend. Sitting at a table in front of the booth were Michael Wilton of Queensryche, George Lynch, and our old friend Bruce Kulick. Not only that, but Tom Araya of Slayer and Loren Molinaire of Little Caesar were chatting behind them. Who the hell am I going to talk to first? Well, I decided to ask George about the project he and Jeff Pilson were putting together, and he said that they have a few tracks in the can and that's about it. It sounds as though things are going pretty smoothly and he promised to come up and visit us at KNAC. COM as things progressed.

Just as I turned around to speak with Tom Araya, he disappeared into the crowd and was gone. So much for finding out the latest tour poop with Slayer! But knowing that they will be in my town soon enough, and there were pure rockers everywhere at this place, I wasn't too bummed about it. Again I turned around, and who is standing there smiling, but Steph Carpenter from Deftones, as well as Shaun Glass from Soil. Not only that, but as I was exchanging greetings with these two, but here comes Mikey Doling from Soulfly. E. S. P. was THE booth to be at today!

Shaun and Mikey were telling me about the Static X/ Soulfly/ Soil tour which will (or may have already) be coming to a town near you. As I am diligently writing notes on a piece of paper as fast as I can, Shaun told me they will be playing Ozzfest this summer -- sweet! And, as I am writing this down, I hear "Hey, dude!" I look up just in time to see the members of Skinlab come around the corner and embrace Shaun. I introduce myself to Steev, he tells me to say "hello" to The Rack (by the way, Steev says "hello") and tells me that they are finishing up with their new CD, which, from all I have been told from those in the know, should rip you a brand new asshole when it is released in April!

Back to the E. S. P. booth I go, and Loren Molinaire gives me the poop on one of my favorite bands of all time, Little Caesar. The band has reformed, with all the original members, and will be playing some west coast dates, with a possibility of some European shows as well. This is great news for those of us that enjoy down and dirty strait-ahead rock, and at press time, I have seen them twice already and am going to a third one!


As I walk through the aisles on my way to meet Vinnie Hornsby of Sevendust, it occurs to me that it's time to take a break and take part in my lifelong passion of drumming. In other words, go to as many drum booths and hit some freakin' products until my fingers blister up! I start out at Zildjian cymbols and immediately run into legendary drummer Carmine Appice. As I'm speaking with him, I am greeted by KNAC's lovely DJ Frankie DeVita. Carmine is nice enough to pose for some pictures and do some station ID's for us as well as give me a copy of the CD he has recorded with the original members of Vanilla Fudge, the band that made him famous, way back in 1967!

Carmine and original Fudge members -- Tim Bogert on bass, Vince Martell on Guitar and vocals, and organist Bill Pascale -- have recorded a CD of classic songs such as "Shotgun, " "Eleanor Rigby, " and the original Vanilla Fudge hit and Motown classic "You Keep Me Hangin' On." He said they had a blast recording it, and it's on Hyperspace records.

After about an hour or so of trying out just about every acoustic and electronic drum kit I could find, I remember its time to talk with Vinny from Sevendust before the hall closes for the day. My blistered feet are aching by now, so I'm pretty spent, and I could really use a cold one. So I say "hello" to Vinny and congratulate him on all his success with Sevendust. He poses for a few pictures and I'm off to the bar.

Once again the Hilton Bar is packed. But there are twice as many people here, than on the previous night! Not only have the groupies and rockers invaded, but the salesmen as well, and deservedly so! These guys, I'm sure, were making the biggest and best deals of the year, and I'll tell ya what, I admire them for their persistence and expertise. As I mentioned earlier, I was a member of this group of people and I know what they go through.

So, after actually joining a few pro-audio salesmen and their somewhat starstruck wives at the bar, I am invited to a few industry-only concerts that evening. After knocking back a few, I proceed to the Dean Markley-sponsored show upstairs in one of the Hilton Ballrooms. Performers include: Edgar Winter with former Late Night With David Letterman's "Worlds Most Dangerous Band" guitarist Hiram Bullock, former Journey, Santana, Bad English, Hardline (and a lot more coming) guitarist Neil Schon with Steve Smith on drums and a lot more.

Well kids, I gotta tell ya, by the end of Edgar Winter's set, I was thinking more about a good night's sleep than anything else, so I figured I would split. It had been a long day, and I thought I would make one more day of it and come out again on Sunday. Normally I would take the day off and relax, but this year I said, "What the hell, run with it, " and go all 3 days.

As I walked my "date" for the evening out to her car, I decided to take one last walk through the crowded Hilton lobby. I bumped into Jeff Duncan from Armored Saint and DC4, who have a killer CD just about ready for release. We decided to check out a few drunken women hopelessly in search of a rock star to play with, when into the lobby walks the Uber rock star himself, Marilyn Manson! Well, that was all she wrote for me and I headed home, complete with a bag full of notes, business cards, catalogs and oh yeah, HUGE blisters on my toes!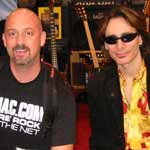 Sundays at NAMM are usually reserved for guys taking their girlfriends to the show or lending out their passes to friends after 2-3 days of business and serious partying. I usually do this myself because I have usually got a list of people who call me wanting passes as long as the guest list of the average movie premiere. But since I got to bed relatively early on Saturday, (Junkman standards, anyway!) I figured I could take a stroll for a few hours and maybe see what happens. What I didn't know was, it turned out to be my best day of the entire weekend!

First thing after slammin' down the coffee and bagel, was to head over to the Dean Markley booth and thank the guys (thanks, Tony!) for hookin' me up with the passes for the show the night before. Yeah, I'm a nice guy who feels appreciative for things like that. While at the booth, I bump into my buddy Jason who informs me he will be sitting in with the band Jaded, in the booth's performance area. Jaded features former child star Tina Yothers on vocals. That's right, the chick who played the youngest daughter on Family Ties, now all grown up and fronting a rock band. I gotta tell ya, I like what they do. Kinda reminds me of a band that was a hit during the same time Family Ties was a hit, the Divinyls. Check 'em out, they are on the web at jadedonline.com.

After bumping into guitar god Steve Vai, who informed me he has a new DVD coming out soon, I approached bassist Mike Inez from Alice in Chains. What a great guy! About as nice a person as you would ever want to meet. I told him that I had been hearing all kinds of rumors about him joining a very popular band that just happens to be in need of a bassist. Although he didn't deny this rumor, he told me about the new project he is working on with former Motley Crue/ Ozzy/ Lita Ford, etc. drummer Randy Castillo, who we spoke with as well. Randy who had been ill recently looks GREAT and he and Inez told me they would be in touch with KNAC. COM as things develop with the new project.

I also met up with guitarist/vocalist Rob Cavestany of the Bay Area band, Swarm. Swarm completely BLEW ME AWAY in a performance at the Whiskey in LA recently. Rob is incidentally the wild lookin' dude in the latest Dunlop guitar straps ads. Swarm used to be known as Death Angel back when they were very young (remember them?) and now have akiller EP out. Check out their website, www.swarminfo.com for, what else, more info!

Right about this time back at the Dean Markley booth, who should show up for an autograph signing but the one and only Ronnie James Dio and his entire band! Holy shit! The MAN himself! And there they stayed for over two hours, signing autographs and signing stuff for the fans. As soon as he saw me and my KNAC.COM shirt he said, "I would love to speak with you. Lemme sign some stuff and we'll chat for a while, got lots to tell ya." Yes, I now have finally reached credible status in my field!

As the band signed away and the crowd drew larger, I had the opportunity to meet quite a few rock legends. One in particular was former Runaways singer, Cherie Currie. Now I gotta tell ya, this woman was responsible for many lusty gazes on my part at Runaway's record covers. And she still looks totally hot! She told me she would love to reunite the Runaways, but Lita Ford has apparently nixed that idea. After accepting my proposal of marriage, (yeah, right!) she told me about Rocket City records where you can get more Runaway's and Cherie Currie CDs.

I also hooked up with Def Leppard guitarist Phil Collen who told me there will be a new CD from the lads this summer on Def Jam. While posing for a picture with Phil, I also managed to speak with Bulletboys frontman Marq Torien, who told me the band has hired my friend Mitch Perry as their new guitarist. I think by now I have dropped enough names to make Lonn Friend jealous, as if that's ever gonna happen!

By now, Ronnie James Dio was ready to give me a little one on one inside the Dean Markley sound room, or performance room, as it was. What an honor! Ronnie told me about the new line up featuring new guitarist Doug Aldrich who totally tears it up, with Dio staples Jimmy Bain on bass and Simon Wright (what a great chap!) on drums. They have been working on a new CD in a studio not far from KNAC.COM, and he promised to bring it by for us to check out as soon as its finished.

Dio also told me how excited he was about the tour scheduled for this summer. They will be joined on the road, by none other than Deep Purple and Scorpions. To me, anyway this is a dream show, and to see all these legends at the same time should be impressive. Mr. Dio (yeah, I actually called him that) could not say enough about how much KNAC.COM has meant to not only his career, but to the rock community as well.

He told me that any time he could give something back to such an important institution he would, and I was proud to be the representative of something he considers very special. He also gave similar props to the people at Dean Markley who he says have always been there for him. Believe me, when I say this is a man of his word. I watched him sign autographs and truly listen to his fans for at least two hours, on a Sunday no less, and then sit with me for about a half hour or so after that answering more questions and posing for pictures while other publications and sponsors waited. And I'm sure he gave whoever was after me equal time. Yes, you bet your ass I will buy the newest Dio CD and will be there to watch him on tour. All hail the mighty Dio!

That all said and done, it was just about time for the convention to come to close. I thought of all the products and friends I had seen in the last few days. I realized I was out of business cards and would have to go to the print shop soon. Since I was still going to the Judas Priest/Anthrax show that night at the House of Blues in Disneyland, (trippy place for a Priest show) I was still pretty jacked up. I wasn't ready for this convention to end. I said goodbye to some friends from the east coast, and watched as people started to exit the convention center. I was very sad, I guess I even felt a little denial that this extravaganza that I so looked forward was over for another year.

But as I sorted through the cards and programs and catalogs and giveaways and looked at the pictures on the digital camera I had borrowed, (thanks Raul) I realized it was time to go. As I walked through the pro-audio area on my way to the parking garage, I happened to pass a booth that sold Karaoke products. A very large woman was using the mic and doing a god-awful version of a bad disco song or something. That's when I started to laugh as I realized, yes, it IS over, the fat lady is singing! So, until next time my darlings, it's yer old pal, Hunky Junky saying, "See ya next year at NAMM 2003!"

A very special thank you to all the artists who took the time to speak with me, as well as Loren and Marsh from E. S. P., Hap and Karen from EMG pickups (congrats Hap), Steve from Peavey, and especially a HUGE thanks to Tony Lopez from Dean Markley. You guys rock!


Please log in to view RANTS