Every once in awhile, a band emerges onto the music scene and catches the eye of music fans. Vains of Jenna are an exciting new band hailing from Falkenberg, Sweden. The band formed in January of 2005, and is already making waves around the world, with their infectious, sleaze-rock sound, catchy guitar hooks, and glam-rock good looks.

Vains of Jenna re-capture the heyday of the 80's glam-metal scene when it was raw, and rebellious. Although the oldest member of the band is only 25, Vains of Jenna, live, breathe, and play metal with a sound that is reminiscent of early GNR and Faster Pussycat. Lead by dynamic front man Lizzy Devine, the band also features bass player JP White, drummer Jacki Stone, and guitarist Nicki Kin.

Vains of Jenna have just released their debut album entitled, "Lit Up/Let Down" on Bam Margera's new label Filthy Note. The CD is self-produced and as singer Lizzy Devine describes, "It's a rock and roll album. If you like our old stuff you will like this. If you are into GNR, Aerosmith, Faster Pussycat you need to get this. It is sleazy and kick ass. I usually don't listen to my own recordings but I can't stop listening to this."

Vains of Jenna have just finished a tour with Fireball Ministry, and Artimus Pyledriver.

In this exclusive interview for KNAC.COM, Lizzy Devine discusses touring the U.S., Vains of Jenna new album, "Lit Up/Let Down", and what the Swedish rockers Vains of Jenna hope to accomplish in the metal scene today.

KNAC.COM: I understand Vains of Jenna wrapped up their tour last night in Las Vegas.

DEVINE: Yes that is correct. That was the last date. It was quite dead last night. It seems like Vegas has a dead season right now. It was fun. It was big. The hotel has nice soft beds.

KNAC.COM: How did the tour go? Any memorable cities that you really enjoyed performing?

DEVINE: Some cities were better those others. Dallas was great; we had a lot of fans there. Hollywood is always good. People really seem to like us there. The worst place was Little Rock, Arkansas. No one cared about us at all. New England was cool. It seems like we have fans all over the place. It is getting better and better everyday, so that is cool. I am just happy to be able to play all over. We played The Knitting Factory in New York. That is a fun place, by the way. The audiences were great. I like New York.

KNAC.COM: I can imagine. I don't think they have much metal down in Arkansas.

DEVINE: No that sucks.

KNAC.COM: Let's discuss the interesting triple bill. Fireball Ministry, and Artimus Pyledriver were on the same bill with you. It must have been really interesting. Those bands have a totally different sound than Vains of Jenna, and different fans.

DEVINE: Yes, they don't sound anything like us at all. Those guys are really awesome to hang out with. Those bands don't have the same sound we have. So it was always fun, whenever we played a show and some bearded guy came up to us and said he loved the show, that was fun. It is great to be out with bands that don't play the same style of music as you do. It's brings an older audience, and not just young kids.

KNAC.COM: I had the chance to listen to your new album and I really enjoyed it. It actually reminds me of "Appetite For Destruction." How would you describe the album?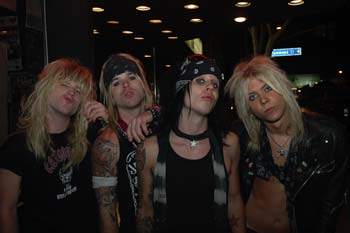 DEVINE: I like it because it is raw and punky. It is the way I want music to be. It is not 100 percent perfect. I don't like over produced albums. We did this all on our own. If someone tells us the CD sucks, I can tell them, "I am really proud of it." No one else interfered when we did it. I love this album; hopefully people will love it as well. I think the world needs more rock and roll. It was so dead and boring for the last 10 to 15 years.
KNAC.COM: I totally agree Lizzy. Did you recently record a video for one of the songs on the new album?
DEVINE: Yes, this summer we recorded a video for, "No One's Gonna Do It For You". It was directed at Bam's place. He directed it. It was like a big party all day. Tons of girls, beer, pool. It was 24-hour party. It was awesome.
KNAC.COM: How exciting. You must attract a lot of girls at your concerts. How is the scene in Los Angeles these days?
DEVINE: I think that has always been a lot of posers everywhere. People that try to be cool. The metal scene seams quite dead here. But we're here to change it. People are not used to seeing guys like us walking down the Sunset Strip. But I feel it in the air. It's going to change. Back home in Europe, we have a lot more rock bands, and better rock bands. That is why we are here. That is, no new good rock and roll bands. We are here to change that. Hopefully we will get a lot of people to realize that this is the type of music to play. It is a rock and roll revolution once again.
KNAC.COM: What is the Sweden Rock scene like? Is it thriving?
DEVINE: The rock scene is huge in Sweden. Teenage kids are really getting in to metal and rock again. And that's a good thing. I think that Sweden is the best rock country out there.
KNAC.COM: Have you ever attended the Sweden Rock Festival?
DEVINE: I haven't been to Sweden Rock Festival since 1999. I don't know why. JP goes there every year and he loves it. But it's a great fuckin' festival.
KNAC.COM: What is is your favorite thing that you liked most about Sweden?
DEVINE: The girls, for sure! Sweden got the most beautiful girls in the world.
KNAC.COM: How did Vains of Jenna get together?
DEVINE: Well, JP White and I used to be in the same band many years back. He quit that band to travel the world. Years later we started talking again about putting together a sleazy rock n' roll band in the same veins as Motley (Crue) and Guns N' Roses. We started writing some songs and got JP's brother Jacki to play the drums. At this time, Jacki played in another band with Nicki Kin. I saw them play and I could have killed someone to get Nicki in the band. We asked him to join and he said yes.
KNAC.COM: How did you come up with the different spelling of Vains of Jenna?
DEVINE: The name Vains of Jenna? I don't really remember why we picked that name. It just sounded cool. It was JP's idea. The misspelling of Vains was a mistake. We're Swedish, uneducated and thought it looked cooler with an "a". And yeah, we all love Jenna Jameson
KNAC.COM: How you would describe the sound of Vains of Jenna? Would say it is sleaze rock or glam-rock? I think you sound a lot like Faster Pussycat, or L.A. Guns.
DEVINE: People often call us a Glam band. But we're not. I listen to a lot of old glam bands and I even have "Natural Born Glam Star" tattooed on my arm. But our music is more like you said, Sleazy Rock N' Roll. And to be compared to Faster Pussycat and LA Guns isn't a bad thing. They are two of my favorite bands.
KNAC.COM: Are you making L.A. your home these days?
DEVINE: Yes, when we are not on tour, we are going to be here. We are going to stay in the country for at least one year. That is how long the are visa is good for.
KNAC.COM: Let's discuss your 10 thousand mile journey to Los Angeles from Falkenberg, Sweden to perform at The Whiskey in July of 2005 at the Motley Crue Fest. What was running through your mind, while performing at The Whiskey?
DEVINE: That was an amazing feeling. Even the trip took forever to get here. I hate being on planes, because I don't want to die young. To play at The Whiskey has been a dream of mine since I was 9 years old, to be able to do that. To know a lot of legendary bands have played there was a great feeling. It was kind of cool, when we got there. We had only been a band for one month, and we put a song on the Internet. Like 13 hours later, The Cruefest staff contacted us, and asked us if we wanted to play. We didn't believe it at first, at all. We believed it, when we were standing on the stage and 25 people looked at us at 4 O'clock in the afternoon. But Stevie Rachelle our manager said, well don't regret going there. Even though it was quite expensive.
KNAC.COM: Growing up in Sweden, did you listen to bands like Motley Crue?
DEVINE: I always been into metal. The first record I got was Twisted Sister's "Come Out And Play" I think. Since then I've been listening to Guns N' Roses, Motley, Ratt, Aerosmith, Rolling Stones, Poison and music like that. The other guys in the band opened up my eyes for bands like Nirvana and other grunge bands. I was never in to that when I was younger because I thought they destroyed the music I loved. But now days I love it. I listen to anything from David Bowie to heavy music like Disturbed.
KNAC.COM: When you set out to make your album, what kind of sound were you hoping to achieve?
DEVINE: We didn't have any plans when we recorded this album, because we did it all on our own in Sweden in February. We took one week off from our work, and just recorded it for fun. To have something to show people. When Bam Margera heard it, he liked it so much; he wanted to release it as an album. Most of the songs were written the first couple of months, when we were a band. It shows the beginning of our band. It is raw and rock and roll. That is why we are here. To become something. If we do, we will conquer the world, if we don't we had fun. We didn't do the same old shit everyone else is doing.
KNAC.COM: What are the future touring plans of Vains of Jenna?
DEVINE: Yes, we are going to go out on in a tour in ten days. We are going to do a couple of shows with Alien Ant Farm. We are going to do one show with LA Guns. Then we are going up to the Seattle area. In January, it is like 99 percent sure that we go out with Wednesday 19 for 25 dates. That tour is going to be a lot of fun. I really love Wednesday 13 music. I think his audience will respond well to our show as well.
KNAC.COM: Any rock and roll predications for 2007?
DEVINE: I really hope that people really open their eyes to good rock music again. There has been so much depressing music, too much hip-hop, too much R and B, the world needs something new. It has been 20 years ago since GNR did something good. It is about time that something changed. I will do whatever I can to make that happen.