Zakk Wylde has emerged as one of rocks' guitar icons. His brilliant guitar-work has a fiery passion, it sings from the heart, and has proved that through dedication to his craft, rock and roll dreams really do come true.

2006 has been a busy year for Zakk. In January he was inducted into the Hollywood Rock Walk, he's rapped up touring to support Black Label Society's latest album, Mafia and begun touring again ahead of the release of a brand new album, Shot To Hell.

I had the opportunity to chat with Zakk, while he was headed to rehearsal for his double-duty role at this year's Ozzfest, playing for both BLS and for Ozzy on select dates.

KNAC.COM: Congratulations, Black Label Society is going to be headlining the second stage. Tell me what the BLS fans can expect to hear from you this summer.
WYLDE: Ozzfest is always a cool place to hang out. They got new bands. You can always see bands that you know. It is just a great time to hang out. Every time we do [it], I look forward to it.
KNAC.COM: Now you are going to be doing double duty this year, you are also playing with Ozzy.
WYLDE: Yeah, I always have a blast with that. That means I can get two beer buzzes a day, ya know what I mean? After we get done doing the Black Label set, we chill out for a while, we usually go on the bus and just sit. I got the ESPN on, and I can practice. I have a couple of cold ones, and then we are ready to start jamming with OZZ. Ya know what I mean?
KNAC.COM: Will you be performing any new tunes from "Shot To Hell"?
WYLDE: NO, I remember when GNR came out with "Use Your Illusion." I remember seeing them on that tour. They started touring 3 months before the record was out. I remember when they started breaking in these songs, I said what the hell kind of tune is this? Like I didn't even know the songs. I just figured, you got 45 minutes up there, just play the songs they already know, the stuff that is on the records. As a fan, I would be saying why didn't they play this, what the hell is going on? This song I don't even know. The [BLS] album will come out in September and then we are going to start touring. Then we will start to put some of the new shit in the set.
KNAC.COM: How did you come up with the cool title, "Shot To Hell?"
WYLDE: We just looked at our livers…and our kidneys! (Laughter) That was basically it.
KNAC.COM: Tell me about the writing process for the new CD. Does everything revolve around the guitar riff first?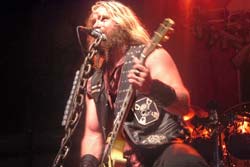 WYLDE: Yeah, it is always the same. We get in the studio, me and Craig and we just start knocking stuff out. We go in there with nothing, and then in 10 days, we had 23 tunes. It is always the riff, we jam on that for a while, and then I will sit on the piano when we get tired from blasting from the Marshalls. So I sit at the piano, pick up an acoustic, and do some mellow stuff, then we get back to the heavy stuff. It is always the same. I always look forward to it, it is like when you go in fresh, if you are paying 1,200 dollars a day in the studio, you better be pulling something through your ass, when you get in there. The whole creative process, I always dig it. If you go in there with nothing, then it turns into this thing.
KNAC.COM: "Mafia" was outstanding. I really enjoyed the ballads. "In This River" is one of my favorite tunes from the CD. Will "Shot To Hell" have some great ballads on it too?
WYLDE: Yeah, I think there is about maybe four or five or something like that. On Black Label albums, as much as I love the heavy stuff, I love the mellow stuff too.
KNAC.COM: I do too. I hope someday you make an all-acoustic album that focuses on your voice, the lyrics, and acoustic guitars. That would be awesome.
WYLDE: Without a doubt, you can always rework the heavy ones, and just make them acoustic.
KNAC.COM: How did you meet Ozzy?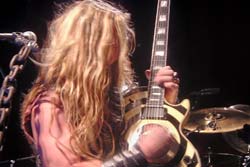 WYLDE: I was playing a club one day, in Jersey and this guy Dave came up to me and he said,"Hey Zakk my name is Dave, [this is] my buddy Mark Weiss. Mark is a famous photographer and is doing some photo shoots right now with [Ozzy]. Ozzy is looking for a guitarist. Why don't you take a picture of yourself and send in a photo. I can't promise you nothing." I was working in a gas station at the time, playing crappy clubs. I thought I got nothing to lose. So my sister Amy took some pictures of me with some Polaroid's on my Mom and Dad's porch. I ended up sending that in, and I recorded a bunch of Ozzy's songs like "Crazy Train", "Mr. Crowley" and sent it to him. Then the next thing I know, Sharon called my Mom and Dad's house, they flew me out to LA, I met Ozzy, I crapped my pants, and then the rest is history.
KNAC.COM: That is a great story. As a musician, what have you learned from Ozzy?
WYLDE: Everything he has taught me has all come true. He is really dependable. When he learns something new, he always passes it on to me. It is pretty funny, ya know?
KNAC.COM: In this ever-changing music business, it seems like you are putting guitar solos back into metal again and making it exciting. Do you find more bands are playing solos again?
WYLDE: Yeah, without a doubt, is definitely coming around again. Avenged Sevenfold, those guys are doing solos now. It is always one of those things, what is old is new again. For a awhile, like with the girls wearing the jeans, the hipsters were out and now they are in again. Then eventually that will go away. It is usually like a twenty-year cycle. Ya know what I am saying? Even with fashion or what people are wearing and music.
KNAC.COM: Have you ever gotten pressure from record labels to change your style, when 80's metal was being pushed aside by the different genres of music?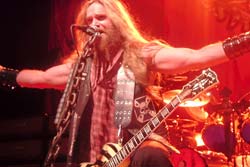 WYLDE: No I never got that. All the bands that I love, whether it was Zeppelin, or Sabbath, Neil Young, Elton John, you just let the guys go in there and let them do what they want to do. It is like, you can't go in there and tell Sabbath to start painting, if you and me were art exhibitors. Whatever he gives us, he gives us. Hopefully it comes out great, ya know what I mean? But we can't go in there and tell them what to start doing.
KNAC.COM: You are from Jersey. How has the metal scene changed since you first got started? Was it easier to break into the music business back then?
WYLDE: No, I think nowadays with the Internet and everything, young kids can make their own records and do the stuff they want to do. They can put a website out and sell their own records, which is really cool. You don't even need a record deal. I just think it is like anything. It is a lot of hard work for rock bands. It is not like a cookie cutter thing if you are a hot looking chick, we'll put some songs around ya, and make a great video like Paris Hilton for Christ's sake. I mean c'mon, she is just doing it because she is bored. (Laughter) It is not like a band like Sound Garden or Alice in Chains who tours and builds up a following, and keep working, then you get signed. Rock bands are a completely different thing than pop bands.
KNAC.COM: As a guitarist, do you practice 24/7?
WYLDE: Definitely, I practice as much as I can. My days are basically…I just wake up, get something to eat, touring or doing interviews. That is what the whole day is pretty much.
KNAC.COM: Do you think you will get to check out any sporting events on your days off during the tour?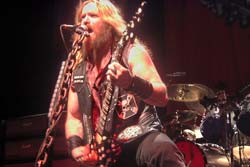 WYLDE: Yeah, I think we are going to see Detroit play. I might be doing the National Anthem there, something like that. So if we have a day off, which are few and far between, it is cool to go to the game and go to the ballpark and get away from everything.
KNAC.COM: Hey The Red Sox gave Johnny Damon to your team The Yankees this year. (Laughter)
WYLDE: Exactly! Awesome!
KNAC.COM: I am a Yankees girl now, because I was a big Johnny Damon fan when he was with The Red Sox.
WYLDE: Yeah everybody loves him. I got a bunch of buddies out in Boston. They always bust my nuts about it. It is always good fun.
KNAC.COM: Will the new European BLS DVD be released soon?
WYLDE: There is some cool BLS crap on that thing. You got to check it out. There is some behind the scenes stuff…(Laughter)
KNAC.COM: What are you thoughts on Dimes "Rebel Meets Rebel"?
WYLDE: It came out awesome. I can remember Dime telling me about it quite awhile before he passed away. Dime was like, "Zakk, wait till you hear this thing. It came out really cool." I knew who David Allan Coe was. Dime goes, "Zakk, he is like the sweetest guy on the planet, he is super cool, we had so much fun making it." I think it came out awesome. Everything Dime did came out awesome, so it doesn't matter, ya know what I mean?
KNAC.COM: I was wondering if you would like to comment on the Ozzfest/Iron Maiden controversy that took place last year?
WYLDE: The whole thing, the bottom line is as far as I am concerned…everything is so over with anyway. The bottom line was he [Bruce Dickinson] was in the wrong. He was banging on the boss. He [Ozzy] would never do anything to anybody. This is so stupid…high school shit. I am 39 years old. It is so high school. I ain't dealing with this crap, do ya know what I mean?
KNAC.COM: I am looking forward to seeing you and Black Label Society headlining the second stage. Is their anything else that you would like to say to the many BLS Chapters that will be out supporting the band this summer?
WYLDE: Well Deb, tell the rest of our Black Label family out there, Stay Strong, Keep Bleedin' Black Label.
KNAC.COM: Thanks Zakk, have a great tour.
Please log in to view RANTS